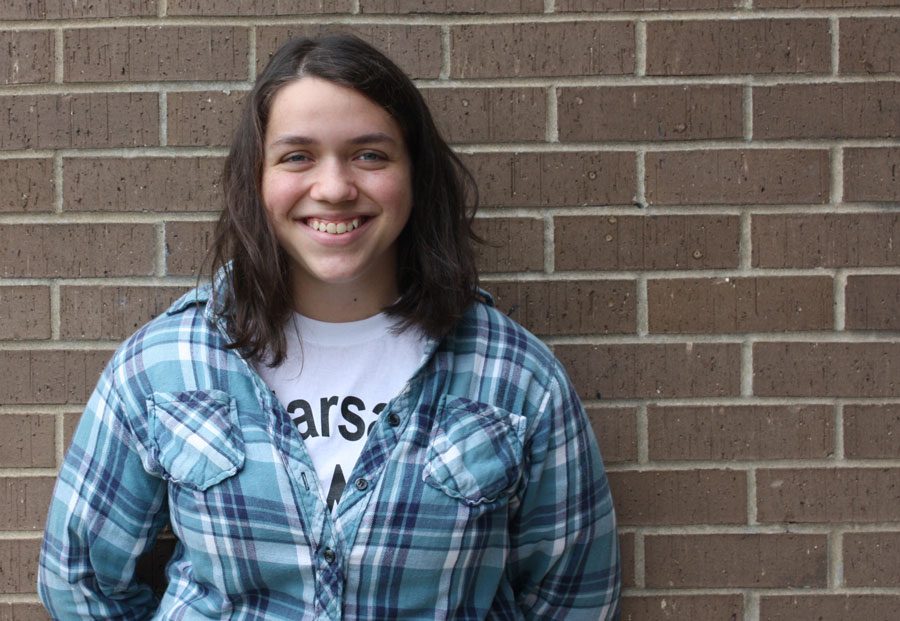 This is junior Emmaleigh Kowal's second year as a member of
The Wildcat
staff; she will serve as the Design Editor for the 2019-2020 school year.
   Kowal is a lover of reading, writing, eating, crocheting, listening to music, and watching TV in her free time. She owns a small online store to sell her crocheted products and occasionally participates in local craft shows. 
   She is involved in many activities and has plans to become active in other clubs and organizations during the year. This will be Kowal's first year participating in math club, speech team, and NHS. She will continue to stay involved in archery during the spring and FFA, for which she is the reporter, throughout the year. 
Emmaleigh Kowal, Design Editor
Dec 09, 2020

Archers new, old start practices before first shoot of the season

(Story/Media)

Dec 09, 2020

Future color guard captain looks forward to leading team

(Story)

Nov 04, 2020

Homecoming 2020 endures COVID Chaos

(Media)

Nov 04, 2020

Friends, teachers notice senior's character and kindness

(Story)

Oct 13, 2020

Custodial staff increases efforts to comply with sanitation guidelines

(Story)

Apr 21, 2020

School closure doesn't slow down Prop S building improvements

(Story)

Apr 17, 2020

Six candidates to run in postponed school board election on June 2

(Story)

Feb 25, 2020

Excessive punishment leads to rebellious behavior

(Story)

Feb 18, 2020

Office staff prioritizes student needs while keeping school running

(Story/Media)

Feb 18, 2020

Stream Team puts focus on cleaning up local environment

(Story)

Feb 18, 2020

Students shoot for the stars during short Courtwarming week

(Story)

Dec 20, 2019

Students face peer pressure, misinformation about vaping

(Story)

Dec 19, 2019

Student organizations partner with local business for Thanksgiving food drive

(Story)

Dec 19, 2019

Cooks form relationships over the lunch counter

(Story/Media)

Nov 13, 2019

After-school obligations lead to high student stress

(Story)

Nov 13, 2019

Cheerleaders practice hard, win chance to compete at state

(Story)

Nov 13, 2019

Student-run faculty café service provides business experience

(Story/Media)

Nov 13, 2019

FCCLA members bond through fall conference, discuss bullying

(Story)

Sep 24, 2019

Students navigate the social hierarchy of the cafeteria

(Story)

Sep 24, 2019

Custodian promotes positivity amongst student body

(Story/Media)

Sep 24, 2019

Marching band, color guard, dance prepare for entertainment, competition

(Story)

Sep 03, 2019

Students take on new roles, challenges as they embark upon a new school year

(Story)

May 14, 2019

Top academic students prepare for college work, give advice

(Story)

May 14, 2019

The art of expression

(Story/Media)

Apr 25, 2019

Choir, band perform at state-level festivals

(Story/Media)

Apr 25, 2019

Freedom of expression inspires sophomore to dance, start team

(Story)

Mar 28, 2019

Traditional school provides benefits beyond what a child can get at home

(Story)

Mar 26, 2019

Track and field athletes in need of facility, equipment upgrade

(Story)

Mar 26, 2019

Athletes rewarded for accomplishments in winter sports season

(Story)

Mar 18, 2019

Involved junior excels at karate, teaches at local dojo

(Story)

Mar 18, 2019

It's all fun and games….

(Story)

Mar 14, 2019

FCCLA competes in STAR events, awarded bronze

(Story)

Mar 13, 2019

Pitts, Brown qualify for state archery shoot

(Media)

Feb 04, 2019

Involved junior excels at karate, teaches at local dojo

(Story)

Jan 29, 2019

Archery team practices for competition

(Story/Media)

Jan 29, 2019

New memories formed as cheerleaders perform at Citrus Bowl

(Story)

Dec 18, 2018

It's time to be a knight

(Story)

Nov 27, 2018

Basketball season begins

(Story)

Nov 27, 2018

NHS includes new changes at Induction Ceremony

(Story)

Nov 27, 2018

A life full of music leads to accomplishment for junior

(Story)

Oct 23, 2018

Warsaw's NHS chapter grows by 14, makes plans for community outreach

(Story)

Oct 23, 2018

Football tradition remains strong at WHS

(Story)

Sep 25, 2018

Teacher-coaches split time between the classroom and the field

(Story/Media)