Cheerleaders practice hard, win chance to compete at state
Advertisement
Hang on for a minute...we're trying to find some more stories you might like.
The life of a cheerleader is filled with a busy schedule and hours of hard work to memorize routines and perfect their stunting techniques. For the past month, the Warsaw Cheerleaders have been practicing their routine for their Regional Competition on Oct. 27 at St. Francis Borgia Regional High School.
"I think practice [went] very well. There were some flukes in our routine but I think that we finally have the entire routine figured out," junior backspot and base Jamie Jorgensen said. "It's just cleaning it up and organizing it."
"We worked on some options for pyramids and stunting all the way back in July," head cheer coach Holly Helms said. "Some of the moves we start from the very get-go working on, but we didn't start putting it together until after Homecoming."
During their regional competition, Warsaw placed fifth, which qualified them for the State Cheerleading Competition on Nov. 16.
"We placed to go to state; I was super excited about that. We practiced everything like how we would at competition and that helped a lot," junior base Haley Dwyer said. "The only team that we absolutely had a chance of beating was Fatima and we did, so now we're going to state."
Before their performance at regionals, the 2018-19 head cheer coach, Rachel Eichler, attended practice once a week to help the girls prepare for their competition.
"Our old coach [came] in to help us because she knows more about competitions because she's been through it before," sophomore flyer Natalie Johnson said.
"The girls, I have to say, were blessed to have a coach last year that really pushed them pretty hard on learning those higher-level stunts that we used in our routine," Helms said.
The squad has two new coaches for the 2019-20 season, Helms and assistant coach Kelly Wenberg.
"I think these coaches are more laid back than our other ones. I'm kind of used to our new coach because I had her in middle school so it wasn't really a problem for me to adapt to her," Johnson said. "I knew of Coach Kelly, but I didn't really know her. I think she's a great person and she always makes me laugh."
"At first, we didn't have the best relationship, but now, when we have to get ready for competitions, we've gotten to understand the coaches and each other better," Jorgensen said.
The team has bonded with their coaches and each other through games and fund raising for their trip to Orlando, where they will cheer as members of the All-American Squad with cheerleaders from across the nation on Jan. 1.
"It took awhile for me to trust [the other girls] but I eventually got there because I fall [a lot of] times and they always catch me," Johnson said.
"We use football games as a chance to bond with each other," Jorgensen said, "we try to enjoy each other's company."

About the Contributors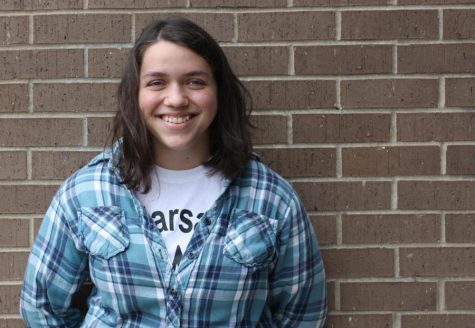 Emmaleigh Kowal, Design Editor
   This is junior Emmaleigh Kowal's second year as a member of The Wildcat staff; she will serve as the Design Editor for the 2019-2020 school year.

   Kowal...