Involved junior excels at karate, teaches at local dojo
  Meyers Martial Arts Academy, owned and operated by sensei Mark Meyers, specializes in, and teaches, Shotokan Karate. It is also the dojo where junior Kathryn Ricke teaches and continues to expand her knowledge of karate.
  "There's a number of different types of martial arts. Karate is an upright martial arts that originated in Japan and Okinawa. Taekwondo is mainly kicks and Jujitsu is on the ground; Karate has a stance and is fought standing," Meyers said.
  When she was six years old, Ricke began attending a martial arts dojo.
  "When I first started, it was just a way for a little kid to run off some major energy. It was mostly an adult class so everyone kinda took me under their wing," Ricke said.
  What started as a way to burn of energy turned into something much more serious when Ricke failed to pass the test for her purple belt the first time that she took it.
  "I didn't really take karate seriously until I failed my purple belt test. After that I realized how much I could learn from the amazing people around me," she said.
  After five years of study, Ricke was ready to take the test for her black belt. The test had several different components, such as having to continuously spar for one hour, know over 100 Japanese terms, and perform nine katas (a choreographed set of moves depicting an imaginary fight), which made it difficult to obtain.
  "In karate, the black belts are asked by the owners if they would like to be a part of instructing. Kathryn is an amazing teacher who has one of our best kata stances. She's used as an example when demonstrating new moves, which means that she's usually the one thrown to the ground during demonstrations," Meyers said.
  "Now, I help teach, which is an incredible learning experience. Teaching makes you think about things in different ways and helping others grow in the martial arts is very rewarding," Ricke said. "In our dojo, learning to teach is part of earning your black belt, so I guess I've been teaching for years. I think I really started to enjoy it and take it seriously about three years ago though."
  When her freshman year rolled around, Ricke branched out in a new direction and began to run for the cross country team, doing her best to attend the karate classes held three times a week.
  "I wanted to get in better shape and improve my endurance – for rather odd reasons. I was going to be a comedian and I wanted to do physical comedy, like they do in the old movies. Unfortunately, that meant getting in better shape. Later I decided that this wasn't the career for me but I liked cross country and decided to stick around," she said. "My favorite part about cross country is definitely not running, though. It's the people on the team, the conversations we have and getting to cheer everyone on at meets. It's a lot of fun."
 Ricke claims that her biggest accomplishment in cross country was when she finished a five kilometer race in under thirty minutes.
  "[Her] biggest accomplishment is sticking in there; cross country is not a easy sport by any measure. You have to have mental and physical determination," coach Ehren Banfield said.
  The 2018/2019 cross country team introduced new freshmen to the team, some of which had been running cross country during middle school as well, among them was freshman Alyssa Alcantara.
  "At [first] I thought she was quiet and shy. I didn't know her that well, but I do remember admiring her for being in cross country and finishing the race, even if it was hard," Alcantara said. She first met Ricke when she was in seventh grade. "I was amazed at how she could keep going.  She didn't need someone's praise to stay strong, which is incredible.  She was also never negative, and was always a great teammate. She is a great person, something that is taken for granted too often, and not recognized enough."
  Aside from both being on the cross country team, Ricke and Alcantara are also members of the archery team. This is Ricke's first year being a member, deciding to join when her younger sister chose to join as well.
  "I think archery is fun. It's interesting to see how changing something small about your stance or aiming the point affects the flight of the arrow," Ricke said.
  Archery practice takes place before school on Tuesdays and Thursdays, another activity that takes place on Thursdays is practice for academic team. Ricke is a member of the academic team, along with junior Jessica Dwyer.
  "I first met Kathryn when I saw her artwork in my history class. I could tell that she was very talented and she was very kind to others," Dwyer said. Ricke and Dwyer are involved in many different clubs and organizations together, such as choir, Academic Team, Math Club, and National Honor Society.
  "We have become better friends throughout high school, especially in our art classes," Dwyer said.
  Another friend of Ricke's is junior Samantha Blake. The two of them have been friends since they were both very young, around two years old.
  "She has been my best friend through thick and thin for fifteen years. She is an amazing and kind person who is amazing at anything she tries!" Blake said.
  Blake and Ricke are both involved in choir and piano, though they used to take karate classes together.
  "I decided it [karate] wasn't for me [but] she was extremely committed, and still is!" Blake said.
  "Karate teaches so much more than moves and techniques. It builds confidence and teaches respect, humility and leadership. It teaches you how your shieza (attitude) affects how people see you. Karate builds this confidence and at the same time teaches you to be humble and learn from criticism," Ricke said. "It's a part of how you see the world and the choices you make. I hope to continue teaching karate and that it will always be part of my life."
Leave a Comment
About the Writer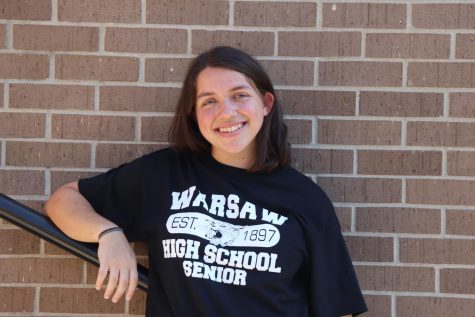 Emmaleigh Kowal, Editor-in-chief
Senior Emmaleigh Kowal is serving as a co-editor-in-chief for the Wildcat Staff after being on staff for three years. She is a writer who enjoys telling...