Friends, teachers notice senior's character and kindness
   Staying optimistic while juggling school, work, and extracurricular activities can be difficult for some people, but senior Haley Dwyer has excelled in remaining upbeat and has impacted many people around her with her positive character and empathetic nature.
   "I just see on the bright side of every situation. I am always trying to make sure that I am helping people with things that they struggle with as much as I can," Dwyer said. "I am always trying to keep everyone's heads up the best I can. This may mean being there to support someone individually by being someone to talk to, or for a group or few people by talking them through what they may be going through. I am mostly empathetic towards people because I understand what they are going through. I want people to be able to see me as someone to rely on for support."
   Those who are closest to Haley have noticed the affect her attitude has on people.
   "She's funny and very outgoing, she brings out the better side of people," senior Jamie Jorgensen said.
   "I love her outgoing personality and how she always can put a smile on my face," senior Darby Mostaffa said. "She is extremely caring and sympathetic, she genuinely cares about her friends and wants the best for them."
"
I love her outgoing personality and how she always can put a smile on my face."
— Senior Darby Mostaffa
   "She's always fun to be around and has something funny to say or do. She also always looks out for the people she cares about it will willingly put their needs above her own. I truly appreciate having her in my life," senior Gabby Porter said.
   "My favorite thing about Haley is how empathetic she is," senior Kyleigh Hines said. "There's nothing you feel that she doesn't catch on to, and she's always happy to listen and help out. Haley is the nicest, funniest, kindest soul in our class."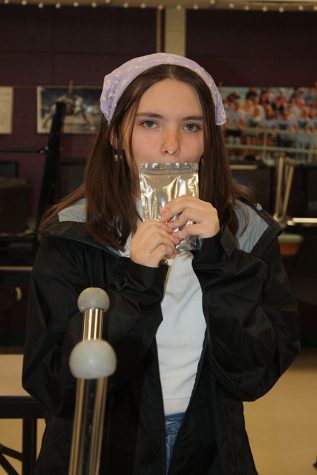 Dwyer's character has not gone unnoticed by her teachers and coaches either.
   "Haley Dwyer has impeccable character and work ethic. As an officer for National Honor Society, I can always count on Haley to accomplish any task assigned with perfection and promptness." math teacher and NHS adviser Jowell Roellig said.
   "[Haley] has amazing leadership ability, she has great communication skills. She does keep a positive attitude which is really hard with cheer, especially with long seasons and lots of stress and when you get any group of girls together there is always the occasional drama but she handles it really well, definitely with a lot of dignity and just a lot of positivity," head cheer coach Holly Helms said.
   "I am always happy when I see Haley is taking my class. She always has something of consequence to add to conversations and she's always engaged in whatever topics we're studying that day," social studies teacher and Academic Team sponsor Nathan Colping said. "Her Boxer dogs are also THE CUTEST!"
   "Haley has a strength of character and doesn't let others influence her by sacrificing what she knows is the right thing to do.  Haley is willing to admit her mistakes and try again.  She doesn't let minor things frustrate her and picks herself up and goes again until she gets it.  Haley does her best to be helpful and never makes anyone feel less than," vocal music teacher Deanna Schockmann said.
   Dwyer has been in choir since elementary school, working to perfect her craft over the years and being chosen for Madrigal her sophomore year of high school.
   "Haley has mastered the fundamentals of music and is able to apply that to her music every day.  Her voice has blossomed over the years and she continues to grow and improve with confidence," Schockmann said.
   "I just love the way [singing] makes you feel whenever you get a choral arrangement down and it gives you goosebumps like all the different parts harmonizing or not harmonizing in specific spots. It's really beautiful," Dwyer said. 
   Along with choir, Dwyer also participates in many extracurricular activities that take up the majority of the time that she doesn't spend at her job. Haley started working at Sonic Drive-In the summer of 2018. 
   Dwyer is the Student Body Secretary, parliamentarian/historian of National Honor Society, base cheerleader, Math club secretary, an ancestor for the Addams Family Musical, and a previous team captain for Academic Team. 
   Her older sisters, Andrea, Clara and Jessica, were some of her biggest inspiration to join the activities that she did. 
   "I mainly have had older siblings that have been in the same things and it has always been so interesting to see them in all that type of stuff," Haley said. "I've been interested in being in a lot of different things so I can get a lot of different types of experiences."
Leave a Comment
About the Contributor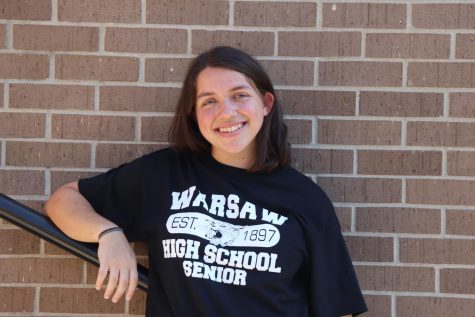 Emmaleigh Kowal, Editor-in-chief
Senior Emmaleigh Kowal is serving as a co-editor-in-chief for the Wildcat Staff after being on staff for three years. She is a writer who enjoys telling...