Track and field athletes in need of facility, equipment upgrade
Season begins with Butler meet on March 21
Yet another season of track and field began on as 26 student-athletes made their way to the Randy Morrow Field to run, jump, throw and suffer from shin splints.
"I have really bad shin splints," junior relay runner Rayni Simons said, "it feels like somebody is stabbing you in the shins and there's nothing that you can do about it."
Shin splints are not the only thing that Warsaw track athletes have to worry about, especially with deteriorating equipment that makes it almost impossible to practice certain aspects of the sport.
The Warsaw track is currently made of asphalt with a total of six lanes, it remains a track that is only run by Warsaw athletes as the distance that the track provides is below regulation, therefore cannot be used for competition.
On a rubberized track, runners are less likely to develop shin splints, according to an article by Packard Health, "Running from injuries: 3 ways to avoid shin splints," in the Ann Arbor News.
"The way that the track is painted right now, it is short of four hundred meters," head track coach Cody Morgan said. "Proposition S will address redoing the track and, when they do that, they'll resurface it, put a new layer of asphalt down and then they'll put a rubber surface on top of that. When they repaint the track, they'll fix it so it's actually a four hundred meter track."
Due to the amount of room available at the football field, there will only be six lanes on the track, instead of the traditional eight, however Warsaw will be able to host smaller meets and the track itself will be much easier to practice on.
"They should definitely put money towards that track so we'll be able to host track events," junior thrower Austin Rosser said. "If we got that track up to regulation then you would have to take off a couple rows of bleachers, but you'd be good to go for track meets."
"
Proposition S will address redoing the track and, when they do that, they'll resurface it, put a new layer of asphalt down and then they'll put a rubber surface on top of that."
— Coach Cody Morgan
Aside from having an old, asphalt track, there is a lot of equipment that is difficult to practice with due to its age; the mat that is used for the high jumpers is over thirty years old.
"It's nearly impossible to practice our high jump because the mat is so old and nobody wants to land on it," Morgan said. "A new high jump mat is about $10,000 dollars."
"The high jump mat is really old so each time you jump on it you get a little bit of fiberglass coming up off of it, which really hurts if you get it in your eyes," senior jumper and runner Evan Kowal said.
Redoing the discus cage is also high on the list. Other, smaller things, can be replaced using a smaller budget each year to keep them from getting to an age where they are difficult to fully use. The discus cage is put in place to prevent injury to others, both those watching and waiting for their turn to throw a discus.
The other throwing events for track include javelin and shot put for both boys and girls.
"We could, as far as the shot pit that's out there, use some remodeling because every time you throw a shot into that pit it just sinks," Rosser said. "The sand's not packed together, it's just regular sand, so when you throw something in there, and the sand is wet, it just sinks right down to the bottom so that's a big problem."
However, even with some of their equipment in need of repair, the race must go on and athletes must be assigned an event to participate in.
"We'll [record] them and the top two will be our runners, throwers, and jumpers for those events; our top four in the relays will be the runners for the relay," Morgan said. "They can have four events at a meet which is the max for each person."
"I tried out for different things and Mr. (coach) Morgan put me in the ones that I'd fit best in," freshman relay runner Cameron Taylor said.
There are four different relay events, each comprised of four runners with the amount of distance ran varying for each race. The girls' 4×100 meter relay came in first place at the meet in Butler which was held on March 21. The relay team was composed of juniors Rayni Simons, Kya Schepker, Aubrie McRoberts, and sophomore Haven Collins.
Other first place finishes include Schepker in the Triple Jump, freshman Alyssa Alcantara in the 1-mile (1,600-meter) and the 2-mile (3,200-meter) long-distance race, junior Parker Love got first in the Long Jump. Love managed to set two new school records at the Butler meet in both the 200-meter and the Triple Jump.
Leave a Comment
About the Contributors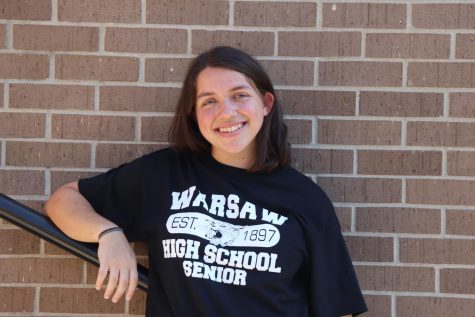 Emmaleigh Kowal, Editor-in-chief
Senior Emmaleigh Kowal is serving as a co-editor-in-chief for the Wildcat Staff after being on staff for three years. She is a writer who enjoys telling...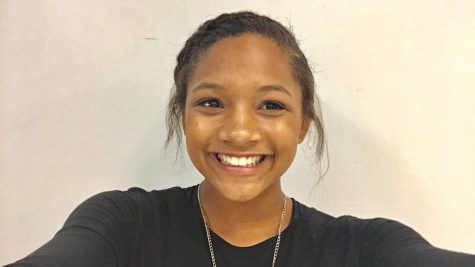 Kya Schepker, Staff Photographer
Sophomore Kya Schepker enjoys keeping busy through many school activities, including being a first year member of the Warsaw Ozark Echoes Yearbook. Schepker...