Cooks form relationships over the lunch counter
Day after day, meal after meal, student after student, tray after tray . . . the work day of a high school cook is a repetitive job, but the four cooks at Warsaw High School fulfill their arduous tasks with smiles on their faces and something pleasant to say to each student as he/she goes through the lunch line. By simply talking to and seeing the students every day, the cooks have created relationships with many of the students, which makes their work day go faster.
Each cook in the high school has had multiple years of work experience, both in and out of the food service industry, whether that be from working at a fast food restaurant or in another school's kitchen.
"[When hiring] we of course look for someone who has had some food service experience," food director Erin Feltrop said, "but we have had several successful people who haven't had any food service experience. It's really the desire to do this is what we're really looking for."
Head cook, Ashley Haidusek has worked in the WHS cafeteria for 11 years.
"[The school] had an opening and I just wanted to be a cook," Haidusek said. "Just helping people in general has always been an idea [of mine]; it's something I've always enjoyed doing, so when I saw the opening here, I just figured it'd be nice to feed the kids."
After years of job experience in various fields, Tabitha Burke settled into the life of a high school cook over the past eight years.
"[Before coming here] I've worked at other kitchens, I've done asphalt, concrete, some reception work, lean amender, baby sat, all kinds of stuff," Burke said. "They say that if you have fun at your job, it's not a job, it's just a good place to be in. We have fun and, gosh, yeah I love these ladies."
Joyce Britt has worked at the school for four years.
"I've worked at fast food and stuff like that, but my job [at the time] was lead person supervisor of a company that closed down. I was there for 38 years," Britt said. "It's organized here better than it is at a fast food place."
Donna Marshall began working at WHS five years ago after hearing about the job from a member of the booster club.
"At my age, you either use it or lose. I figured, 'hey, it will be extra money,'" Marshall said.
Marshall has made the decision to retire from her position at the end of the 2019-20 school year.
"After five years, you're invested in retirement and I'm so close to it that I'm [going to] finish out the year," Marshall said, "but, at my age, I think it's time to hang it up; I'll lose it now. I'll miss seeing the kids everyday, but I won't miss getting up a quarter after four to come to work."
Though the day is long for the cooks, who start work at 5:30 a.m. and finish at 1:30 p.m., the work goes by quickly, not only because they enjoy the work but because of relationships they have developed with the students that they serve.
"We may only see [the students] for an hour out of their day, thirty minutes out of their day, but we like them and they know that if they're having an issue or a bad day they can come back and talk to us," Haidusek said. "I think it's good that everyone who works with children have a relationship with them."
"To me, the biggest reason this [relationship] is important is because it makes their jobs more enjoyable because if they care about the students that they're seeing on a daily basis, it just makes the day go by faster, you smile more, you laugh more, you don't dread coming to work, so that's the most important," Feltrop said.
"Oh they (the cooks) are my favorite people ever," senior Tristen Reynolds said. "They're nice, they come in every morning earlier than we get there and they have to prepare breakfast for us and make sure we always have food and then they stay all day for lunch and they're always nice; they're good people, and they make really good lunch."
"Well, I enjoy seeing the students come through, hair color and all," Marshall said. "To me, if I was thirty years younger, I would have purple or blue hair, but, unfortunately, people would laugh at me at my age."
"I ask [the students] questions. You start off with a smile and a 'hi' and it kind of goes from there," Burke said. "[Students] don't want to walk in here and have the Grinch standing there giving them food. I just want to treat everyone like I'd want to be treated."
Though the work day goes by quickly for the cooks, there is a lot that needs to be done in order to insure that breakfast and lunch go off without a hitch.
Feltrop, as Food Director for the Warsaw School District, is responsible for creating the weekly menu, ordering the food, hiring employees, and reporting back the meals served to the state so the school can receive reimbursement for their food expenses.
"I have to make sure the girls know what they have to do in their departments that day," Haidusek said. "I just make sure everything goes right, there's a lot of paperwork, lots of tracking everything."
"We come in at 5:30 and I usually start the tea and the prepping for the day, Tabby will start the breakfast and the girls wash the dishes and make sure the salad and fruit part of everything is set up [for breakfast]," Haidusek said.
Leave a Comment
About the Contributor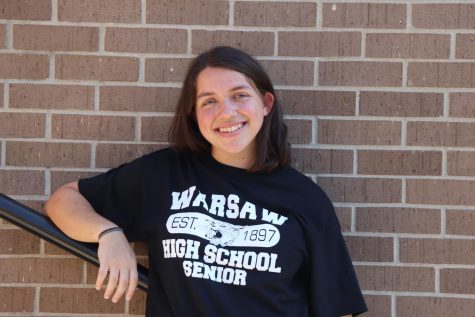 Emmaleigh Kowal, Editor-in-chief
Senior Emmaleigh Kowal is serving as a co-editor-in-chief for the Wildcat Staff after being on staff for three years. She is a writer who enjoys telling...