Freedom of expression inspires sophomore to dance, start team
For some, dancing is a hobby. For sophomore Lauren Kreisel, dancing is a way of life.
"I've been involved in dance since I was four years old," Kreisel said. "Watching the older girls that were in high school dance en pointe, and make such beautiful figures with their bodies really inspired me to start dancing."
Kreisel also finds inspiration from music with her body moving to the rhythm as she enjoys the freedom of expression.
"My favorite thing about dance is getting to express myself through my actions and movements. This is amazing because I find new ways that my body can move and I really get into touch with the music and just escape my own head," Kreisel said.
"
"I find new ways that my body can move and I really get into touch with the music and just escape my own head.""
— Sophomore Lauren Kreisel
The first dance studio that Kreisel attended was the Warsaw Dance School, owned and operated by Holly Henderson, before it closed down. After dancing at the By Grace Performance Studio in Clinton for two years, Kreisel finally relocated to a local dance studio on Commercial Street, Allstar Dance Academy.
"We [the dancers] are like sisters," sophomore Sabrina Uptgraft said, "She's higher up there as dancer because I'm a level one en pointe and she's like a level two since she's been in it longer so she has some guidance for the rest of us."
Uptgraft originally met Kreisel at school and was unaware that she was also a member of Allstar Dance Academy, which Uptgraft joined this year.
The dancers would often talk to one another as they practiced, discussing the topic of the Warsaw Drill Team, which was started during the 1980s and ended the following decade, and the Warsaw dance squad, "Mirage" (2003-08), an extension of the color guard. The girls mused about how it might be interesting to have one at the high school.
"We usually talked about it during dance with Lauren and a few of the other girls, but she [Lauren] was like 'we have to put initiative into this and restart it,'" Uptgraft said.
So, in October of 2018, Kreisel approached school administration with hopes of having a dance team initiated by the end of the 2018-2019 school year.
"I first approached Amie Breshears, who is on the school board, and she instructed me to talk to Mr. Boyer because he is the athletic director and in charge of activities," Kreisel said. "He was very receptive to the idea and was excited to see a student taking action and making new opportunities for other students in our school."
On April 15, during a school board meeting, a consensus was finally reached and it was confirmed that a dance team would be available for all students to audition.
"Myself, and administration, always want to make sure we have the most information possible before making a decision," Athletic Director Ryan Boyer said. "After having multiple meetings and reviewing the information, we that decided a dance team could work at the school."
An informational meeting will be held on April 26 during seventh hour in the high school cafeteria. Tryouts for the team are expected to be held on May 10 after school. Sarah Wright, the instructor at Allstar Dance Academy, will act as the team's sponsor.
"We definitely need something like this [a dance team], I know lots of people who would join," freshman August Nickles said. "I've always wanted something like this for our school."
"I would like to learn how to improve my dance skills and try something new," junior Alexus Blackford said. "I'll be doing color guard again so it could help with that too."
"
"I would like to learn how to improve my dance skills and try something new.""
— Junior Alexus Blackford
However, while it is viewed by some students to be a positive change to the athletic options at the school, others see it as an unnecessary addition.
"I don't think that there is a problem with a dance team, I see it as a good and a bad thing; good so people can dance without doing all of the cheer-related stuff and the bad because I don't think the school has that much money for cheer, dance, and everything else," sophomore cheerleader Hallie Wenberg said. "Cheer, in my opinion, is more of a sport than dance so I think that cheer has to come first before they think of a dance team."
"We already have color guard and cheer, why add something else in the same genre and take away from those other things? In the fall, we have so many sports and activities, it is hard to have a full team, or we have many students in multiple sports," junior cheerleader Aubri Umlauf said.
Before the dance team was confirmed, Kreisel was aware that controversy might arise among certain students and athletes.
"From the beginning we have been open about saying people can do dance team and another sport. If someone is interested in multiple sports that occur in the same season I believe that they should be able to do as many as they can," Kreisel said. "If it works for someone's schedule and they can make it to practices I don't see why people couldn't do both. I think that dance team will be an amazing addition to WHS and it will give people an opportunity to get more involved."
"I think [a dance team] is wonderful! When I was in school, we had a cheerleading team and a dance team and it worked well. The programs didn't work against each other so I think it could be a great addition if done right for sure," cheer coach Rachel Eichler said. "Dance and cheer are not the same, but have similarities. Cheerleaders dance, but dancers don't do cheers. They can absolutely perform together, though. They could do the same or similar choreography while the band plays at games."
Despite the concerns that some may have, Kreisel already has a list of people who expressed interest in joining the team.
"I have already started recruitment for the dance team," Kreisel said. "I believe that it will go over well and that many people will be excited to join."
Leave a Comment
About the Contributor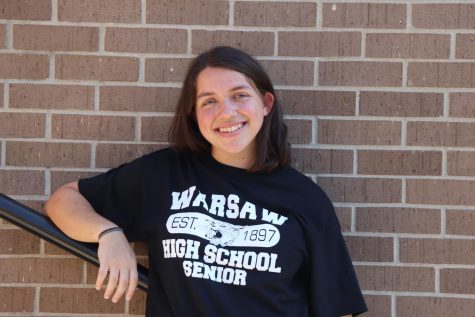 Emmaleigh Kowal, Editor-in-chief
Senior Emmaleigh Kowal is serving as a co-editor-in-chief for the Wildcat Staff after being on staff for three years. She is a writer who enjoys telling...