FCCLA competes in STAR events, awarded bronze
Warsaw Family, Career and Community Leaders of America (FCCLA)  earned a bronze award for their efforts in their regional competition, as members took knowledge tests, proposed a business venture and judged events.
On Jan. 24, four Warsaw High School Students, accompanied by practical arts teacher and FCCLA adviser Suzie Dudenhoeffer, made their way to the University of Central Missouri, in Warrensburg, to compete in a STAR (Students Taking Action with Recognition) event as part of their Regional FCCLA Competition for Region 12.
There were numerous different competitions and projects that students were able to do at these competitions.
"There are some [events] where the students do a project from Life Event Planning, where they'll plan for an upcoming event that's important to them. The students do all of the budgeting for their event, then they create a presentation on either a presentation board or with a slideshow. After that they do a verbal presentation in front of judges as well," Dudenhoeffer said.
There was a panel of judges for each presentation that were chosen from three different groups of people.
"When you're judged, you have a teacher, another adult from any field, and then a student who act as judges," Dudenhoeffer said, "Jordan Plybon went as our student judge."
"It was a very cool experience being able to judge these students that were my own age on projects that they had worked on for months prior to this day," senior Jordan Plybon said. This was the first competition that Plybon had gone to for FCCLA, it was also the first competition that freshman Benjamin Kowal attended.
"I thought that it would be a lot harder than it was," Kowal said.
Kowal competed in FCCLA Knowledge, a multiple choice test where he had to answer questions such as 'What are the FCCLA colors?' and 'What is the FCCLA flower?'
"This was not my first FCCLA competition, my first one was FCCLA Knowledge so all I had to do was take a test. This time I competed in Entrepreneurship so I had to create a business with Brianna George and present it in front of five people," senior chapter president Caitlin Dudenhoeffer said.
"Entrepreneurship is where you design a business from scratch that you want to do. Brianna George and Caitlin Dudenhoeffer's business was about novelty items and how they would sell them," Suzie Dudenhoeffer said. "They found, in their research, that starting a business and having a physical building is really hard so they were going to start with an online store first and then hope to expand later on."
After their interviews with the owners of SideQuest, a local novelty store, seniors Caitlin Dudenhoeffer and Brianna George began to do further research into laws and regulations required for selling items, shipping items, the cost of shipping, along with laws associated with copyrighted items.
Unfortunately, the Warsaw FCCLA chapter was unable to earn gold at their Regional Contest and will not be moving on to compete at the state level, however they will still be attending meetings and conferences throughout the year.
Leave a Comment
About the Contributor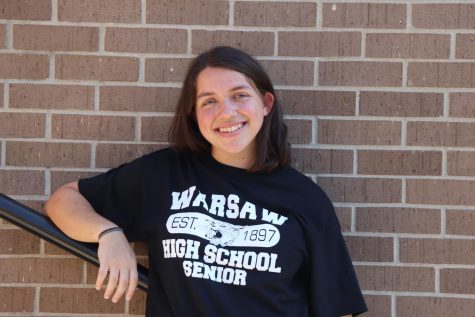 Emmaleigh Kowal, Editor-in-chief
Senior Emmaleigh Kowal is serving as a co-editor-in-chief for the Wildcat Staff after being on staff for three years. She is a writer who enjoys telling...