Warsaw's NHS chapter grows by 14, makes plans for community outreach
Fourteen Warsaw High School students will be officially inducted into the National Honor Society on Oct. 25, at 6 pm, in the high school gymnasium.
In previous years there was an assembly held in the gym during the school day
"I always loved that assembly because it gave the underclassmen something to aspire to be a part of," NHS advisor Jowell Roellig said.
 However, current NHS members voted unanimously to have the ceremony be in the evening so that their parents would be able to attend.  
There will be a very emotional surprise in this year's ceremony that is sure to leave a lasting impact on the new inductees.
  It is a tradition for new members to light a candle at the induction ceremony,
  "The purpose of the candles and what we're doing is we are going to change it up a little bit by having a Unity Candle to unify the society members, but what happens when we light the candles is each officer will come in and light a candle, those are the four pillars that they're held to. That's the significance of lighting the candles, to say this is what we stand for: service, leadership, scholarship and character," Roellig said.
  The National Honor Society, commonly called NHS, is an organization created to recognize and reward those students who excel in certain areas such as scholarship, service to others, leadership, and their character. It is not uncommon for members of this organization to be involved in many clubs and activities that provide them with opportunities to showcase their leadership abilities and service to others.
  "It feels great to be selected for NHS. This has been a big goal of mine for a long time because my entire immediate family has been in NHS so it makes the experience even better knowing I'm keeping that tradition up," said new member of NHS, Madeline Schockmann.
  This year's NHS, at Warsaw High School, is under new leadership as Jowell Roellig replaces Charlene Million who has been the NHS supervisor for the past four years, since 2014.
  "I have a real soft spot for this year's seniors, they have been my favorite class for quite a while and the NHS members were, in particular, very hard-working, dedicated students and I wanted to work with them. It was because of who was in NHS that I wanted to do it," Roellig said.
Other than the change of leadership, the National Honor Society members plan on adding many more activities designed to encourage others and to better serve the community.
  "We've always been asking them to support us but I don't feel like that's been a two-way street," Roellig said.
  NHS leaders want to find more ways to give back through community service and also through encouraging notes to younger students.
  "We want to do more community service in Warsaw, get our name out in the community more. In the winter season if they need help shoveling snow or raking leaves, we can send members to do that. If elementary students do something worth recognition, we'll send out a card signed by all of the members along with little gifts so that they can start thinking of NHS and know that upperclassmen are proud of them," said NHS President Taylor Bunch. "Last year we were more focused on service in the school, doing  very traditional things. Now we want to focus more on getting our name out in the community."
Roellig wants NHS members to set good examples for younger students and encourage them by recognizing their accomplishments and success.
 "It's so funny because most high schoolers don't realize that these younger kids look up to them. It's hard to see yourself in that position but it's true," Roellig said.
Leave a Comment
About the Writer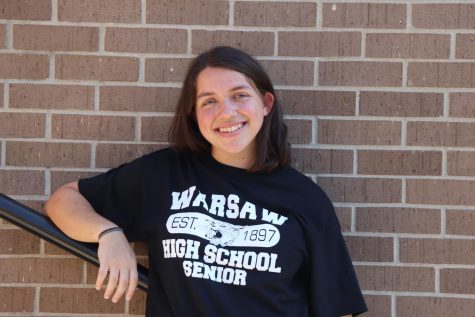 Emmaleigh Kowal, Editor-in-chief
Senior Emmaleigh Kowal is serving as a co-editor-in-chief for the Wildcat Staff after being on staff for three years. She is a writer who enjoys telling...