New memories formed as cheerleaders perform at Citrus Bowl
On the dawning of the new year, three members of the Warsaw Wildcats Cheerleading team made their way to Orlando, Florida to cheer at the Citrus Bowl as a part of All-American Cheer.
All-American Cheer is an elite group of cheerleaders from around the United States chosen to compete in events around the world
"At first I was super nervous because I didn't think I was going to be able to make it, but then I was thinking that if I wasn't going to make it then she probably wouldn't have nominated me. It was super nerve wracking when we tried out too because it was just us by ourselves," sophomore Morgan Branson said.
Junior Alexus Brown was also surprised to be nominated for All-American Cheer.
"I was really surprised, I didn't expect to get nominated or even chosen so it was a big shock to me," Brown said.
Senior cheerleading captain Helena Givens was the third member from the Warsaw Wildcats Cheerleading team to be chosen for All-American Cheer.
"It's really hard to become an All-American so we were just expecting one person to get it, so when all three of us got it we didn't believe it at first. We were happy, but it took us by surprise," Givens said.
Since it is such a difficult group to become a part of, there were many cheerleaders from across the country who did not have teammates to rely on during the week in Florida.
"When we went, there were about ten girls who were singles (they were the only ones from their team) and they seemed shy and secluded, so it's better to have teammates there so you know someone that you're going with," Givens said.
However, out of the hundreds of people that were there, the cheerleaders, singles and teams were quick to make friends with those around them.
"The people we mostly made friends with were the people that were near our hotel room and in the cafeteria," Branson said.
Despite the extensive cafeteria at their disposal, the three Warsaw cheerleaders spent the majority of their free time roaming the many parks and attractions available to them, such as Hollywood Studios, Disney World, Epcot and Disney's Animal Kingdom, not to mention the sandy Florida beaches that surrounded them.
"We went there [Florida] a day early cause we wanted to spend a day at the beach," Givens said.
The group of cheerleaders left on Dec. 28, deciding to take a plane down to the Sunshine State. The money to pay for the plane tickets, along with other expenses they had in Orlando, was raised by the cheerleaders.
They achieved the majority of the fee by selling candles and chocolate bars. However, they also received multiple donations from different companies and businesses around town.
"We raised all of it by ourselves. We weren't about to have our parents pay that much money to let us go. We appreciated the trip more since we did everything by ourselves," Givens said.
During their trip, they had to wake early in the morning, giving them time to prepare and eat breakfast before boarding a bus at 7 a.m. to drive to practice until noon, depending on their performance during practice, and then they were released to do as they pleased. The group of All-American Cheerleaders practiced one day at Disney's Coronado Springs Resort and the next day at a local high school football field in Orlando.
"Every day we had rehearsal and then [when we were done] we'd go to the hotel and take a nap or eat. Then we'd just go to one of the parks, come home at ten and go to sleep and do it again the next day," Branson said.
After two full days of practice, as an entire group, the hundreds of All-American Cheerleaders were ready to perform in the pregame of the 2019 Citrus Bowl.
The football game took place at Camping World Stadium. With a stadium big enough to hold 65,000 people, it was only natural to be nervous.
"I was excited, but it was really intimidating since there were tons of people there and I've never performed for that big of a crowd," Brown said.
Givens was not as nervous as some of the other girls that were performing. When she was younger she was part of a group of cheerleaders that performed at Arrowhead Stadium, with a total capacity of 76,416 people, as a part of a youth program hosted by the Kansas City Chiefs.
The day after their performance, Jan. 2, the three girls returned from their six day trip that was full of long nights, hard practices, and lasting memories.
Leave a Comment
About the Contributor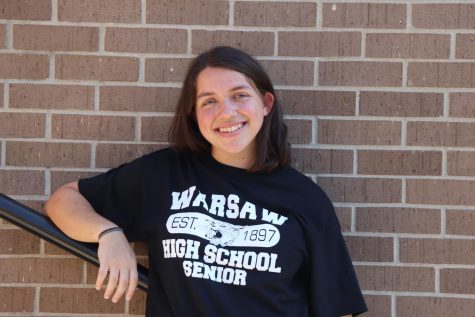 Emmaleigh Kowal, Editor-in-chief
Senior Emmaleigh Kowal is serving as a co-editor-in-chief for the Wildcat Staff after being on staff for three years. She is a writer who enjoys telling...