Football tradition remains strong at WHS
Gathering at the Warsaw football field has been a tradition for four decades; families and friends come together to cheer for their team. According to a recent poll hosted by Gallup.com, "Football Still Americans' Favorite Sport to Watch" by Jim Norman, 37 percent of Americans chose football as their favorite sport.
  Freshman running back and linebacker Conner Huetter recalled that one of his earliest football memories was watching it and hearing his dad, who he watched the game with, talk about the game around the house.
  The earliest football memory for freshman Brady Slavens happened during the first grade when he began his football career that has yet to end.
  Slavens said his best memory from football is a recent one. [It was] "the first varsity game that we won and I played in, which was against Butler, during Homecoming," Slavens said.
  Warsaw players have been making those memories on the Warsaw gridiron for 40 years.
  It was at this Homecoming game that members of Warsaw High School's first varsity football team, from the 1978-79 season, were celebrated for the Fortieth year anniversary of varsity football at WHS.
 "It was an honor to go out on the field and great to see some of the guys – one I hadn't seen since he graduated. I saw how much they had changed," said former member of the first Warsaw varsity team, Paul Eason about being called to the field during the Homecoming game.
  Eason began playing football in the fifth grade, when he lived in Fairview, Oklahoma, and became a Slot Back for the Wildcats when their Varsity team was started in 1978, his sophomore year.
 "I always loved football, it was not a question whether or not I would play," Eason said.
  It was not always easy to play on the Warsaw team in its early years. In the beginning, the program had to practice with old and used equipment, not to mention that the field was full of rocks.
 "It is Benton County," Eason said, who had to pick up rocks almost every day after practice.
 One of the biggest obstacles for the team was their lack of experience,
  "Many of the kids hadn't played the game many years and didn't know the ins and outs of the game," Eason said.
  Despite their rocky start, only managing to win one game in their debut season, the Warsaw Wildcats were able to pull together for a winning season, 6-4, in the 1980 season.
  Eason claims to have never really left Warsaw football, watching the games for years and now calling the games on BCETV,
  "I have always been a fan and have watched them through the rough years and the good years," Eason said. "It seems like I never really left Warsaw football. I have seen a lot of it and I hope to see a lot more."
  The week following the Homecoming game was Senior Night where senior members of band, color guard, cheer team, cross country, and football team were recognized. There are nine senior football players and among them is wide receiver and free safety, Dalton Nickles.
  Nickles made a name for himself when he started in varsity during his freshman year and has kept the same spot for his entire high school career. He is proud to have contributed to the legacy started all those years ago by the 1978 team.
  "They started a good legacy for the school. Every year we try to live up to their legacy while trying to build our own (legacy) as a team," Nickles said.
  This will be Nickles' last season on the Warsaw Wildcats, graduating in the spring.
  "I will miss it because I felt at home," Nickles said.
  Like every team, football players are a family, bonding through adversity and triumph, bearing the highs and lows together as one team, one family.
  Football is a tradition passed down in many families from generation to generation, father to son, at Warsaw. Sophomore Grady Miller is the son of former Wildcat center and defensive nose, Jim Miller.
  "I have his jersey up on my wall and every time I go in there I think 'I hope I'm just like that' so my dad definitely influences me to play football," Grady Miller said.
Leave a Comment
About the Contributor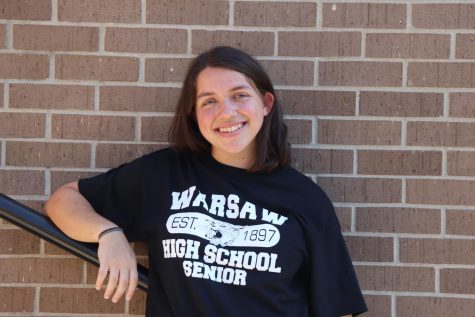 Emmaleigh Kowal, Editor-in-chief
Senior Emmaleigh Kowal is serving as a co-editor-in-chief for the Wildcat Staff after being on staff for three years. She is a writer who enjoys telling...