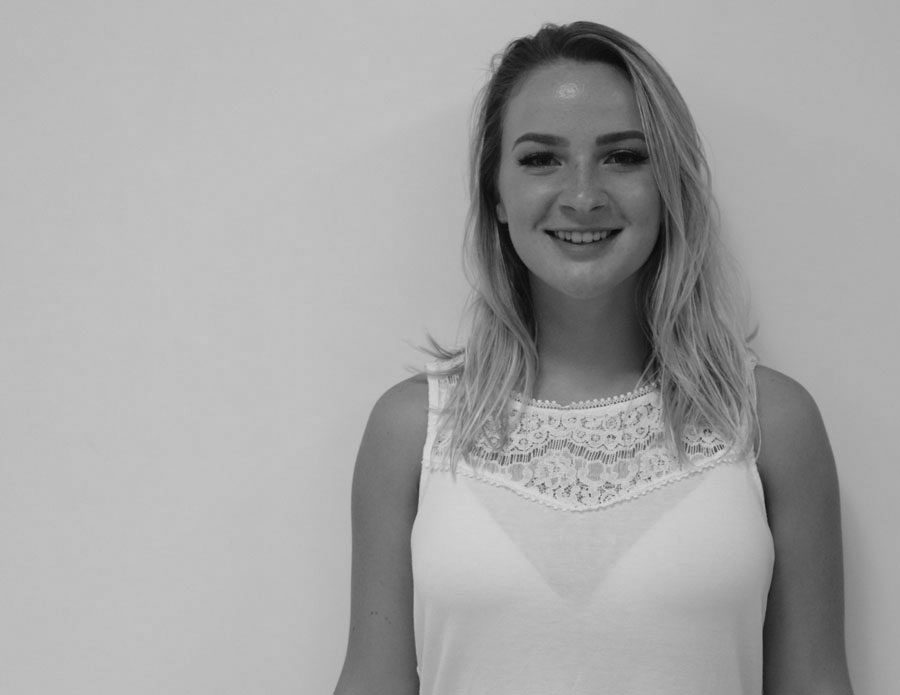 Ally Estes is a senior with a passion for the liberal arts. She currently attends Warsaw High but plans on attending Graceland University in Iowa, where she will study Biochemistry. Estes has been involved in gardening club, science club, math club, volleyball, English club, NHS, Quill and Scroll, pep club, concert band, color guard, and yearbook. Ally Estes has been in newspaper for four years and is currently the editor-in-chief.
  Ally Estes looks up to her mother, Brenda Estes, as inspiration for all that she does.
  "Sometimes I take for granted all that she has had to sacrifice for me and the rest of our family," Ally Estes said. "I hope to one day be as loving, selfless and brave as her."
  Ally Estes holds a special place in her heart for the study of neuroscience, partially because of her natural inquisitive mind, but also because of her epileptic disorder.
  "I don't let my epilepsy define me," Ally Estes said. "I plan on helping others who have had similar situations of my own. Maybe, I'll even find a cure."
  After college, Ally Estes plans on settling down in Minnesota. While her dreams are aimed high, she urges young people to remember that life is longer than it seems.
  "I have this habit of rushing myself. I want to hurry up and finish school, have kids, get a job. I think I crave being a grown-up but in reality I just crave stability," Ally Estes said. "It's okay to not be stable. It's okay to go to parties and have fun. Jump off cliffs and spend a ridiculous amount of money skydiving. You only live once."
Ally Estes, Editor-In-Chief
May 15, 2019

Class of 2019 looks back on high school, prepares for life after graduation

(Story)

May 15, 2019

Oh, The Places You'll Go

(Story)

May 14, 2019

Fighting A Pacifist's Battle

(Story)

May 14, 2019

The art of expression

(Media)

Apr 15, 2019

Baseball players persevere through injury, losses

(Story)

Apr 15, 2019

Students, staff excited for Prop S funding

(Story)

Mar 26, 2019

Three candidates on school board ballot April 2

(Story)

Mar 26, 2019

Voters to consider $6 million no-tax increase bond for school

(Story)

Mar 26, 2019

Players work hard to earn wins early in season, welcome back alumnus coach

(Media)

Mar 13, 2019

RME's (West) closing leaves behind childhood memories

(Story)

Mar 13, 2019

Credit cards provide a smooth transition into adulthood

(Story)

Jan 29, 2019

Mo Flex program, SBE helps students academically and fiscally

(Story)

Jan 29, 2019

Streaming apps, social media change the way people keep up with news

(Story)

Jan 29, 2019

Fear of asking causes ignorance, anxiety

(Story)

Dec 19, 2018

Lack of positive school culture inspires "We Are Family" assembly

(Story)

Dec 19, 2018

Students stay local for the holidays

(Story)

Dec 04, 2018

Freshman places tenth at state

(Story)

Dec 04, 2018

FFA hosts annual Barnwarming dinner and dance

(Story/Media)

Nov 27, 2018

Musicians enjoy spotlight for 'Seussical' the musical

(Story)

Nov 27, 2018

Basketball season begins

(Media)

Oct 23, 2018

Players get competitive with familiar opponents

(Media)

Oct 23, 2018

Senior class takes back-to-back win for Homecoming 2018

(Story)

Sep 26, 2018

Eight selected for All-District Choir

(Media)

Sep 26, 2018

Sixteen candidates vie for Homecoming crowns

(Media)

Sep 25, 2018

Athletic building promises more space, opportunity

(Story)

Sep 25, 2018

Cheer squad introduces new look

(Story)

Sep 25, 2018

Homecoming invites float building, spirit week costumes and games

(Media)

Apr 06, 2018

New board member assumes vacant position

(Story)

Apr 06, 2018

Track athletes consider different events based on experience, ability

(Story)

Apr 06, 2018

Journalism students attend annual J-Day event, get recognized through awards

(Story)

Mar 09, 2018

Students show love in a variety of ways

(Story/Media)

Mar 09, 2018

Courtwarming week filled with games, banners and fun for students

(Story/Media)

Feb 27, 2018

Three vie for school board vacancies

(Story)

Feb 16, 2018

Drunk driving simulator encourages students to drive safe

(Story)

Feb 16, 2018

Cheerleaders ignite spirit in light of Courtwarming basketball game

(Story/Media)

Feb 16, 2018

Sophomore class loses scream war, rewarded for creativity

(Story/Media)

Feb 14, 2018

Wrestlers walk the halls as they head for state

(Story)

Feb 07, 2018

Privilege turns into punishment for upperclassmen

(Story)

Feb 02, 2018

Mathletes, athletes dress accordingly for Courtwarming spirit week

(Story/Media)

Feb 01, 2018

Memes flood school on Courtwarming spirit week

(Story/Media)

Jan 31, 2018

Students spend their Tuesday twinning with friends

(Story/Media)

Jan 30, 2018

Schoolwide Christmas preparation raises excitement

(Story)

Jan 30, 2018

Basketball team enters season with new focus

(Story)

Jan 30, 2018

Staff Editorial: Opioids pose threat to modern society

(Story)

Jan 30, 2018

Staff Editorial: New Year, New Me ideal is poisonous due to unrealistic goals

(Story)

Jan 30, 2018

Students get comfortable for courtwarming

(Story/Media)

Dec 20, 2017

Academic Team starts off fresh in a new season

(Media)

Nov 08, 2017

Seniors prepare for future careers

(Story)

Nov 08, 2017

Students visit the past during 36th annual town-wide event

(Story/Media)

Oct 31, 2017

Veterans encourage students to join military

(Story)

Sep 28, 2017

Staff Editorial: Bridge between generations should be valued

(Story)

Sep 28, 2017

There's no place like Homecoming

(Story/Media)

Sep 28, 2017

Meet the Candidates

(Story)

Sep 21, 2017

Volleyball team rises to the challenge

(Media)

Sep 15, 2017
Sep 11, 2017

Practice makes perfect

(Story)

Sep 05, 2017

Back To School

(Story/Media)

May 17, 2017
May 17, 2017

Class of 2017 remembers good times as students, share future plans and goals for college, career

(Story)

May 16, 2017

Top ten students offer tips for academic achievement

(Story)

Apr 26, 2017

Rain on J-Day's parade does not dampen state journalism awards

(Story)

Apr 19, 2017
Apr 18, 2017

Students suffer summer state of mind during school sessions

(Story/Media)

Mar 22, 2017

Athletes find their strengths through chosen track events

(Media)

Mar 21, 2017

Students overcome nerves through first blood drive experience

(Story)

Mar 21, 2017

Staff Editorial: Vaccinations should be optional

(Story)

Feb 21, 2017

Three wrestlers compete on state mats

(Media)

Feb 20, 2017

Possibility of four-day week introduces change for students and staff

(Story)

Feb 20, 2017

Junior Cody Wilson admired for his NAFST Award of Excellence

(Story)

Feb 01, 2017

Alum hired as assistant principal, Daleske makes move to middle school

(Story)

Feb 01, 2017

Students bring ongoing debate over student freedom and regulations to light

(Story)

Dec 16, 2016

Pinterest DIY: Nailed it!

(Story/Media)

Dec 13, 2016

Young hunters take pride in their kills this hunting season

(Story)

Nov 22, 2016

Scholarships, location play deciding factors in college choice

(Story/Media)

Nov 22, 2016

FFA members work hard to achieve "Good Times" at Barnwarming

(Story/Media)

Nov 21, 2016

Students imagine themselves in presidential roles

(Story)

Nov 21, 2016

Students show appreciation for custodians

(Story/Media)

Nov 21, 2016

Coach returns home for first year of teaching

(Story/Media)

Nov 20, 2016

Accompanist steps up into directing role

(Story/Media)

Sep 29, 2016

Volleyball team pushes themselves to 'rise above' negative attitudes

(Media)

Sep 27, 2016

Band director settles into first lead director role

(Story/Media)

Sep 27, 2016

Math teacher finds joy in classroom and baking hobby

(Story/Media)

Sep 27, 2016

High School Hero: Wesley Carr

(Media)

Sep 26, 2016

Photo of the Week

(Media)

May 18, 2016

Seniors enjoy last week out of school

(Story)

Apr 26, 2016

Journalism students attend annual J-Day conference

(Story)

Apr 26, 2016

Students enjoy favorite recreational spots in Warsaw

(Story)

Apr 26, 2016

Complete J-Day awards list

(Story)

Mar 25, 2016

Students share and compare their literature festival experience

(Story)

Mar 25, 2016

Students give advice on scheduling

(Story)

Feb 24, 2016

District conducts search for new superintendent

(Story)

Feb 03, 2016

Humble high school hero steps up to lead through example

(Story)

Feb 03, 2016

Students maintain respectful spirit in pep club

(Story)

Jan 29, 2016

Girls continue to strive for wins through tournaments

(Media)

Dec 15, 2015

Speech students overcome nerves to perform

(Story)

Nov 17, 2015

Students celebrate Thanksgiving traditions

(Story)

Oct 29, 2015

Students find Halloween fun

(Story)

Oct 27, 2015

School focuses on student safety

(Story)

Sep 29, 2015

School improves standardized test scores in three areas

(Story)

Sep 29, 2015

Artist Corner: Kyle Nevius

(Story)