Courtwarming week filled with games, banners and fun for students
  Students raised the school spirit by participating in various events leading up to Courtwarming. From spirit week to the Courtwarming dance, January 29 – February 2 was filled with silly outfits and competitive games that helped encourage and celebrate the basketball team's success.
  Student council had the opportunity to pick the theme for this year's Courtwarming. The theme was suggested by senior student council treasurer Cash Miller, who pointed out the common theme of misplacing 2017 on assignments due to the sudden new year. 20178 was plastered across all of the posters in the high school halls that advertised the no-theme spirit week. The idea of a no-themed spirit week was proposed during a student council meeting and gained the popular vote.
  "At first, I thought the no-themed week was a great idea, but as the week wore on I didn't like it as much. I think having a theme makes it more fun," junior Taylor Bunch said. "My favorite part of Courtwarming was the assembly. I love the class wars and coming together as a class."
  Students came to school dressed in their most comfortable clothes on Monday, January 29 – it was pajama day. Freshman Samantha Townley and senior Cody Wilson won points as best-dressed for Monday's theme.
  "I wore silk, floral top and bottoms, and I also wore a cheetah robe," Townley said. "It was pretty cool, but when they called me up I wanted to stay sitting just because I don't like getting up in front of the entire school. I think Trevor Thoele and Aidan Graham were dressed up the best."
  Students had the opportunity to twin with their friends on Tuesday, January 30. Seniors Mikayla Andrews, Drew Dawson, Kegan Glenn and Brooke Jelinek won for their amazing synced outfits.
  "I twinned with Keegan Glenn and my outfit was a 3XL shirt cut into what looked like a dress. Kegan wore the same and we wore blue shorts underneath for our diaper," Jelinek said. "It was hard work being Phil and Lil for a day, so it feels good being known as the best-dressed for that day!"
  The theme for Wednesday, January 31, was meme day. Students took advantage of this theme and came to school dressed as their favorite internet joke. Freshman Lacey Andrews and senior Triston Good won as best-dressed for this theme.
  "I dressed up as the McDonalds ice cream machine for meme day," Andrews said. "I'm actually very honored to be able to say I won Best Dressed. I don't usually win those things."
  The theme for Thursday, February 1, was Mathletes vs. Athletes. Students came to school dressed in either suspenders and ties or jerseys and baseball caps. Sophomore Scott Winters couldn't decide whether he was a mathlete or an athlete, so he came dressed as both.
  "Everyone separates them in different categories, but I am a mathlete AND an athlete in real life so I decided to over exaggerate that," Winters said. "I would like to say that this was one of my top favorite spirit weeks. I was more involved in this one than any other time. The only part out of the whole week that I didn't like was meme day."
  Friday hosted banner making, candidate games, coronation and dance. Students went to school dressed according to their class color. Freshman wore green, sophomores wore white and seniors wore black.
  Senior Drew Dawson won the title of "Most Spirited" for the entirety of spirit week. Dawson participated in every theme.
  "My favorite theme was twin day because having all of the attention on us as we walked through the hallway was hilarious," Dawson said. "Mikayla and I were late to every class because we twinned as old ladies with walkers. I did it to keep up with the old lady costume."
  The sophomore class won banner-making and, as a reward, won points that went towards their class score for the overall week. Although sophomores lost spirit week, their graffiti-themed banner made an impression on students and teachers alike.
  "Spray painting graffiti letters is something I have never done before and I was actually decent at it," sophomore Kiersten Grobe said. "I'm happy because I thought ours was unique and usually seniors win, so it was cool that underclassmen won at something."
  Students who had an attendance above 90 percent and grades no lower than a C got to participate in banner-making, which also included various games between every hour and a BBQ hosted by principal Randy Luebbert.
"My favorite game was definitely musical chairs. Everyone was so into it, and there is a broken chair somewhere that can attest to that," Senior Caitlin Easter said.
  Right after students finished up their banners, the school congregated to the gym where the candidate assembly was held. Prince, princess, queen and king candidates got to play in various matches against each other in order to earn points towards their voting.
  "My favorite memory from the candidate games was when I sunk a half court shot before my brother," Jake Luebbert said. "My favorite part was winning the game against Eldon."
  Students watching from the bleachers also got to participate in events, such as winning awards and watching as teachers performed their best "toilet face." Near the end of the assembly, the traditional scream war took place and was a very close tie between juniors and seniors. In the end, however, seniors came out on top as the loudest class.
  "The senior win wasn't a big deal; it really kinda just brought the whole school together," Schepker said. "We all got to have fun while being competitive."
Leave a Comment
About the Contributor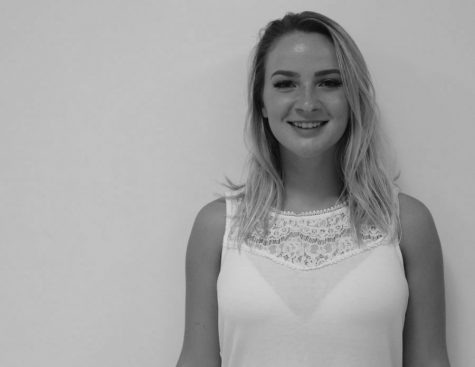 Ally Estes, Editor-In-Chief
  Ally Estes is a senior with a passion for the liberal arts. She currently attends Warsaw High but plans on attending Graceland University in Iowa,...