Rain on J-Day's parade does not dampen state journalism awards
  Every year, journalism students across the state of Missouri are invited to attend the MIPA sponsored Journalism Day held on MU campus grounds. However, the gathering of these students is not the only thing that occurs annually. An inside joke running among the Wildcat staff members concerns the fact that it rains every J-Day.
  "I personally really love rain so it doesn't really bother me any," junior Destiny Lee said. "It gives us something to joke about with other schools. It acts kind of like a conversation starter."
  JDay is a Mizzou tradition that offers journalism students the chance to go to various sessions and get the opportunity to learn and experience new things within the journalistic field. This year, sessions discussed subjects such as sports photography, leadership, design, food news, watchdog journalism, feature writing, editorial writing, podcasts, and film. Students are also offered the opportunity to participate in WriteOffs/Photo ShootOffs. Instead of attending the sessions, students competing against one another in the WriteOffs/ShootOffs spend their time taking photos around the campus and composing stories using information provided by the Mizzou staff.
  "I've been going to J-day since I was a student and I love taking my students as well because it helps them to realize that student journalists all over the state are producing such amazing work and our little school can compete right there with them," journalism adviser Amanda Adler said. "I'm so used to it raining on J-day, it wouldn't feel like J-day if it didn't rain."
  There is no basis, of course, for this annual phenomenon other than the fact that it is very consistent and most J-Day participants are aware of it. Journalism adviser Amanda Adler hands out a list of things for students to bring with them to the event, and is always sure to add an umbrella and raincoat to the list.
  Senior Makayla Mais has been in journalism for three years, and doubles as editor-in-chief in both newspaper and yearbook. Mais says that the rainy tradition has held strong for every year she has gone to J-Day.
  "I think it's kind of hilarious that it works out that way every year," Mais said. "But I still wish it wouldn't because you end up feeling sticky and you get very hot."
  Despite the rainy weather, a majority of the Warsaw attendees received positive feedback on their submitted stories, spreads, and photos. Senior Makayla Mais and sophomores Brenna Smith, Autumn Rhea and Ally Estes received All-Missouri awards. Following this were 15 individual awards shared between newspaper, online, yearbook, and photography. Last year's yearbook Ozark Echoes was rated Superior, as well did The Wildcat and TheWildcatOnline.com.
  "I was very pleased with my results of getting my first All-Missouri," sophomore Brenna Smith said. "Next year I am hoping to get another one maybe for a photo or another well-developed story."
  For some staff members, however, the rain was seen as nothing more than a hindrance to the day's adventures. Senior Web-editor Jonathan Petesch disliked the weather because rain made the whole day very gloomy, especially between sessions. Despite this, Petesch found that there were many admirable traits about the J-Day sessions.
  "The Ferguson session was my favorite, as it opened my eyes to a new side of a crisis by showing that in the chaos of Ferguson, many good things were happening. Even though the media had a bad reputation in Ferguson, the town was stood with open arms as they knew the story had to be told," Petesch said. "J-Day caused me to realize that in a world of fake news and bad media reputations, we need to reshape how the world views media, and return journalism to its former glory. J-Day caused me to finalize my decision to change my future career to journalism."
Leave a Comment
About the Contributor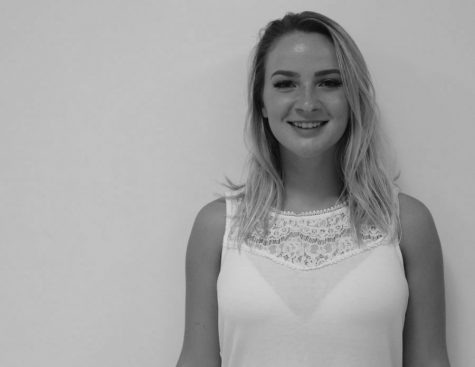 Ally Estes, Editor-In-Chief
  Ally Estes is a senior with a passion for the liberal arts. She currently attends Warsaw High but plans on attending Graceland University in Iowa,...