Four qualify, Porter takes third at state
Alexis Riga , Editor-in-chief & staff writer
November 18, 2014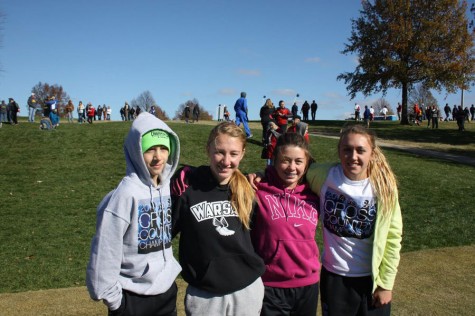 Four qualified cross country athletes competed in the state run in Jefferson City on Nov. 7 and one athlete brought back a bronze medal.
Junior Allison Porter, freshman Dallas Larsen, senior Jessica Kuykendall and sophomore Ashlee Kuykendall completed the course as the race consisted of 164 runners all together.
The course was a five km, hilly course.
"The hills made the course difficult," sophomore Ashlee Kuykendall said.
Although the course had its obstacles, students finished the race strong.
Junior Allison Porter placed third with a time of 20:17, freshman Dallas Larsen placed 52nd with a time of 18:09, senior Jessica Kuykendall placed 55th with a time of 22:21, and sophomore Ashlee Kuykendall placed 91st with a time of 23:15.
"I was extremely pleased to see my athletes perform so well at the state level.  They are dedicated individuals and I saw the reward of their hard work.  I put them through the pain of continual hill workouts, week after week, for an entire season to prepare them for the State course.  Nothing makes a coach more proud than to see his athletes excel and enjoy the moment with the excitement of their accomplishments,"Coach Ehren Banfield said.
"I didn't think I could place as well as I did, and I still can't believe that I did," Porter said.
The four athletes qualified for state after good performances at district meet.
Porter placed second with a time of 20:47, Jessica Kuykendall placed tenth with a time of 22:06, Ashlee Kuykendall placed fourteenth with a time of 23:05 and Dallas Larsen placed twelfth with a time of 18:18.
Looking back on the season, members of the team know what needs to be worked on for next year.
"The season could have been better if more people could have gone to state," senior Jessica Kuykendall said.
As the season wraps up, reflections on the team are positive as the season was successful.
"This season was a success by many factors.  I had athletes who had never run long distances before and never considered themselves to be runners until they saw the rewards of their hard work.  When athletes continually improve and work harder day after day to take on more challenging goals, that is the definition of success. What more can a coach ask for.  I have the best athletes anyone could ask for.  We were individuals that turned into a team.  From there, we became a family," Banfield said.
"I would say that the season went well and I was happy that I meddled at almost every meet," freshman Dallas Larsen said.