Warsaw FFA chapter stays active during summer months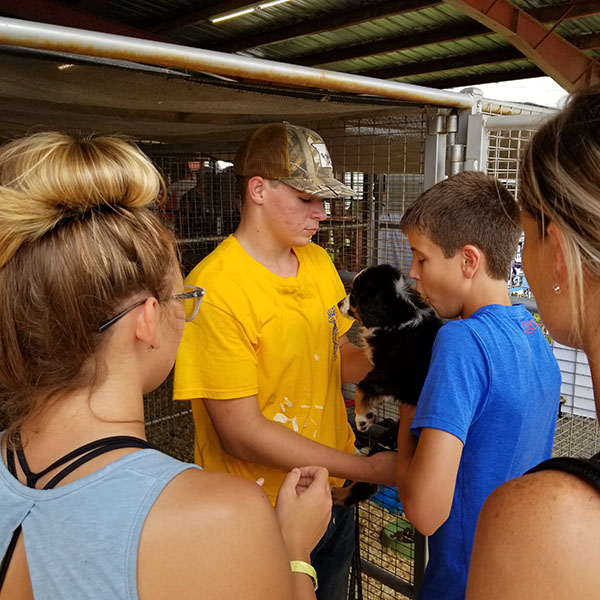 After the final bell of the school year, many students leave thoughts of their school organizations behind. But for advisor Stan Adler and members of the Warsaw FFA, the summer months provide opportunities for more personal development, chapter activities and community involvement.
   "There are a lot of unique opportunities that happen in the summer because we don't have the time constraints of the school schedule," Adler said.
   Camp Rising Sun, part of the Lake Ozark State Park, was home to approximately 200 FFA members and Advisors as they participated in a week of activities and leadership sessions as part of the annual FFA Camp held there. Among the 200 people, ten of them represented the Warsaw FFA Chapter during the week of June 10-14.
   Members of the Warsaw FFA Chapter in attendance were juniors Jared Thomas, Eleanor Wassman, Morgan Branson, Haven Collins, Wesley Drake, Donna Pitts, Zachary Sharp, Austin Brazel, sophomores Devin Hawley and Parker Griego.
   "I wanted to go to camp for the new experience, I didn't get the chance to go last year and took the chance this year to go and I don't regret it one bit," Collins said.
   Drake, Wassman, and Thomas also attended the FFA Washington Leadership Conference in Washington D.C. The conference focused on developing leadership and social responsibility. Students also visited the sites in the nation's Capitol. 
  "It definitely opened my eyes on many different issues facing us currently  (World Hunger, Suicide, Population Rise, etc…) and the effects on us in the future and I want to try to help change those issues so we don't have to face the consequences," Thomas said.
   The main focus of the conference was to encourage young leaders to do what they can with what they have.
   "It focused on telling us to use our resources to make a difference," Thomas said.
   Students at WLC experienced Washington DC with hundreds of FFA members from around the country. They toured the Capitol building, visited the monuments and experienced Smithsonian museums.
   "I personally saw it as an opportunity to see and experience more of the world. I love traveling so what better way to do it than go to WLC. Not only did I get to see things I had never even dreamed of seeing, but I learned so many things along the way. I also met so many people from other places that I had also never been to so I was able to learn about where they came from as well," Wassman said.
  FFA members participated in the Benton County Rodeo July 12 – 13 by either being in the rodeo itself or parking cars for the event.
   "I had the opportunity to ride with the Benton County Freedom Riders for the fourth year this year. We performed a military tribute for anyone who has served or is currently serving. It is something I take very seriously and it means a great deal to me, a way to say thanks for the people that lay their lives on the line for our country," senior Alexis Mantonya said.   
  FFA members completed their summer activities by helping to host the State Fair Children's Barnyard  Aug. 6 – 18 with FFA chapters from Lincoln and Green Ridge.
   "While I was there, I met people from other schools, I scooped poop, and helped take care of the animals so it would be possible for us to show and teach kids about animals. My favorite part of working at the children's barnyard was showing off all the puppies because of all the hot girls who came in and wanted to hold them," junior Jake Steiner said.
  Throughout the summer, members continued to develop their supervised agricultural experience (SAE) projects. While some worked a job in food service, such as McDonalds, others worked with the livestock on their own farms or sold produce.
  The summer months gave members extra time to develop these projects.
  "Students apply what we talk about it class to real-life situations," Adler said. "Having that SAE project forces them to think about what they are learning on the job. It is valuable hands-on learning experience and allows kids to earn money while they are learning."
Leave a Comment