Students show appreciation for veteran's sacrifice at assembly
Advertisement
Hang on for a minute...we're trying to find some more stories you might like.
The gym of the high school filled again with veterans from the community and students from every school to be inspired by the words that Harold "Hal" Russell spoke. His message focused on the sacrifices that veterans make and how some things are still with veterans even after they return from war.
The Veteran's Day assembly was once again put together by Student Council, NHS and FCCLA. There was a lot of planning that started months before this special assembly.
"Planning for Veteran's Day starts as soon as August of that school year. We need to find a speaker and order the decorations. Also, we need to have a meeting with the VFW, who donates money for the breakfast," student council advisor Jenny Greene said.
Student Council and NHS did a lot of planning, so they could make this assembly very nice for the veterans.
"We have a pretty set plan that helps us with the base part of it, but then we always plan on adding to the assembly every year. Having something new is an important part of the planning process," Greene said
This year's new addition was having senior Caitlin Easter reading the poem "The Noble and The Brave" by Joanna Fuchs at the beginning of the assembly.
The poem was about saluting the people who serve in any form of the military. It also highlighted all of the sacrifices they are making or have made.
" I think it was a good addition, because it lets the students speak about the importance of veterans," Easter said. "I think the poem is important because somebody needs to say it, and somebody needs to give them the respect and thanks that are due."
As custom, the band performed, the choir sang and there was a guest speaker who is a veteran.
"I listen to the community and staff. We have a lot of people make suggestions on who'd they like to hear from," Greene said.
This year's speaker was Harold "Hal" Russell. Russell was in the army and was in the Vietnam war. He served for two years because he was draftee.
"I thought it was a great honor to be chosen to speak, but I didn't think I deserved it," Russell said.
Russell spoke about different parts of his life. These included as a young kid, his time he served in the military and about his recent years biking all across the country.
Russell spoke a lot about his time when served in the military. Russell was drafted into the United States Army in 1968, and served during the Vietnam War.
"When I got drafted, I was, in a way, excited, and I think it was the right thing to do," Russell said.
Russell also spoke about when he returned from Vietnam, he could choose to go straight ahead to line and keep serving or turn right into a different line and stop serving. Russell decided to go in the line to stop serving.
" I turned right, but I probably should of went straight ahead," Russell said.
Life was much different for Russell after he returned from Vietnam. Russell realized that after just a few days.
"I thought I would be glad to be home, but after three days I realized I was in a foreign place," Russell said. "I didn't fit in anymore, I missed my M-16 hanging on my shoulder, missed my buddies and friends."
Russell also spoke about what he has done in his recent years. In his recent years, Russell has done a lot of biking. Russell said in his speech that biking is one of the reasons he is well known in the community of Warsaw.
Russell ended his speech by reading a short writing that he copied from a monument dedicated to veterans. During this time he asked all the veterans to stand as he read it. When reading the writing Russell started to get emotional.
Veterans were appreciative of Russell's remarks.
"Hal is a fellow Vietnam veteran and friend and I think he did a great job," veteran Larry "Pete" Peters said.
The students also felt like Russell did a great and job and was inspiring.
"I enjoyed the guest speaker, because he was very inspiring," sophomore Scott Winters said.
The assembly was wrapped up by Greene receiving an award from the VFW. The award was for being the most patriotic teacher of the year

About the Contributor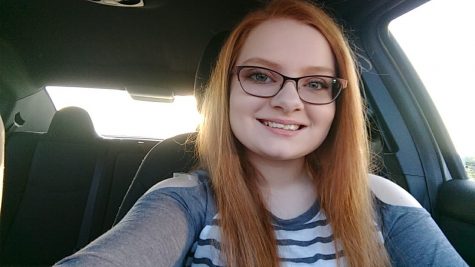 Becky Petesch, Staff Writer
Becky Petesch is a sophomore this school year. This is her first year writing for The Wildcat news staff. She's involved in band, choir, math club, student...