Three runners head for state this week
The same three runners who represented Warsaw at the 2019 state cross country meet will do so once again this Thursday.
Senior Trey Palmer, junior Alyssa Alcantara and sophomore George Montez each posted state-qualifying times at the Saturday, Oct. 31 district championships in Hermitage. Palmer won fifth place with a time of 18:17.84, Montez placed sixth with a time of 18:26.19 and Alcantara placed sixth with a time of 21:39.02. Runners who placed in the top 15 of the district qualified for state. The State XC Championships will be at Gans Creek in Columbia, Thursday, Nov. 5.
Last season, Palmer took 22/173 at state with 16:54.8 Montez placed 147 and Alcantara placed 73.
Three other runners also competed on Saturday. Junior Calvin Long ran the race in 22:58.06, sophomore Logan Schockmann ran it in 21:29.50 and junior Natalie Johnson finished her district race in 24:57.14.
Runners have been working all season to improve their race. Palmer said he has been working on a faster start. Montez has been training in his free time at a slow and easy pace.
Alcantara said long-distance racing has led to much self improvement.
"It has improved my way of thinking and the way I handle things like failure. Failure isn't what makes you; one loss doesn't change anything," Alcantara said.
Each of the three state qualifiers have had some memorable moments this season.
"Definitely beating Trey in a race," Montez said.
"The long runs and times to unwind were very enjoyable," Alcantara said.
"It was running with my friends for the most part," Palmer said.
They all have similar goals as well. To be the best runners they can and have no regrets.
Cross country runners have had somewhat of an odd season. Because of COVID-19, they've had to deal with things like social distancing, masks, and even water limiting of sorts. Runners now need to bring their own water and can no longer get water from the meets or people who are there. At the district meet, everyone had to wear masks at all times, unless they were running. For state, only two guests are allowed to go to the meets, no other family or friends are allowed. They have even decided to break up the state meet into three days.
"My sister will not be able to go to either of them. My friend, who I've looked up to since seventh grade and has shown up to State every time, cannot attend either. However, I'm very fortunate to have both in my life; I know that they will certainly be cheering for me wherever they are," Alcantara said.
Leave a Comment
About the Contributor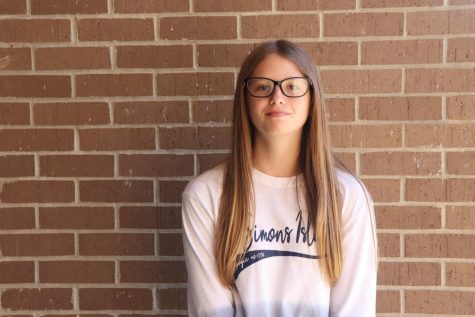 Makenna Frock, Staff Writer
Freshman Makenna Frock was encouraged by her eighth grade English teacher to join the journalism staff. Although Frock does not have much experience in...