Music Department Brings to Life Famous Love Story, Oklahoma!
Ever since 1990, Warsaw High has made it a habit to perform a musical every other year for the students and community. This year the choir will be bringing to life the musical "Oklahoma." There are 16 students making up the cast, 25 students in the chorus, and 5 students helping with props and backstage equipment.
New choir director Deanna Schockmann said the storyline of the musical has "romance, action, comedy and, of course, music."
The story focuses on a love triangle. With a box social coming up, Curly (Brenden Dockery)  asks Laurey (Ashlyn Yoder) if she'll be his date. Trouble is, Laurey thinks he has waited too long, and in a fit accepts an offer from the boorish Jud (Blake Brodersen) instead. Meanwhile, Laurey's friend Ado Annie (Caitlin Easter) is also torn between two men: a cowboy named Will (Nate Fauqier) and a foreign peddler, Ali Hakim (Seth Eckhoff).
"Both women struggle to know their own hearts before it's too late," Schockmann said.
  For the lead roles, practices and rehearsals have already started. Since Sept.6, practices have been on Tuesdays, Thursdays, and Fridays at 6:30 pm until late into the night.
 "As one of the main roles, I do have to attend more practices and rehearsals than most other people, but my character is a rare exception where I don't have many lines, I sort of just show up when it's inconvenient in the musical," senior Blake Brodersen said.
 "Being one of the major characters, I wouldn't say I have to necessarily do more work, but I do have to attend more practices and rehearsals," junior Caitlin Easter said.
  Easter is growing fond of her character Ado Annie.
  "I love how clueless my character is.  I think it's interesting and new to play.  She is also very grammatically incorrect, so I might have a couple of issues with that, but overall I love the character.  She really does allow a full range of acting and emotions, and is a very funny character," Easter said.
  This is the second time that the school has performed the musical Oklahoma since the tradition has started. Schockmann will be helping with the musical in more ways than one.  
  "This was the first musical I was in and played Laurey so that's the main reason I chose it, because I'm familiar with it and it's just a fun musical." Schockmann said.
  The musical will be performed on stage November 4-6 in the Warsaw High School gymnasium.
"I'm really loving how rehearsals are going. We have a great cast, and I think this musical will be really good." Easter said.
Leave a Comment
About the Contributor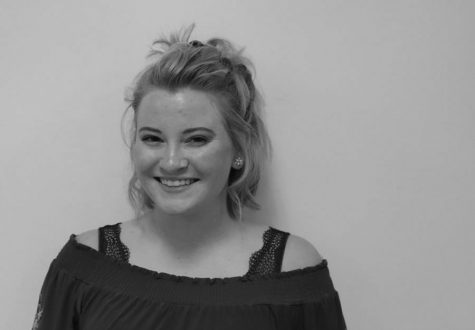 Brenna Smith, Photography Editor
Senior Brenna Smith, a lifelong Wildcat, has come back to the journalism department for her fourth and last year. This is her second year as the photo-editor...