Dedication leads softball team to regionals
Hang on for a minute...we're trying to find some more stories you might like.
 The dedication, the heart, the guts to fight and to keep pushing – qualities that all of the girls of the Ladycats softball team have acquired since picking up their first bat. It's these qualities that have pushed the team to where they are now, but for the girls on the team, it's hard to forget where they started and how far they've gone.
  As a third grader, junior Aubrie McRoberts was the youngest on the team, surrounded by girls who were two times her size. McRoberts prepared to shoot off third base in hopes of scoring the winning point for her team. Her eyes stayed attached to the ball as her teammate swung through and made contact, and off she went. McRoberts hurdled herself towards home base, sliding into safety and winning the final point for her team. Her teammates surrounded her and lifted her up on their shoulders. For McRoberts, this was a thrilling and exciting experience to be playing with the older girls, and to show others just how good she really was.
 Most girls from the Ladycat softball team have very similar memories from growing up playing the sport of softball. Their dedication to the sport shows on and off the field. To the girls of softball, this sport did not just make them a team, it made them a family, with an unbreakable bond and stories to last a lifetime.
  McRoberts now plays shortstop for the Ladycats.
  "Playing now, as a high school softball player, the game is a lot more serious and faster pace. Every play matters and now counts for something. I still remember myself as a little girl who loved every moment of the game and had dreams of going far one day. That's still who I am today," McRoberts said.
  The team took their 2018 season by storm, ending with a 23-4 record.
   Sophomore Aspen Whitaker, a left and right fielder, is another player like McRoberts who has been playing softball from a young age. With her parents guiding her to start out with tee ball, Whitaker began competitive softball at the age of nine for Torque Fastpitch, the local competitive softball team on which most of the girls play.
  "Softball is a mental sport more than a physical sport and most people don't understand that. I've always lived it and had a passion for it," said Whitaker. "It teaches you more about how to gain confidence and build friendships."
  With a winning record to stand on its own, the team faced districts on Oct. 11, becoming back-to-back champions after defeating El Dorado Springs, 15-0, and Lamar, 5-1. With the district championship under their belts, the girls faced Willow Springs at sectionals on Oct. 17.
Junior Kya Schepker pitched against Willow Springs and helped the team to win, 11-1
  "I loved getting to pitch at sectionals, although I was nervous. It was a great way to go into the last stretch of the season," Schepker said. "We are lucky to have several other great pitchers who are always ready to go in when needed and back each other up."
  The Ladycats fell to the Blair Oaks Falcons on Saturday, Oct. 20 (10-0).
  Head coach Steve Larson said the girls did not take on any special preparation for the regional game.
  "We are sticking to business as usual, we haven't changed a thing really. We do our thing, and we do it as a team. They have been playing since March and April. They just do what they do," Larson said.
 The regional loss was a hard lesson but the team is looking towards next year's season.
  "Losing in regionals showed us that we have work to be done, but that we will be back stronger than ever next year," said Schepker.

About the Writer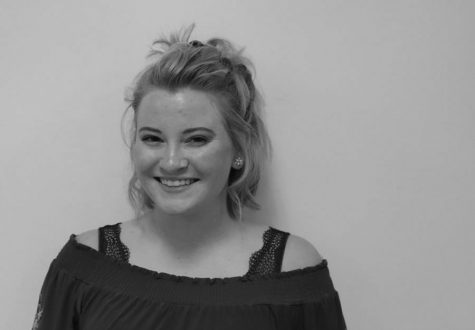 Brenna Smith, Photography Editor
Senior Brenna Smith, a lifelong Wildcat, has come back to the journalism department for her fourth and last year. This is her second year as the photo-editor for The Wildcat, and first year as the Editor in Chief for the Ozark Echoes yearbook. She has been part of The Wildcat staff since freshman year — starting out as a freshman she was doing it for a way to get involved, quickly learning that she wanted to pursue journalism as a career. She wants to pursue a career in communications and journalism while attending Kansas State University.
  Now as a high school student, she engages in a plethora of activities, including but not limited to volleyball, color guard, newspaper, yearbook, NHS, STUCO, English Club, Pep club, and FBLA. This doesn't leave her with much free time, but when alone she enjoys reading different genres, especially history, baking, and spending as much time as she can with her family on the weekends.