Artists display unique styles through passion for their crafts
 Out of many things people are intrigued by, a talent in art seems to be one of the biggest, especially when their art is stunning.  Seeing things differently, having an eye for detail and pushing themselves to continually improve are common qualities in accomplished art students, such as freshman Ry Yoast, junior Karly McKenna and sophomore Lilia Jensen.
   Freshman Ry Yoast has combined southern and western cartoon styles. He does mainly human or humanoid characters. His art style has been described as "cute" and "spunky."
    "Ry never fails to surprise me with his talent. I think what amazes me the most is he can take artwork down a totally different avenue than I would and it turns out phenomenal. It's great to see different angles that kids are taking to develop their own artwork. I have also witnessed him helping other students when they get stuck on something they are working on. He would be a great art teacher," art teacher Jennifer Greene said.
   Yoast enjoys art and is always improving on his style. He started when he was around six or seven years old because he wanted to be like his older sister, being very inspired by her art. But once he started drawing, he never stopped. He continues to improve his technique by drawing inspiration from different references.
   "When drawing, I normally use a pose or a reference, whether that be something for the outfit, or the character body. It just overall helps. If you want to do art as a serious thing, don't stress over style. It's not necessary and stress is making it harder. Style comes naturally so don't worry," Yoast said.
    Yoast hopes to be able to make money off of his art by doing commissions when he is older.
    Junior Karly McKenna uses art as a form of expression and how she feels in the moment.
   "My art style could change depending on how I was feeling or thinking. It could be anything from a flower to a dragon," McKenna said.
     Around fifth grade is when she truly started taking a liking to art. She had taken an interest in a few art contests. She did well in these contests and after they were over, she figured she would continue with art. 
   "Normally, I need a reference to help with my drawings. A regular picture or even a base pose. I do love art very much though," McKenna said.
   "Karly has such an amazing eye for art. She can take something very simple and make it elaborate. She grabs the detail that many cannot see. Her work always amazes me and it's one of the reasons why she was able to skip over art I and into art II!" Greene said.
   Another WHS artist who has a passion for her craft is sophomore Lilia Jensen.
    "I can't remember not doing art. It's always been something I've done, almost like it came natural or from instincts," Jensen said.
   Whenever she does art, she often looks around for what to draw or sculpt and if she can't find any good ideas or inspiration, she goes to the internet for some ideas. As for the actual art, she normally just does whatever she feels like
   "She is an amazing, detailed-oriented person. She pushes her artwork to be above and beyond. I could give Lilia an idea and she makes it 10 times better," Greene said.
   Each artist continues to grow and improve with their art and styles.
   "Art is personal to every creator, each artist finds a way to make their piece unique to themselves and their style. It is an ever-changing concept that affects many people in different ways, whether they are a viewer or a creator," Yoast said.
Leave a Comment
About the Contributor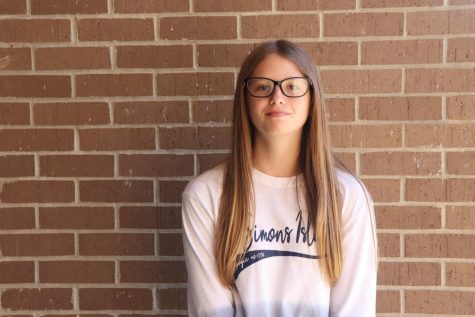 Makenna Frock, Staff Writer
Freshman Makenna Frock was encouraged by her eighth grade English teacher to join the journalism staff. Although Frock does not have much experience in...