School counselors promote new on-campus food pantry
Students can now shop at a JBMS/WHS food pantry for items that they need.
It was started around the beginning of the year and is operated in a joint effort by high school counselor Tyler Richardson and middle school counselor Katie Johnson. Johnson was the one who had the idea of the food pantry because she knew that older kids needed the help that was already available to elementary students through the buddy pack system.
"I knew we had the buddy pack system at the elementary schools, so I knew there were high schoolers and middle schoolers who might need food also," Johnson said.
Students who need something from the pantry can visit with one of the counselors.
"There's no limit to how much food you are allowed to take and there's no limit to how many times you can enter and it's open to anyone: teachers, staff, and students," Johnson said.
They have a variety of foods, including canned meats, pastas, milk, cereals, soups, canned fruits, canned vegetables, and some snacks.
Everything is kept private as well.
"It just stays between me and the kids who ask. They can email me or stop by either office," Richardson said.
The pantry is located in a classroom that was an old storage room between the middle school and the high school.
"It's going to become a one stop shop for supplies, clothes, shoes, and food – just everything the student needs," Johnson said.
Johnson said she knows that there will be improvements over time, but, because it's a new thing, not many people have heard of it. Students don't have to sign up for it or join anything.
"It's just a come and go system," Richardson said.
"I think it's a very good idea and that it's a good helpful thing," eighth grader Mariah Wilson said.
"I think it's a good idea, and the kids that need it would be very grateful," eighth grader Jessie Bilderback said.
"It's a really good idea and a really nice thing that the school is doing, and I'm sure many kids appreciate it," seventh grader D´angelo Ramirez said.
Leave a Comment
About the Writer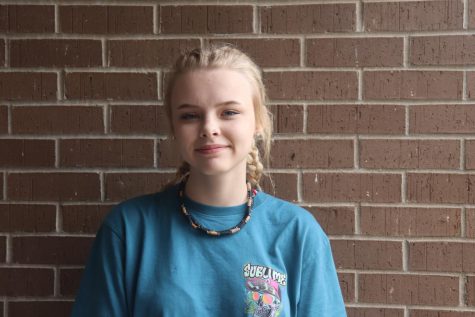 Tiami Conwell, Staff Writer
This is Tiami Conwell's first year on the newspaper staff. Conwell is a freshman interested in the elements of newspaper production, especially editorial...