Ag students capture the attention of inquisitive elementary students at annual event
  FFA presenters at the annual Food For America event worked hard to prepare and deliver interesting demonstrations to educate elementary students about agriculture-related topics and their efforts were met with great success as elementary students engaged in the experience.
    This learning experience was put on to show and tell the younger generation the benefits of agriculture and its presence in everyday life. This learning experience has been going for nine years, since Warsaw's FFA Chapter was restarted in 2011. 
   Senior Larren Yoder got the kids attention by bringing tractors and hay bales. Yoder has done the same presentation for four years over hay production and the equipment used for it, all of the kids seem to be interested in the tractors that he brought. 
   "The kids learned a lot and they liked the tractors," Yoder said.  
   This was the first year presenting for freshman Jake McCain and senior Aubri Umlauf, who teamed up to demonstrate the difference between soy and dairy milk. 
   "I really enjoyed showing and telling kids the difference between soy milk and dairy milk, and also spending my time helping the social community," McCain said. 
   Advisor Stan Adler assessed student presentations to determine which ones would be presented at the event. Senior Cody Lock's presentation was about about fire trucks and fire safety. He also is a volunteer firefighter for the city of Warsaw. 
  Some presenters noticed that most of the kids listened and paid attention. 
   "The older kids always gave full eye contact and asked some really good questions," McCain said. 
   "Most of the older kids asked more questions than younger ones," freshman Michael Givens said. Givens teamed up with freshman Tyler Bone to present about FFA facts.
   "Some of the groups listened more than others, it also depends on how interesting you make your presentation since the kids got distracted easily with all of the animals," junior Emmaleigh Kowal said. Kowal presented about the watermelon industry.
   New presenters this year included freshmen Nick Bagley and Colton Harding. Bagley and Harding talked about deer habitat, which included how to call deer in and how to create a food plot.
   Bagley brought in some deer antlers and pictures to show the kids and get their attention better about their presentation. 
  "The younger children wanted to touch the deer antlers," Bagley said. 
This Year FFA consisted of 1 to 2 people per a Presentation Topic. There were a total of 36 Presenters as well. 
Freshmen Nick Bagley and Colton Harding (Deer Habitat), Jake McCain and Senior Aubri Umlauf (Soy vs. Dairy Milk), freshman Whitney Brown (Pineapples) Sophomores Sarah Johnson (Beef Cattle), Nichole Say (Highland Cattle), Blake Walker and Gaven Cunningham (Poultry), Emily Fisher and junior Cassidy Parks (Mules and Horses), sophomores Julie Long and Devin Hawley (How to make Cookies), Dakota Steinhoff and Parker Griego (ATV Safety), Illusion Haidusek (Hunting Safety), juniors Kyleigh Hines and Derek Maddux (Chicks), Haven Collins and Donna Pitts (Beef Production), Emmaleigh Kowal (Watermelon), Seniors Allison Pool and Savannah Neth (Horses and Donkeys) Junior Angel Loney (Brownies) Juniors Jake Steiner and Austin Brazel (Fishing) Senior Austin Rosser (Pigs), Sophomore Nattly Johnson Jermiah Johnson (Cattle Dogs), Senior Kaitlyn Hawley (Bottle Calves), Senior Cody Lock (Fire Safety), Junior Jared Thomas (Sheep), Junior Ellie Wassman (Rabbits), Junior Dakota Macon (Gunstocks), Freshmen Tyler Bone and Michael Givens (FFA), Senior Larren Yoder and Junior Wesley Drake (Hay Production). 
Leave a Comment
About the Contributor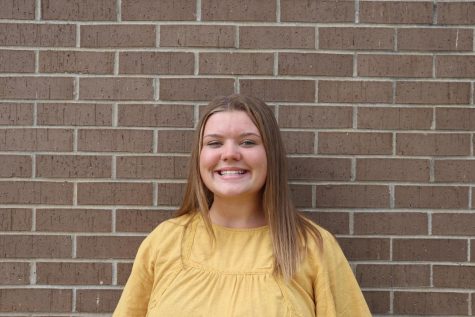 Abi Feltrop, Staff Writer
Abi Feltrop is a sophomore and in her second year of journalism. She is involved in volleyball and track as she throws shot put. Feltrop enjoys photography...