Class of 2022 prepares for life after graduation, reflects on school days
After graduation on May 19, members of the class of 2022 will move on while reflecting on their high school time.
Alyssa Alcantara, the daughter of Ray and Shannon Alcantara, was involved in church, band, track, cross country, archery, NHS and FCCLA. She plans to attend Northwest Missouri State University to study bacteriophage therapy and create a new treatment but is also considering becoming a speech writer. Her favorite high school memory is cross country state. Alcantara's advice to a younger student is "go out on a limb."
Derek Allen is the son of Trista and Cliff Allen. In high school he worked at Walmart. He plans to work right after high school and live the best life he can. Allen's advice to a younger student is "don't live in the past, always look into the present and future."
Rose Baker is the daughter of Anna McNamara and Roy Baker. In high school she was involved in FCCLA. She plans to attend a trade school and get a good-paying job. Her favorite high school memory was making people laugh. "Live your dream – don't let anyone or anything stop you."
Brenton "Miah" Baublitz is the son of Chuck and Kate Daffron. In high school he was involved in church, robotics and Boy Scouts. After high school he plans to join the Air Force or Space Force and live in Warsaw.
Sydnee (Costello) Boley is the daughter of Sara and John Boley. She was involved in cheerleading. She plans to attend State Fair Community College and become a makeup artist. Her favorite high school memory is walking on the football field with her step dad and mom. "Don't give up and stay in your lane."
Curtis Breshears, the son of Amie and David Breshears, was involved in band and track. After high school he plans to attend State Technical College and then later on work for Caterpillar at the Sedalia dealer.
Brittni Brown, the daughter of Gerald and Samantha Brown, was involved in FCCLA, cheer, color guard, worked at Grand River Resort, McDonalds, and Taco Bell. She plans to attend Trine University to become an independent boss woman. Her favorite memory from high school is Friday night football. "If you think nothing matters now, it will when you get to high school."
Trenton Burkhart, son of Crystal Burkhart and Greg Burkhart, worked at Walmart. His favorite high school memory is being able to leave after third hour. "Stop asking for pity and be your own person. Realize that other people's opinion of you does not matter."
Grant Chapman, son of Robert and Stacey Chapman, was involved in football, basketball, track, FBLA, NHS, pep club, and STUCO. He plans to attend Ozarks Technical Community College or Missouri State University to "get a degree in finance and make millions." A piece of advice he would give to a younger student is "savor every moment and learn from the people around you."
Bryan Coffey is the son of Letrisha Case. He was involved in baseball, archery, and FBLA. He plans to attend Crowder College and become a diesel mechanic. His favorite high school memory is winning districts junior year. "Do your work and don't get behind."
Patience Colbert, daughter of James Colbert and Savanna Mullins, hopes to "get a steady childcare-related job and move in with my partner." Her best memory from high school was "watching the people I grew up with grow into their own individual personalities."
Chris Cooper is the son of Amanda Cooper. After high school he plans to live in Warsaw for a while then move to Wyoming. His future plans are "working with Baton County Sheriff." His best memory from high school is being with all his friends. "Don't give up."
Madison Coskey, daughter of Rob and Leslie Coskey, was involved in softball, pep club, yearbook, and A+. She plans to attend Paul Mitchell Cosmetology School for her cosmetology license. Coskey's best memory from high school was the belly laughs and the stupid moments. "Work as hard as you possibly can. Don't get caught up in having to be in certain sports or clubs to seem 'cool'. Do your own thing."
Gaven Cunningham is the son of Heath and Megan Cunningham and Denise Reno. He was involved in FFA, football, and baseball. He plans to attend Iron Eagle Welding Academy. His favorite high school memory is beating Holden. "Get your work done and play football, you won't regret it."
Sean Dusky is the son of Nicolle and Kris Fennell. He was involved in wrestling. He is undecided about continuing his education, but hopes to be successful. His favorite high school memory is wrestling with his friend Levi. "Pay attention in school, it does matter. "
Timothy Dyer is the son of Amber Campbell and Gary Roberts. In high school he was involved in multimedia. He plans to operate heavy equipment. His favorite high school memory was when he met Benny. "Keep your head up, you will get through it. It does get easier."
Brayden Elmer, son of Justin Elmer, was involved in golf, FBLA, FCA and youth group. He plans to attend Wichita State University to get a finance degree. His best memory is coming back to school after COVID. "Work hard, actually care about doing good and getting good grades."
Jaidyn Estes, daughter of Lance and Tamena Estes, was involved in STUCCO, volleyball manager, wrestling manager, cheerleader, FCA, youth group, and Warsaw Jubilee Days Queen of 2021. She plans to either attend State Fair Community College or Mizzou to become a special education teacher. Her favorite high school memory is going to state wrestling her freshman year to support her big brother as he won a state championship title. "Never wish your life away, because high school will be over as soon as you know it. So enjoy the moment while it lasts, make memories, make new friends, be a role model, and most of all, be yourself."
Emily Fisher is the daughter of Dan and Nancy Fisher. She was involved in agriculture and horse judging. She plans to further her childcare career after high school. Her best memory from high school was "getting in trouble for laughing with Savannah Watts." Advice she would give to a younger student is "go to school and do your work."
Walker Foster is the son of Floyd, Sr and Francis Poe. In high school he skated. He plans to attend a 4-year college. His favorite memory was all the times in class just sleeping. Foster's advice to a younger student is "don't change who you are for anyone. Others will always clown on you, so ignore them and be you."
Jolina Givens, daughter of David and Brenda Givens, was involved in cheer, dance, volleyball, drama/speech, Madrigal and FBLA. She plans to attend William Woods University. Her future plans include her pursuing equine science or cosmetology. She is going to miss her choir family so much. "Never take the time you had for granted. It's cliche, but cherish every memory. Even the bad."
Jacklyn Goddard is the daughter of Stacey and Richard Addleman. She was involved in Women's choir. She plans to attend Academy of Salon professionals and work in cosmetology. Her favorite high school memory is Homecoming assemblies. Goddard's advice to a younger student is "don't procrastinate."
Chris Harrell is the son of Shannan Harrell. He wants to attend college for computer information. Advice he would give to a younger student is "just live, don't take everything seriously."
Devin Hawley, daughter of James and Sherri Hawley, was involved in FFA, FBLA, cheer and she worked at Lucas Oil Speedway. Her favorite memory is "the senior FFA trip we took to Branson." Her future plans include going to work in the agricultural field.
Taylor Howe, daughter of Adam and Melissa Howe, was involved in volleyball, basketball, softball, track, prom committee, STUCO class vice president, NHS historian, A+ program, yearbook, and pep club. She plans to attend University of Evansville on a softball scholarship. Howe's advice to a younger student is "work hard day in and day out in all you do and make the most of every thing. Do not care what people think and live in the moment always, that makes the best memories."
Hunter Jewell, son of Carla and Jye Barckley, was involved in wrestling for a year. His advice is "don't drop out… just don't."
Emma Johnson, daughter of Neil and Lindy Johnson, was involved in volleyball, FBLA, pep club, NHS, STUCO, math club, stream team and she was editor-in-chief of the yearbook. She plans to attend Missouri State to get a degree in social work and then obtain a doctorate in psychology to open her own practice. "I'll miss having a huge group of people I've known forever."
Jeremiah Johnson, son of Rodney and Katie Johnson, was involved in FFA and trap shooting. He plans to attend OTC and start his own business. His best memory was going to districts with the reader's theater. "Keep your head down and work hard."
Natalie Johnson, daughter of Robert and Karen Johnson, was involved in STUCO, cross country, FFA, and NHS. She plans to attend State Fair Community College to get a degree in business administration and own her own business. Her favorite high school memory is Barnwarming dances in the ag shop. "Get involved and enjoy your high school career as much as you can because you will never be able to get your high school year back,"
Sarah Johnson, daughter of Robert and Karen Johnson, was involved in FFA, volleyball, NHS, women's choir and speech. She plans to attend State Fair Community College to get a degree in agribusiness and become a manager of an MFA. Her favorite high school memory is ordering pizza from the FFA bus when at an area competition. Her advice to a younger student is "take as many college classes that you can through high school. It will help."
Brea Jolliff, daughter of Cheryl Miller and Rick Jolliff, was involved in performance choir, women's choir, Madrigal, church choir and church youth group. Her future plan is to get a degree in early childhood education. Her best memories come from singing with Madrigal. "Don't let others' view of you affect your school work, strive to be your best self and treat others with kindness."
Karlie Jones, daughter of Gary and Kindra Jones, was involved in softball, basketball, volleyball, pep club,student council, A+, and youth group. She worked at Long Shoal Marina and Country Charm. She plans to further her education in the dental field. Her best memory from high school was "definitely all the pep assemblies, they were so fun!" One piece of advice she would give a younger student is to "always give 100% effort and keep a good attitude!"
Lucas Kaneko, son of Heather and Kenji Kaneko, was involved in soccer and basketball. He plans to attend Manhattan Christian College to become a pilot and youth pastor. Kaneko's advice to a younger student is "work hard now and play later."
James Kellner, son of Eryn and Jesse Kellner, plans to live in Tuscaloosa, Alabama and be an electrical engineer on robots for Nucor. His favorite high school memory is "Pulling all the vehicles up on the track and playing football all night." When it comes to giving advice he said, "don't do anything with regret because the dumb decisions are the best memories."
Taylar Kleihauer, daughter of Marsha Kleihauer and Steve Kleihauer, was involved in pep club, volleyball, and worked at Red Wing Coffee. She plans to become a radiologic technologist while attending college at State Fair Community College. Her best memory from high school was "when Bella, Nora, Julie and I filmed a movie preview and we made it spooky and scary. It was such a fun time for all of us." "Remember who you are and don't let anyone tell you how to be or how to act."
Benjamin Kowal, son of Dina and Russell Kowal, was involved in FCCLA, STUCO, math club, speech team, choir and ProStart. He plans to attend College of the Ozarks and to become a personal chef. His favorite high school memory is when Madrigal went to Nashville. Kowal's advice to a younger student is, "turn in your homework, you'll thank me later."
Remington Laboube is the son of Brian Laboube. He plans to work at Miller Pipeline. The thing he will miss the most about high school is "doing burnouts leaving the parking lot."
Alan Landsberg, son of Paul and Casey Landsberg and Ed and Amanda Pettit, was involved in the band and worked at Sonic. He plans to attend State Fair Community College. His favorite high school memory was Prom 2021. "Try everything that might be interesting to you."
KayLee Lawson, daughter of Kendall and Heather Lawson, was involved in student council, basketball, softball, FCA, cheer team, dance team, R-bar hostess, 3D Power Sports rep, and youth. She will attend Fort Rucker, Alabama for AIT (Advanced Individual training) to become an Aviation Operation Specialist. In August, she will attend the University of Central Missouri in Warrensburg to major in aviation management and later minor in flight operations. "Focus on what's important, work hard in class and even harder on your dreams."
Julie Long, daughter of Jake and Tiffany Long, was involved in varsity basketball, FFA, working at Lucas Oil and Orschelns. She plans to further her education at State Fair and then transfer to Missouri State. What she will miss the most is "being able to be around everyone for one last time and soaking it all in." A piece of advice for a younger student is "don't look back."
Luke Martinez, son of Jennifer Martinez, worked at Walmart for over a year. In his future he plans to become a content creator. "Life gets better, don't focus on the bad times now and look towards a better future. Work on yourself to become a better you and not care about other people's opinions of you."
Garret McGann, son of Charlie and Stacy McGann, was involved in football. He plans to attend a trade school. His favorite high school memory was football in general. "Make the best of it cause it doesn't last long."
Nora McMillin, daughter of Gary and Maggie McMillin, was involved in NHS, student council, prom committee, and A+. She plans to go to college at Clinton Vocational and then transfer to another school to become a pediatric oncology nurse. Her favorite memory was "James walking out of class to make a Mac-N-Cheese cup I gave him."
Brendan Moore is the son of Nina Palmer, Ernie Moore, and Phil Palmer. He plans to go to trade school and to be a private chef or own a restaurant. His best memory from high school was "back in my last school the entire English hallway had to shut down because a swarm of bats decided to live in the classes and the bats would chase all of us." He plans to live in Springfield.
Bella Morrison is the daughter of Danny and Stacey Morrison and will attend a community college. What she will miss most about high school is "being able to go see my dad whenever I had a bad day or just needed someone to talk to." Advice she would give to a younger student is "always put in 100% effort because as soon as you are done you are going to regret not putting in the full effort."
August Nickles, daughter of Holli Lindsey and Ryan Cochran, was involved in band, jazz band, women's choir, gymnastics, math club, stream team, pep club, and FCCLA. She plans to attend State Fair and then transfer to Northwest Missouri State University or Northern Michigan University. What she will miss most from high school is "the environment in the band that we have built. Band has been my safe place here at school."
Lara Orton, daughter of Jodi Orton, was involved in basketball. She plans to attend a two-year community college.
Tyler Parker, son of Dennis Parker and Carolyn Price, plans to attend Missouri University of Science and Technology to become a computer engineer. His favorite high school memory was the time he spent in Algebra 1 getting a literal attitude adjustment, as it made him the person he is now. Parker's advice to a younger student is "do the work and you can't fail, do it well and you can see your effort payoff."
Skylar Pearson is the daughter of Michelle Pearson. Her favorite memory is "every day in 4th hour." She plans to attend Missouri Western State University for four years to obtain a business degree and live in St. Joseph.
Isis Pierson, daughter of Brandy and David Fajen, was involved in cheer, softball, church, and FCLA. She plans to attend college, get a bachelor's degree and work for the state as a caseworker. A piece of advice she would give another student is "always do your work on time, don't put it off."
Emily Poindexter, daughter of Brian Poindexter, plans to become a therapist after attending college at State Fair Community College. She will miss "friends who are in a younger grade." A piece of advice she would give a younger student is "don't miss out on school activities."
Andrew Pool is the son of Janelle Pool. He plans to take over the farm. His favorite memory of high school is waking up. Pool's advice to a younger student is "just try to come to school."
Shyanne Ramsey is the daughter of Richard and Amanda Ramsey. She was involved in journalism and worked at Subway. She plans to attend State Fair Community College and to become a child psychologist. Her favorite high school memory was going to J-day with Abby. "We were so tired we couldn't stop laughing and I'm pretty sure I tinkled a little." Ramsey's advice to a younger student is "make friends and get involved, don't let anyone put a label on you just make the most of it."
Nicole Say, daughter of Linda and Mark Say, was involved in Living Waters church, HHCA (Heartland Highland Cattle Association), AHCA (American Highland Cattle Association), journalism, cheer, tutoring, FFA and 4-H. She plans to attend State Fair Community College and Missouri State to become a vet tech/vet or an ag teacher. Say's advice for a younger student is "have fun. Do not get in trouble. But experience everything in school. Participate in everything you can."
Brady Slavens, son of Michael and Melissa Slavens, was involved in football and baseball. He plans to attend OTC for two years and then transfer to a four-year university to become an architect. His best memory from high school is "playing sports with my friends." A piece of advice he would give a younger student is "don't stress and worry about the little things too much."
Ida Standlee is the daughter of Ines Swann. She worked at Long Shoal Marina, State Park Marina, and Jester's bowling alley. She plans to attend Missouri State University to become an HR assistant for a company. Her favorite high school memory was graduating early.
Dakota Steinhoff is the son of Brian and Shanda Steinhoff. He was involved in baseball, FBLA, and FFA. He plans to attend Ranken Tech. His favorite high school memory is winning districts at two o'clock in the morning with baseball. Steinhoff's advice to a younger student is "do your homework."
Hannah Stewart is undecided about what she might do after graduation, but plans to live in Missouri.
Ashley Terry is the daughter of Raquel and Virgil Terry. She was involved in women's choir and worked at Pizza Hut. She plans to attend State Fair Community College and the University of Central Missouri and obtain a master's degree in Early Childhood education. Her favorite memory from high school is "my sophomore year in Mrs. Siegel's entrepreneur class."
Corbin Thirstrup, son of Destiny Kincaid and Cody Wilson, was involved in wrestling, golf, math club, STUCO, and FBLA. His favorite memory is winning Echoes king. After high school he plans to go to Missouri University of Science and Technology. Advice he would give to a younger student is "don't let other people's thoughts or words get into your head."
Samuel Waters is the son of Thersa Waters. He was involved in the stream team, marching band, jazz band and FCCLA. He plans to possibly join the Marine Corps. His favorite high school memory is the marching band bus. He will miss "the people I call my friends and the memories I made with them."
Savannah Watts is the daughter of Jeanie Roush, Ted Roush, and Barbara Melcher. She was involved in working and going to church. She is considering a career in real estate or interior designing. A piece of advice she would give a younger student is "follow God and love others, no matter how they treat you. Show them that you can be kind even when tested by others."
Brenna Winfrey is the daughter of Kathy and Mathew Winfrey. She plans to work right after graduating. Her favorite high school memory is friend groups/school trips. Winfrey's advice to a younger student is "never judge a book by its cover and treat people how you want to be treated."
Attempts were made to contact each senior. The following students, however, did not respond: Cheryl Adams, Amelia Botteron, Tristin Crabtree, Ezekiel Dillon, Jackie Esser, Ameer Evans, Jillian Guiot, Illusion Haidusek, Starlah Harrison, Jaycob Harvath, Lilyann Hovorka, Arianna Jarvis, Christa Jeffrey, Gabby Jones, Noah Kahler, Marcus Kreisler, Calvin Long, Nicholas Montavey, Izabelle Reed, Kayla Shackleford, Joseph Swank, Cameron Taylor, Ryellie Umlauf, and Megan Wilson.
Leave a Comment
About the Contributors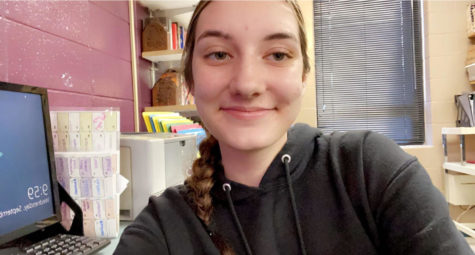 Ciara Kleihauer, Managing Editor - Photography
Junior Photography Editor Ciara Kleihauer is on newspaper staff for her second year. She is on staff again because she loves writing for the school newspaper....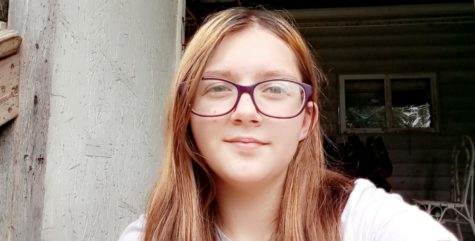 Heather Terry, Staff Writer
Sophomore Heather Terry has been part of The Wildcat production for two years now. Terry is involved in track this year.  She is looking forward to covering...