Pandemic still effects school one year later
One year ago, the school year started with a mask mandate, social distancing rules and great fears of quarantines and shutdowns. The 2021 school year didn't start much differently, but the removal of masking requirements and the availability of the COVID vaccine makes some students feel as if the worst is behind them.
"I think it's nice; the school feels more regular," sophomore Charlotte Alspaugh said about the removal of the mask mandate.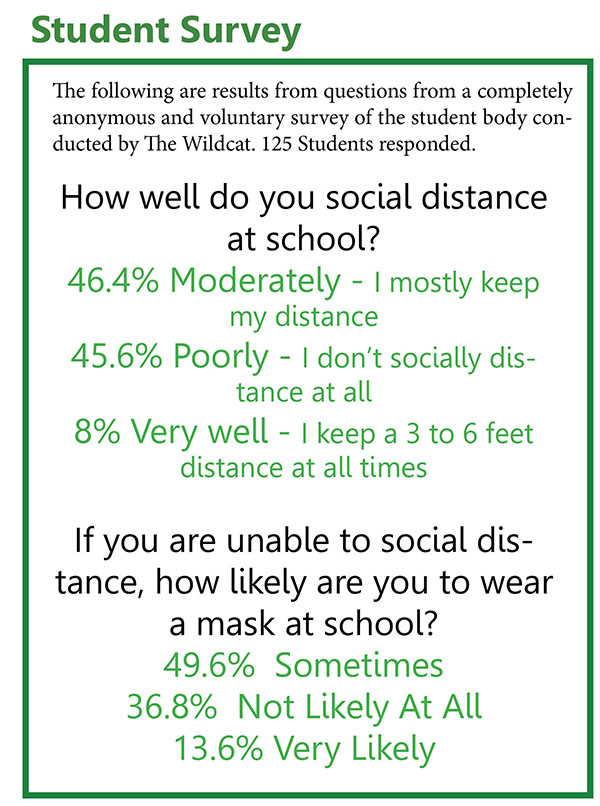 The district has established a mask recommendation for the 2021 school year, but no longer requires students and teachers to wear masks. The school still encourages social distancing by reducing crowding at lunch with students having lunch in classrooms and restricting the number of students at a lunch table. The school also limits indoor assemblies and dances. Teachers also social distance students in classes where possible.
"Personally, I see the good things and bad things about the no mask mandate, some students have issues where they cannot wear masks, but at the same time, I feel like it helped a little bit with not spreading COVID," junior Jazzmyn Swisher said.
According to a recent voluntary and anonymous poll of the student body, 13.6 percent of the 125 students who responded indicated that they are very likely to wear a mask at school if they are unable to social distance. Only eight percent indicated that they socially distanced themselves very well.
"There are times where I do (wear a mask), like if I'm in an overcrowded room. If I'm around people I'm around everyday, I'll admit I'm not very good at social distance, but if I'm around a sick person or people I don't know, I wear a mask," Swisher said.
Although the mask mandate is still enforced on school buses and will be enforced again if more than ten percent of a building's population is quarantined, some students feel safer with masks and still choose to wear them for others and themselves. Other students don't feel a need to wear masks or social distance.
"I wear a mask in classrooms where we are unable to social distance," Alspaugh said.
"I don't wear a mask at school, but I do try to social distance," junior Emily Younce said.
"I always wear my mask. Masks help keep COVID away and students are still having to quarantine and miss school, which can really affect grades and learning," sophomore Annakay Bozarth said.
"The mask mandate is a very hot topic in our country and our schools. I'm not sure what the correct answer is for dealing with masks mandates. I know that our cases are lower at this point in the year than they were last year," principal Danny Morrison said.
According to the Benton County Health Department's Oct. 6 COVID update, there are 53 active cases in the county, 10 of those being under the age of 20. There have been 69 deaths in the county due to COVID.
Some classrooms have the advantages of having two teachers and are able to split up one class into two and allow the students to better social distance themselves.
English teacher Whitney Hamilton said she is able to take advantage of her co-teaching classes to social distance students. She added that she hopes students will continue to take precautions to protect their peers and teachers.
"As someone who is pregnant, I am much more concerned about my health so I am personally taking a lot of precautions. If it is not for themselves, they should do it for the sake of others," Hamilton said.
Another change is the availability of the COVID vaccine for kids over the age of 12. While high school students have the opportunity to get the COVID vaccine, a majority of them think it is a personal choice.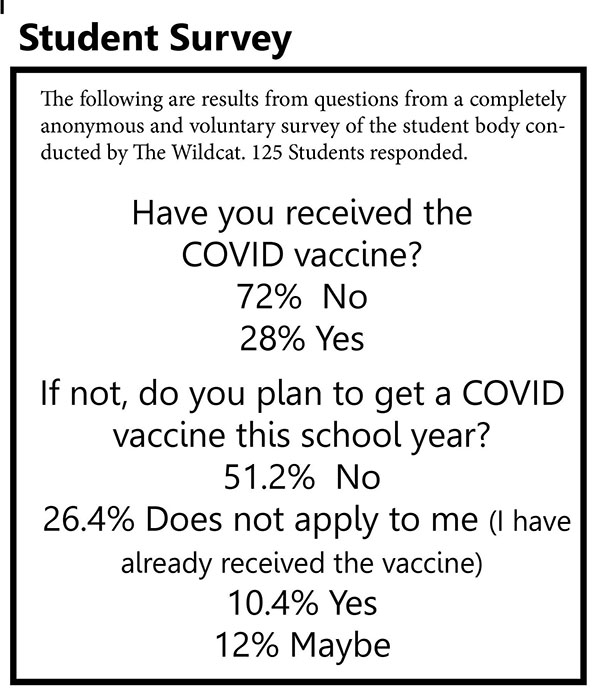 "I don't force anyone to or not to get the vaccine, I believe everyone is entitled to their own opinion and decisions; if they want to get it, then I encourage them to," senior Walker Foster said.
According to the anonymous and voluntary poll of 125 students, 28 percent of the students indicated that they have received the vaccine and 22.4 percent of the students polled said they will or might get the vaccine.
Junior Emily Younce said she would not push others to get the vaccine.
"It's everyone's own choice so I'm not going to tell someone to do something they don't want to do," Younce said.
"I heard that it could be hurting people," junior Olivia Langton said.
Many students chose to get vaccinated or are considering getting vaccinated not for themselves, but for close family members and people around them.
"My grandma passed away in December due to COVID and it makes me really want to get the vaccine because knowing that someone I love so much got taken away from me because of a virus is very scary," junior Gracie Comer said.
"I would like them to (get the vaccine). I mean, my uncle just recently passed from COVID. If not, respect others and the fact that they would like to social distance," said Yoast.
" Some students are enjoying the no-mask mandate and feel that the school is slowly going back to normal.
"We are still not allowed to sit more than three people at a lunch table and assemblies are not the same, but some things are slowly going back to normal. We got to have the Homecoming parade this year, also, we got to decorate the floats," said Langton.
View Comments (1)
About the Contributor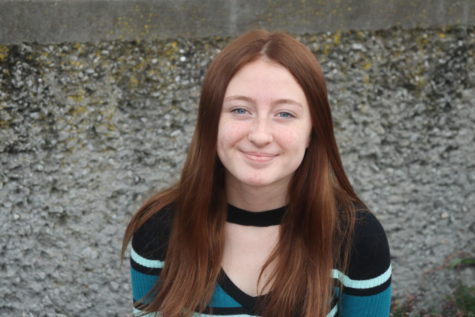 Ava Hughes, Photo Editor
Sophomore photo editor, Ava Hughes has been a member of The Wildcat staff for two years and is very excited about it. Writing is something she is very...