Practice facility to soon be built
 It's finally happening. The booster club has been fundraising for a couple years now to finance an indoor practice facility on the WHS campus and the school board has accepted a bid for the construction.
    The bid was accepted on Oct. 15 from Schrock Construction. The new athletic building will be on the practice field and will be 60 by 100 ft. in size. 
   The idea of the athletic building was proposed by the booster club back in 2018.The booster club put in $50,000, and all together this building will cost $148,500. The district will be paying upfront the rest of the $148,500 while the booster club will make annual payments to the school district.
  There are multiple reasons this building is needed. First, the high school and middle school gymnasiums are often occupied, leaving some sports teams without a place to practice. It's hard to have multiple teams in just two gyms that are big, but not big enough. Also the weather affects who gets to practice, for instance the football team gets rained out and the cheer team could be practicing in the gym. 
  According to athletic director Ryan Boyer, the building will be used for a variety of sports, including wrestling, archery, baseball, softball, basketball, etc.
   "We are hoping to get started very soon and weather permitting, the timeline is approximately six weeks," Superintendent Shawn Poyser said.
   "On behalf of the WHS Athletic Booster Club, we are excited about the addition of the new athletic building. Thank you to all Booster Club members who have worked hard to raise funds to make this opportunity possible. This addition is also made possible for our athletes through the support of our wonderful community members. We are excited for the building process to begin and for our athletes to be using the building in the near future," booster club president Kenzi Daleske said.
  This building will help out students with not only having an extra place to practice, but a building that's made for their type of sport – not just a basketball court or just a football field.
   "I'm very excited. Anything that can help benefit our students is always a positive in my book,"
Boyer said.
  The building will contain two bathrooms and possibly a locker room. There will be two garage doors installed to be opened in hot weather. The building will have heat, but not air conditioning.
 "I am so appreciative of the hard work of Athletic Director, Ryan Boyer, and the Booster Club for making this happen," Poyser said.
Leave a Comment
About the Writer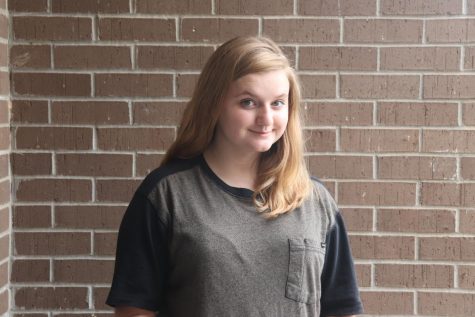 Tori Leann Norman, Staff Writer
This is sophomore Tori Norman's first year as a member of The Wildcat staff. Her long-time love of photography persuaded her to join the staff. She also...