Cross country emphasizes teamwork, approach District race
Freshman finds success with conference win
"We may not be the best group of runners out there but we have each others' backs and will help each other push till we can no longer push," senior Maleek Porter said.
  This is just one of the things the cross country team has done to help each other push as they quickly approach the end of the season. They have been nothing but resilient when they run and they keep pushing forward as they try to make themselves strive for greatness with district and state races quickly approach.
  One of the rising stars of the team is freshman Alyssa Alcantara. She is the Ozark Mountain Conference champion with a time of 21:21.39 at the conference meet in Buffalo.
  "She is a freshman and has been putting in countless hours of training to get her where she is today.  Over a full year of training has strengthened and improved Alyssa in many ways," head coach Ehren Banfield said.     "That is why you have seen her as our new Ozark Mountain Conference XC champion as a freshman."
  Alcantara still thinks there is room for her to improve when she is running in her races.    
    "I'm pretty happy, I think that towards the ends of races I could push through mentally a little more," Alcantara said.
  She wants to run the best she ever has and make sure she continues to push through mentally as well as physically for state.
  "For districts, I want to work a little bit more and maintain the same stride through the entire race both mentally and physically," Alcantara said.
 The cross country team strives for what they believe is the most important thing and that is working as a team.
 "We help each other push through no matter what. Even when we think we can't run any longer we help each other go until the very end. We have helped each other run in it all – even when we helped each other run through downpours and thunder," Porter said.
  The team's District meet is Saturday, Oct. 27 at Hollister and the top 15 will advance and run in the state competition.
  Banfield believes that Alcantara, Porter and sophomore Trey Palmer all have great chances to reach state competition.
  "They all have a good chance but Trey and Maleek will have to run really good races to advance," Banfield said.
  They always think as a team but treat each other like family to help each other get by.
  "We are a small team and we spend countless hours after school at practice or meets during the week or on the weekends.  When we are a small team, we really get to know each other very well. We can have our ups and downs like any family but we are our cross country family," Banfield said.
Leave a Comment
About the Contributor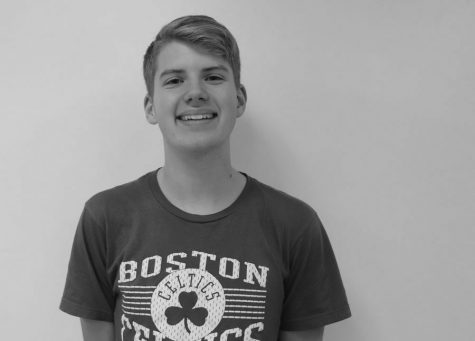 Ethan Schomburg, Web/Social Media Editor
Ethan Schomburg is a senior this year. This is his third year as part of the Warsaw journalism department. He is in math club, speech team, and plays golf...