Junior showcases responsibility, respect
 Junior Dayvon Bruce is about to finish his first year at Warsaw, but has grown to enjoy the town and has made positive contributions to the school.
"Nothing really changed when I moved here because I'm used to a small town, besides I went to a school with about a thousands students," Bruce said.
  Bruce feels a responsibility to make his community better and to lend a helping hand.
  "When I see trash, I pick it up or when someone litter's I pick it up and throw it away," Bruce said.
  Bruce is known among students for being friendly and a good friend.
  "He always lets me know that he has my back, he talks to everyone and can connect with everyone he meets, and he always says hello to people and is a very well known person," senior King Archer said.
  He is a very kind, respectful and well-mannered person to his teachers, staff and his friends.
  "He is very artistic, he is very respectful, he does alot of his work on time and it looks nice," art teacher Jenny Greene said.
  "He greets me whenever he sees me," science and  boys basketball coach Mason Dunnaway said. "He is respectful whenever I ask him to do something."
  "I think he is a very nice person and all people should be friends with him," said freshmen Breanna Shaw. "He makes sure no one is mean. If someone is mean he takes up for anyone," said Shaw.  "He is a pretty funny guy, and he gives great advice, he is pretty sweet and, outgoing," said senior Alexys Farley.
     "He is nice to everyone and is always a helping hand, helps keep everyone in a better mood when he's around," sophomore Jillian Botteron said.
  Last May, Bruce moved to Warsaw with his father and stepmother from Kansas City.
   "I miss the malls, food choices, things to do like Sky Zone or CBE college basketball experience. I miss my friends," Bruce said.
  Bruce said he enjoys the Warsaw community because it is a small town close to the lake.
 Soon after moving here, he was introduced to his new high school, his classmates, and teachers.
"I simply accepted him into our group of friends as he was friends with King Archer," senior Lee Newell said.
  "I have been friends with Dayvon since seventh grade before he moved," said Archer. "He is my best friend, so I just tried to show him around the school and help him meet people," said Archer.
  He had no problems making friends to help him get around school.
  "He is a cool guy to be around and seems to always have an upbeat mood that makes you wanna be his friend," Junior Kolby  Estes said.
  When basketball season started he joined the team for a extracurricular activity.
  Bruce enjoys hanging with his friends in the morning before the start of his school day.
   "We play four square in the mornings to pass time before school starts, it is pretty fun" said Estes.
  His favorite subjects are ecology and art.
  "He is a nice kid, pleasant to be around. He has a good attitude, when I give him work he does it. He is hardworking and  friendly," said Dunnaway.
During the weekends on his free time, he enjoys to draw, listen to his music, think of his goals for his future, spend time with his family and friends, watch Netflix and other productive activities.
  "We always watch movies or go swimming because we have always done that because our parents were friends and it caused us to hang out a lot," Botteron said.
  For his future dreams, he plans to go to college, travel the world, and own a business.
  "I determined to own my business and travel around," Bruce said.
Leave a Comment
About the Writer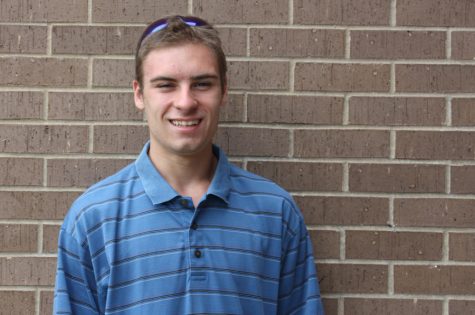 PetralieJo Wurtz, Photo Editor
 Senior PetralieJo Wurtz has not just an interesting name, but an interesting life story. Adopted when he was two years old, Wurtz  left his orphanage...