Students change their lifestyle in college
When students graduate from high school and want to pursue college, they must change their ways of living by increasing their studying habits, meeting higher expectations and taking on more responsibilities. Perhaps one of the biggest changes in this new step in life could be the making of new friends.
Many educators suggest students take advantage of what is offered to them in high school so that in college they will be equipped with the knowledge and preparation required for the workforce. Skills like time management, organization, handling responsibilities and paying attention can make or break a student entering college. Ways students can accomplish some of these skills are to make lists of things that need to be done, making sure work is completed before outside activities and communicating with friends, classmates and teachers to ensure they are on the right path.
"The best skill for college and the workforce is to create a list of things to do. Knowing what to do and what not to do," Richardson said. "The single most important skill any high school student can have is the skill of advocating for themselves."
Noah Long, 2017 graduate, entered College of the Ozarks in Point Lookout Missouri, where he currently majors in horticulture. Long believes that he has learned how to be successful in class and in the college social atmosphere.
"I had to learn my own study habits and how I work best outside of the classroom," Long said. "It can be as social or lonesome as you make it. I am a people person, I love getting to know people so life is very social for me. You get really close with some people, and have week-long conversations with people and you may not even know their name. People are so nice here, and I think part of it is because it is a Christian college."
2017 graduate Jonathan Petesch believes the expectations in high school are very different from those in college. Petesch is attending Missouri State University in Springfield and majors in journalism.
"College expectations are a lot higher when it comes to homework and they rarely take excuses when you mess up on your homework," Petesch siad.
Long and Missouri State freshman Makayla Mais agreed that the classwork is more challenging and more independent in college as compared to high school.
"Practice taking notes in high school. It is something I have struggled with because note taking in high school was not necessary," Makayla Mais said.
College is a big step for a student. Therefore, teachers are preparing students to help them know what college is like, and get them to develop studying habits, and responsibilities.
"I have been preparing for college by looking for scholarships and filling every one that I can find," senior Gabriella Flores said.
"The biggest thing teachers do is prepare students for the real world. This entails not only teaching students curriculum, but also soft skills, for example, strong work ethic, positive attitude, and good communication skills," counselor Tyler Richardson said.
College versus high school is very different in academics, college instructors expect a lot more out of the students that come. Those students who want to pursue college need to be prepared for what's coming for them, such as more studying after school, harder tests, and more strict deadlines. Professors expect a lot, which means it is better to practice in high school then sufferin college, according to the King's College Website.
"I have been working hard in school to try and prepare myself for all the work to come in college. Missouri S & T is mainly an engineering school so I expect most of the work is gonna be pretty difficult, but it will be worth all of the hard work," senior Cody Wilson said.
"I have been preparing for college by getting my A+ hours in and looking at scholarship options,"
"A + and looking into scholarships helps in many ways obviously financially. You don't have to spend pocket money for an education as well as it help keep you from stressing out and working extra hours that you could be using to study." senior Hannah Chapman said.
College is also different in social environment. They expect responsibilities from students to take care of themselves. Some students will live on campus, some will live off campus in their own home. Also getting a job will help make college life easier and those students can gain valuable experience by getting a part-time job. Students will have a chance get involved into extracurricular activities and with that, students will meet new friends from all over the state along the way.
Mais, a 2017 graduate, believes that making friends is easy in clubs. Mais is attending Missouri State University in Springfield and majors in journalism and minors in gender studies.
"I have mostly made my friends though the student section club, Maroon Madness, and through the few class for my major," Mais said.
Leave a Comment
About the Contributor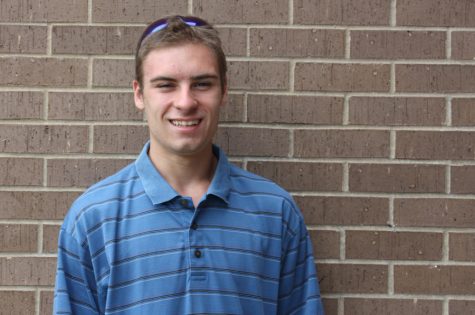 PetralieJo Wurtz, Photo Editor
 Senior PetralieJo Wurtz has not just an interesting name, but an interesting life story. Adopted when he was two years old, Wurtz  left his orphanage...