Wildcats kick in post-season with win, exceed expectations
  The football team was successful in exceeding expectations this season as they improved their record and skill on the field. The team won 4 and lost 5 games during regular season and beat the Cole Camp Bluebirds in the first round of district play on Oct. 20, 44-14. They lost to Lamar in the second round on Oct. 27.
  "I don't think anyone believed in us except for us coming into this season and now I think more people are coming out to watch us," said senior wide receiver Jayden Schepker.
  The coaches expectation level was set high for each and every one of the players during the season. Towards the beginning, new techniques and terminology were being learned and, now, as the season comes to an end, the team is playing harder and faster and seeing the result of that. They have transformed the public's eye on Wildcat football, assistant coach Jared Steenburgen said.
  The team generated a new excitement within the crowd, and had more people in the crowd at the Homecoming game then they did the past two seasons. Fear of losing the success and attention they have gained this year for next season is little to no existence.
  "We have a pretty good amount of our core kids coming back so I believe we will see a good amount of success next year. The seniors this year did a great job laying a foundation for next season," Steenburgen said.
  Some seniors have been a part of the Wildcat football tradition for much of their high school career, as others have joined for the first time this year for anticipated for a new breath of life in the program.
  "I had fun times with everyone and I've made a few friends with kids I probably wouldn't have been friends with before. I got a lot closer to everyone and had a fun time as this was my first year playing football. I'm excited for the next season because I feel like we will have a strong team and we will get a lot of wins out of the season," junior kicker Riley Bagley said.
 Senior right tackle Nate Fauquier said WHS football has a bright future in the players who will still be with the team next season. They need "fine tuning and competence," to continue to improve.
  Fauquier said he hopes the players will continue to push hard and be tough competition against opponents and their own teammates.
  "While we still have a ways to go, Warsaw football is back. We are not without our faults but we are working to continue improving," Fauquier said.
  "My advice would be go big or go home. If you're out there on the team, work to improve, work to steal a starting spot if you're are not starting. If you are starting, then work to keep your starting position and be the best at your spot," Fauquier said. "Going easy on your teammates won't help them, it will do much more harm than good. If you're playing and you think you can't go on, push yourself to go harder. Play and practice like it's your last game and winning is the only option you have."
 Schepker had similar advice.
 "Play hard and don't let others define who YOU are," Schepker said.
Leave a Comment
About the Contributor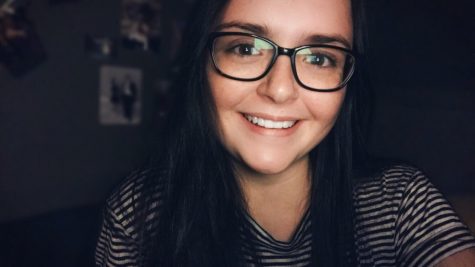 Drew Dawson, Web & Social Media Editor
Drew Dawson is a senior, this is her second year being a part of the journalism team and her first year serving as Web and Social Media Editor.  Dawson...