Senior shows talent as an advanced pianist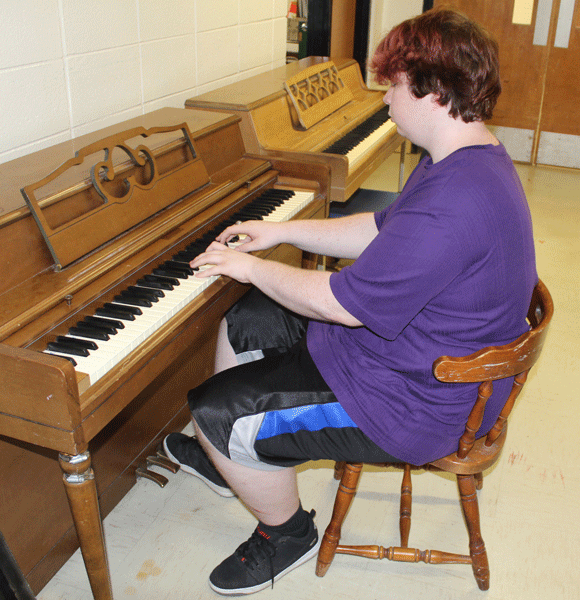 Senior Travis Gibson has tremendously advanced in his musical skill throughout his high school years. Gibson is currently the only student in Piano 4, the most advanced piano class Warsaw offers besides advanced piano, which requires many years of outside of school experience.
  Gibson first encountered the piano when he was fourteen when he decided to  join Charlene Million's piano class. Since Gibson enjoyed playing the piano, he took piano all four years of high school.
"I thought it would be fun," Gibson said.
  Gibson reports always being interested in music.His favorite song to play on the piano is Swan Lake. Ever since he learned to perform the song he has played it once or twice a day for practice and because he generally likes it.
"I've always loved music," Gibson said.
  Gibson often shares his talents with his friends. Senior Derek Wright has heard him play, is very proud of his best friend for his musical accomplishments and believes  Mrs. Million thinks he's gifted.
 "He has stuck with his art and has done great. I know there is no way I'd be able to do that and it would be awesome if he would learn how to play 'Piano Man,'" Wright said.
  Gibson would 100 percent recommend for every music lover to try playing the piano.
  "I'd like to say if you like music you should definitely try to play the piano. It's fun. Remember not to think too much; it's not in your brain it's in your hands," Gibson said.
 In the future, Gibson plans to go to State Fair and explore his options. He thinks he may go into the field of psychology or criminology because he wants to devote his life to helping people. Even though Gibson's dream isn't to become a famous piano player or composer, he believes he will enjoy it as a pastime for the rest of his life.
  "I'd like to keep playing for a long time. I feel like I've always had a natural tendency for music, it mostly comes down to, I care about what I play," Gibson said.