Local youth organization educates teens about harm caused by vaping
Vaping has been a continued trend for young teens in the area for a few years now. Students are finding new ways to keep bringing them to school and using them, despite the effort from staff to take E-cigarettes away.
The reason WHS combats vaping in the school so much is partly because of student health, and it is illegal to purchase for children under 21.
"A lot of students think that vaping is 'no big deal.' They think that is a safe alternative to smoking and that it is harmless water vapor. There is a lot of misinformation about e-cigarettes," Benton County Youth Coalition (BCYC) Community Liaison Officer Glenda Bertz said.
There have been many students who have had vapes taken away just this school year. Students have been getting sent to ISS for vaping at school.
"There have been around 30 people sent to ISS this year, '' assistant principal Nathan Parker said.
Bertz presented information about vaping to WHS health classes last week. The coalition has launched an initiative aimed at educating and reducing teen vape use. BCYC's mission is to engage the community in ongoing problem solving to prevent youth substance use and create strong, independent youth who reach their full potential.
BCYC is a nonprofit organization focused on the betterment of youth in Benton County. Their mission is to promote a healthy, faith-based, substance-free community for the youth in Benton County. BCYC was formed in the spring of 2010 when pastors of local churches built a team of caring people who would work together to provide fun activities for youth in a safe substance-free environment, while encouraging kids to make wise choices.
Bertz said the group is targeting vaping because it is so addictive and harmful for teens.
"One e-cigarettes pod contains as much nicotine as one pack of cigarettes (20). It takes people years to become a pack a day smoker, but one pod contains this much nicotine. Nicotine can harm adolescents' brain development, which continues in the early to mid 20's," Bertz said.
Bertz wants students to realize the long-term danger that vaping can cause.
"Vape pods also contain toxins and carcinogens which can cause irreversible lung damage. If you think about it, you are heating up a battery and breathing in those fumes. Doesn't sound too healthy," Bertz said.
Bertz also wants teens to recognize that they are being targeted by tobacco companies to become addicted to their products.
"Some e-cigarette flavors may be safe to eat but not to inhale, and can cause irreversible lung damage. Tobacco companies use the flavorings to attract teenagers, and then the nicotine causes addiction. 1 out of 4 teens who get addicted are hooked within a month," Bertz said.
She says that, in addition to the physical effects, the use of e-cigarettes is also not good for mental health.
"Many teens start using e-cigarettes as a way to reduce stress. The truth is though, addiction causes more anxiety, panic attacks, depression, and sadness because when the nicotine wears off, your brain craves more, becoming a vicious cycle," she said.
While there are local community efforts to stop e-cigarettes, WHS is also taking steps to reduce vaping at school.
"The school is currently using vape detectors in different locations to help identify individuals who are vaping. We also do our best to monitor and look for signs of vaping in the classroom, like observing smells or suspicious behavior (hoods up, hands in mouth, items that can be disguised as vapes, etc.). I wish we could do something that could continue to help students and decrease the numbers of vaping, " Algebra I teacher Amelia Smith said.
The vaping issue has become a real problem in school disruption as well.
"Besides the short term and long-term health consequences, e-cigarettes are disruptive to school classes. Students are leaving class to get a 'puff' on their e-cigarette, or trying to do it in class," Bertz added.
The organization wants students to know that vaping is NOT the popular choice, as they might think.
"Vaping is a choice. You only get one brain – so get the true facts and make an informed choice that will affect the rest of your life," Bertz said.
Leave a Comment
About the Contributor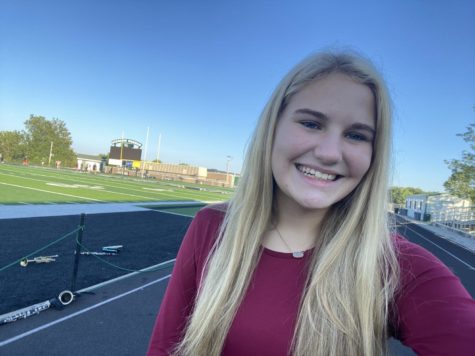 Sadie Chapman, Staff Writer



Sadie Chapman is a freshman at Warsaw High School, and is starting her first year as being a part of the newspaper staff. Chapman is a part of the...