Thanksgiving celebrations bring together family, food and tradition
 Thanksgiving might look a little different for each family, but Warsaw students find that their celebrations have a lot in common. Spending time with family is one common factor and getting to see people they don't usually see a lot.
    "My cousin from Canada is coming down, so it's going to be nice to see him, cause I haven't seen him in over a year," freshman Brennen Slavens said. 
    Seeing people that are special to them and love them is important. 
   "Family is different, it's different than being with friends, because it's a bond that nobody else has with you," junior Angela Konopasek said.     
     Some student holidays involve very large gatherings of their family. 
    Last year, the Slavens' family had a gathering of 36 people. Konopasek's family has, at most, 20 people. Jayce Depriest's family has around 40 people each year and Janie Kilgore's family has an average of 25-30 people. 
   "I mean I like seeing family, but sometimes it's chaotic," Depriest said. 
    There are lots of different types of Thanksgiving dishes. Some say the traditional food is their favorite part. 
     According to a recent survey of 84 students, the top five favorite Thanksgiving dishes are mashed potatoes, stuffing, green bean casserole, mac and cheese, and pumpkin pie. Mashed potatoes was in first place. A majority of the students surveyed stay home for the holiday. They were asked if they travel for Thanksgiving and 30 said they do, 53 said they don't.
   Konopasek has two Thanksgiving gatherings, so she gets double the food. 
   "I do like Thanksgiving, who wouldn't? It involves food, I love food!" senior Janie Kilgore said. 
   Students say Thanksgiving is about being grateful.
    "Thanksgiving is about, not necessarily giving back, but showing what you're thankful for and being grateful for what you do have, cause some people don't have that stuff," Konopasek said. 
    Many students celebrate Thanksgiving in similar ways, but there are a few people that celebrate it differently. 
     "We don't really have traditions, but my brother always comes from Germany and we always get to spend it with him," Konopasek said.      
    "We spend the day making crafts, fishing or watching football," Kilgore said.       
       While Thanksgiving is mostly a time of joy, a few reminisce on their worst memories of the holiday. 
       "One time I was helping my grandma with the turkey and I dropped it on the floor," Slavens said. 
      "One time one of my cousins threw up while we were eating. It was disgusting," Depriest said.
      "When I didn't get any green bean casserole at lunch, cause it was all gone," Kilgore said.
      "When I got really sick after I ate too much," Konopasek said. 
Leave a Comment
About the Contributor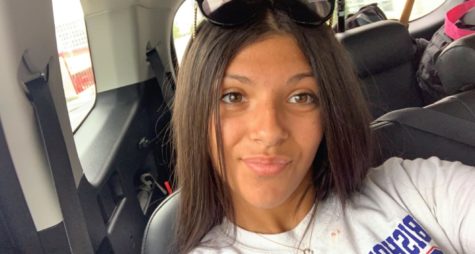 Hailey Ferguson, Staff Writer
Freshman Hailey Ferguson is in her first year on staff, serving as a staff writer. In her free time she enjoys playing sports and hanging out with her...