Freshman pitcher stands out in first year on varsity
In her first season with the Wildcat softball team, freshman Brylee Brewster is getting noticed.
Brewster, a WHS pitcher, is ranked 71 in the nation for the class of 2025. This season, she has over 92 strikeouts, 25 allowed hits, and only nine run ins. She was able to accomplish this with the help of her current and previous coaches, along with her parents pushing her to be the best she can be.
Brewster has been playing softball since she was eight years old and has been on three travel teams and is currently playing for the KC Peppers. She is fully dedicated to the sport with traveling to Cole Camp for hitting lessons every week, going to Lawrence, Kansas every other week for pitching, and having tournaments all year round.
"You have to constantly practice to get better at it, you can't take many breaks. I'm always trying to practice pitching to try and get better," Brewster said.
"Brylee spends almost most of her whole life on getting better to be the best," freshman shortstop Haylee Cobb said.
Along the journey of softball, Brewster has learned a lot about life and has met great people and she would not have had these experiences if she had never started playing softball.
Brewster hopes to play college ball at a Big 12 school.
"My dream school is the University of Oklahoma. I also would love to go to the University of Arkansas," Brewster said.
So far, the biggest struggle for Brewster personally is her pitching, but with the support of her parents and friends it's helping her get better and be the best that she can be. Her favorite pitch to throw is a curveball because it breaks people the most. Brewster has the advantage of being a left-handed pitcher, so it can be difficult for right handed batters.
"Many batters often find left-handed pitching difficult to hit because it isn't as common," assistant coach Kelli Eierman said.
Being a freshman and being one of the biggest contributors to the team can come with some difficulties. She has learned to take charge and lead her team with strength.
"She takes charge on defense and comes out with 100 percent intensity every time she steps on the mound. You can count on Brylee to do her job and be nothing but encouraging to her teammates and that is the definition of a leader in my book," head coach Megan Daleske said.
Coaches have noticed Brewster's maturity through the highs and lows of the game.
"I have never seen a high school girl be able to stay so calm and collected when things start to go downhill. I love (and hate) that you can never tell by looking at her if she has thrown a no hitter or given up a grand slam. She is seemingly unshakable and always maintains the same amount of focus, which is 100%," Daleske said.
Leave a Comment
About the Contributor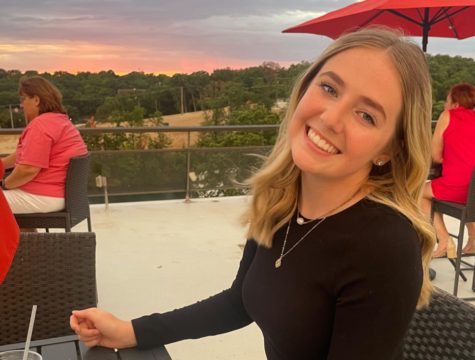 Jazzmyn Swisher, Managing Editor - The Wildcat
This is senior Jazzmyn Swisher's third year on the journalism staff. She is the managing editor of The Wildcat print edition this year. She decided to...