Graduates reflect on post high school experiences, give advice
From moving out of their Warsaw homes to adjusting to new daily schedules, 2021 graduates reflect on the changes in their lives since leaving the hallowed halls of Warsaw High School.
Joe Montez is in his freshman year at the University of Central Missouri. There, he plans to get his bachelor's degree in political science and a minor in history. Montez is also in the Missouri Army National Guard. He achieved the 'Dean's List' during his first semester of college.
"I cannot say that I would have predicted what college life would have been at all. It's a start over from high school and the ability to create a new path for yourself. College is very different in the fact that you have total control of your future. College is so much more free in terms of livelihood," Montez said.
Cassidy Parks is currently working at Sonic Drive-In and is in the process of joining the Navy.
"This definitely wasn't something I planned for. I was always set on being a dental hygienist, but I didn't want the debt that comes along with schooling and I know that the Navy will help pay for that," Parks said.
Kylee Fajen is in her freshman year at State Fair Community College. There, she is pursuing a pre-dental degree. Fajen is currently working at South Elementary as a paraprofessional. She is also planning a wedding with her soon-to-be-husband, Anthony.
"It has been my plan to go to school for pre-dental for a very long time, however I didn't expect to be going to State Fair," Fajen said
August Frace is currently living in Warsaw and working on Walmart remodeling.
"It's not really what I expected, but I also didn't know what to expect," Frace said.
Morgan Branson is in her freshman year at Mizzou. There, she is studying social work. Branson also is a full time assistant manager at Orscheln Farm and Home.
"I knew I was going to be studying at Mizzou and continuing to work at Orscheln's, but I was not expecting to be promoted to a manager within Orschlen's," Branson said
Brooke Spry is in her freshman year at State Fair Community College. She is taking online classes full-time to get her degree in elementary education and working at a bank full-time. After Spry graduated high school, she got an apartment with her fiance, Aidan Comer (class of 2020). They recently got engaged.
"I knew from a young age I wanted to do something involving education," Spry said.
These graduates are excited to move on with their new chapters, but also take note of the stress of bills and missing family.
"Something positive that has come since graduating is getting to start a new chapter of my life, a negative would definitely be paying bills," Fajen said
"Some positives would be, feeling independent, being able to do things on your own, but negatives definitely include not seeing your family if you go far to college! I miss my family so much," Branson said.
"A positive that came after graduating was getting more free time and a negative would have to be not seeing some friends that I used to see everyday," Frace said.
"A negative would have to be that I feel like I am definitely growing up faster than I wanted to, but I am ready to start that chapter of growing up; getting engaged made it feel so much more real," Spry said.
These graduates had to adjust to life away from some of the friends, family and routines that were so familiar in their lives.
"My biggest adjustment was trying to balance everything that came with being an adult at first. I now grocery shop/cook for myself everyday, household chores need done all the time, along with Greek Life events, studying/ homework and trying to get some time to myself was all very hard at first for me. But as time went along, that stuff became easier because it was now my schedule and I learned how to balance it," Montez said
"My biggest adjustment would have to be growing apart from some of my friends," Parks said.
"My biggest adjustment was definitely leaving my parents house, it was super difficult to leave my mom. Also, going from working at Sonic part time to working a full-time job changed my perspective on necessities," Spry said.
As current seniors prepare to make this transition into adulthood, recent graduates want to pass them knowledge from their experiences.
"My advice for kids graduating would be if you're going to college, make sure you actually go to class," Branson said
"Some advice I have for graduating seniors is to take control of your future and don't wonder what your life could have. If that's military, trade school, college, etc… do something you are passionate about. Advice I would like to give to people wanting to go to college is, with the freedom college has to offer comes a lot of laziness and partying. You've got to learn how to balance your social life with your studying because at the end of the day, you or someone is paying a lot of money for you to get that degree. Learn how to manage time because I know a lot of people who are getting social probation with the university because they just don't know how to balance any of their time and fail their classes," Montez said.
"Have a plan A and B and also don't let college change who you are as a person," Fajen said.
"My advice to seniors is to think about your next step and worry about what you can handle. Time flies, so make the most of your time," Spry said.
"Focus on the bag," Frace said.
"Don't let being an 'adult' stress you out. Live your life!" Parks said.
Leave a Comment
About the Contributor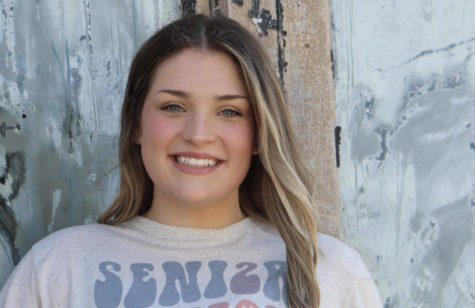 Gracie Comer, Editor-in-Chief
Senior newspaper Editor-in-Chief Gracie Comer has been part of The Wildcat production for four years now. Her freshman year, she served as a staff writer,...