Self-taught musicians discover passion
Warsaw High School offers many programs such as band and choir for students who choose to participate. Many of those students are recognized through the school's competitions and programs. But there are many students who are musically talented and have a passion for music outside the walls of Warsaw High. They choose to be able to express music how they choose to, whether it is simply performing in front of a few family members, friends, or by themselves.
"I've been playing for about a year and I enjoy playing guitar the most. I have tried other instruments such as piano and ukulele, but guitar is one of my favorites," senior Marcus Kreisler said.
"I have been playing piano, guitar, electric guitar, and ukulele since sixth grade. I love to play them all, I also love to sing while I play as well " senior Taylar Kleihauer said.
"I have only been playing for about a year and I play guitar and piano and some drums and ukulele, but guitar is my favorite to play," sophomore Parker Gregg said.
Warsaw High students who are musically inclined outside of school programs are inspired or motivated by some of their family members or artists they listen to .
"I love listening to older artists such as the Beatles because they are very inspiring. One person in particular who has inspired me is Eric Johnson. He has crazy melodies that are very in depth and has a lot of logic behind what he does," Kreisler said.
"I love The Neighborhood, Taylor Swift, Carly Pearce etc. they're all such amazing artists. My parents have motivated me the most, they believe in me so much and that's what has kept me going," Kleihauer said.
"I love metal music but I enjoy all types. Specific artists would be, Metallica , Red Hot Chili Peppers, and Mac Demarco," Gregg said.
Just as for students involved in school programs, students who choose to take their passion on themselves have different interpretations for what they look for in music while playing.
"It depends on what I am wanting out of a song – do I want it to sound good or do I want it meaningful? So, I would say there is no one answer, it has to be a combination of both," Kreisler said.
"When I listen to music I listen to everything – the lyrics, the music in the background, what instrument they're using – literally everything," Kleihauer said.
" I love the music and how it sounds, but the lyrics only make it better, it doesn't really matter to me as long as it sounds good," Gregg said.
The students have learned their way into their passion for music all on their own with only their passion to keep them improving.
"I have never really given lessons and I have taught myself over YouTube. The first song I ever taught myself how to play was 'Is There Anybody out There' by Pink Floyd," Kreisler said.
"I am self taught mostly through YouTube videos. The first song I ever learned to play was 'Someone Like You' by Adele. I thought it would be easier to play on the piano," Kleihauer said.
"I was just watching YouTube and I gave it a shot and I knew it was something I enjoyed from then on out. The first song I learned was 'Star Shopping' by Lil Peep because I thought it would be easy and I like that song," Gregg said.
Students have seen this as a passion rather than a hobby and plan on taking it into their future with them.
" Music is a passion for me because it is not something that I do for other people, I do it for myself. Music is a way to distract me and I do see this becoming a part of my future – hopefully, just improving and seeing where it takes me only. If anyone were thinking about picking up an instrument I would tell them, play no matter what, no matter how you feel about it that day because it's gonna help you in the end and you'll get better," Kreisler said.
"I love music, it's a big passion of mine so I wanted to learn how to play while I sang. I'd love to be a singer and go farther because it's a passion of mine and I believe if I work hard enough I could do it. If anyone was interested in music I would say watch videos. That's what I did to learn was look up YouTube videos on how to play a certain instrument," Kleihauer said.
"Music is a passion not a hobby. I don't know for a fact if it will become a part of my future but I hope it will be. I would want it to become part of my future only because I truly enjoy it not because I am being forced to or for the money. If anyone was willing to look into music I would say if you try it and you don't like, it don't play it, if you know you love it, you'll know," Gregg said.
Leave a Comment
About the Contributor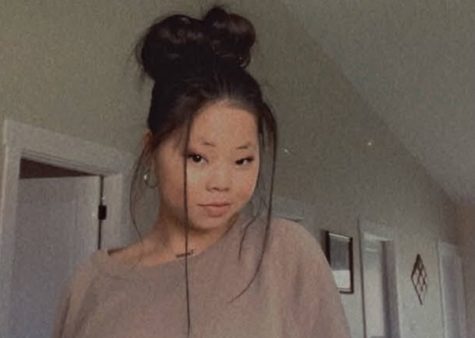 Abby Dendish, Managing Editor - Advertising
Senior Abby Dendish is excited to begin her second year as a part of the journalism staff. This year Dendish is participating as an editor and can't wait...