Students cope with holiday stress as seniors prepare to enjoy last Christmas before graduation

From having a budget to impressing guests, there is no doubt that holidays can be a very stressful time. As Christmas gets closer, students figure out how to survive the holiday season and enjoy some of these last Christmases living at home.
Many spend their time at home or traveling for family celebrations.
"I usually stay home, but we go to my cousins for dinner on Christmas Eve," senior Tyler Parker said.
"I go to my parents' house on the 23rd and celebrate with them, Anna, my sister, and aunt on Christmas eve. We have brunch (reindeer pancakes), then we open up presents," Business Education teacher Bethany Siegel said.
"I usually spend time with my family at my house, then later that day we go to my family Christmas at my Grandma's, and then I go to Gaven's (boyfriend) family Christmas," senior Nora McMillin said.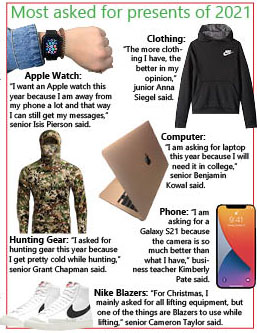 While traveling for the holidays can be fun, it can also be stressful.
"Traveling for me can be somewhat stressful when it comes to managing my time at each place, but in the end it works out because I get to see everyone," McMillin said.
"My family and I go on vacation over break so it gets pretty stressful because we are traveling with younger kids and I also don't know what all I need to pack because we do presents over there as well," freshman Keira Mostaffa said.
Some students and faculty say that deciding gifts and shopping, while fun, does cause a bit of holiday stress.
"The hardest part is the shopping, because no one ever knows what they want," senior Benjamin Kowal said.
"
The hardest part is the shopping, because no one ever knows what they want
— Senior Benjamin Kowal
"I struggle with finding presents for people just because everyone is different with what they like," senior Cameron Taylor said.
Many students don't really feel too much holiday stress.
"There is no hard part of the holidays for my family and I," junior Lilly Garrison said
"I really don't think anything about the holidays are hard, it all is a lot of fun," senior Isis Piersen said.
Many students, especially seniors, are soaking in their final holidays of their childhood.
"I thinking everything will stay the same for the holidays because I'll be home for it as usual, but I'm sure some traditions will change because not everyone will be around the house," Kowal said.
"I am sure everything will be different when I leave for college but I'm hoping it won't be too different and that I'll be able to go home for Christmas, or at least some days around then," Parker said.
Leave a Comment
About the Contributor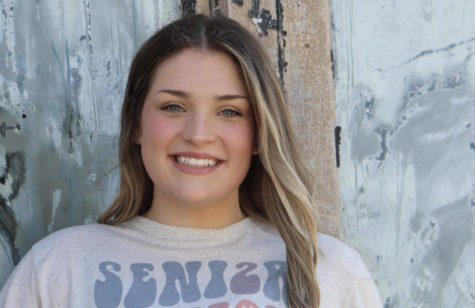 Gracie Comer, Editor-in-Chief
Senior newspaper Editor-in-Chief Gracie Comer has been part of The Wildcat production for four years now. Her freshman year, she served as a staff writer,...