Students find ways to express themselves through fall fashion
Summer has officially ended, the leaves are changing and the weather is cooling down. The students and staff are excited about the season's transition.
"I love the weather and I love the colors of the trees," junior Angelisa Amos said.
"My favorite part of fall is the pumpkin patches, Halloween movies, leaves changing, pretty much everything about fall is just amazing," senior Taylar Kleihauer said.
"My favorite part of fall is . . . sweet potatoes!" English I and II teacher Paige McKinsey said. " But fashion wise, it would be an excuse to wear hats more often. I am kind of obsessed with berets right now."
Not only has fall been an exciting transition, fashion is also making its own transition.
"Summer clothes are so cute with dresses and shorts; fall is my personal favorite. I love sweaters," Kleihauer said
"I like wearing cool-toned colors in the fall and the winter, for example: grey and light brown, dark blue, maybe even some flannel. Sporty and bright colors in the summer and spring," junior Lilly Garrison said.
"My key element for the fall is definitely layering. You can make any boring outfit fashionable by layering," senior Emma Johnson said.
Many students have expressed that their style of fashion is an important element in how they are able to silently express themselves in who they are individually. Fashion has an impact on how students perceive themselves just as their hobbies and interests do.
"Wearing clothes that you love and enjoy wearing can make you so comfortable and confident. Forcing yourself into clothes that you don't feel comfortable in or don't want to wear can drag you down and make you look uneasy," Amos said.
"I think that fashion plays a role in who you are as a person, it can also help you find out who you are. Take experimenting with what looks good and suits you best as an example," Garrison said.
"I think it is important! I don't know about anyone else, but the first thing I notice about a person is what they are wearing. Showing yourself through your clothes is just a fun way to express yourself and your creativity, " McKinsey said.
"I think everyone should express themselves because who cares what anyone else thinks as long as you like it, wear it because at the end of the day it's your body and it's what you want to do," Kleihauer said.
"I think expressing yourself through fashion is an important part of freedom of speech. An outfit can say just as much as words," Johnson said.
Many students are able to demonstrate this in many unique ways.
"I express myself through my hair as I change my hair colors quite often. I tend to match my outfit with whatever color my hair is at that moment. I'd say my style is pretty eclectic. I also think accessories are essential when styling an outfit," Amos said.
"I think what's the most important part of the outfit to me is the pants. In my opinion the pants are basically what determines the whole look of the outfit. That, and I have higher values for all my bottom half attire," Garrison said
"During fall, I would rather wear nude colors and neutral colors like light pink, tan, and peach. These colors normally go with anything and it is simple but cute. Also my hair is probably my favorite thing about myself so I always try to do something simple but cute," junior Emily Younce said. 
Leave a Comment
About the Contributor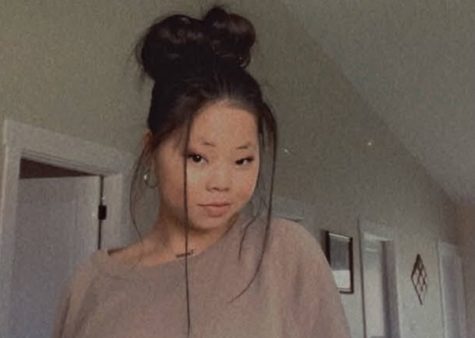 Abby Dendish, Managing Editor - Advertising
Senior Abby Dendish is excited to begin her second year as a part of the journalism staff. This year Dendish is participating as an editor and can't wait...