Small track team performs well at first meet of the season
   The track season is just starting up and it seems fewer kids are interested this year compared to the many years before. It's suspected by other students that covid is the main reason for this as well as softball. Even so, there are still many loyal track runners that are very excited for this season and happy to be running again.
   "I am very excited for this season because last year COVID happened and we did not get to have a track season," freshman runner Angela Konopasek said. "I am looking forward to making new friends and seeing my progress at the end of the season."
   "I love track. It's one of my favorite things to do because I enjoy running. Even with COVID still around, I'm going to do my best and try my hardest," freshman 100 and 200m runner and hurdler Skylon Boone said.
   "I'm looking forward to learning new things and trying all the events in track and making the best of my first year," freshman runner Garrett Hillburn said.
   Athletes performed at the first meet of the season on March 23 in Versailles. They competed against Versailles, Jamestown, Stover, and Smithton. Starting with the Triple Jump, Sophomore George Montez placed 2nd with 11.48m. Discuss, senior Trevor Coon placed 2nd with 30.4m. In the 100m hurdles freshman Angela Konopasek placed 2nd with 14.81m. In 300 hurdles junior Grant Chapman placed 2nd with 48.8m. In the 800m run George Montez placed 2nd with a time of 2:20.2. He also placed 3rd in the 1600m run with a time of 5:17. Sophomore Logan Shockman placed 1st in the 3200m run with a time of 13:17. In the boys 4x100M relay; Grant Chapman, Trevor Coon, Sophomore Hudson Karr, Sophomore Cameron Seevers placed 3rd with 51.1m. The same exact boys placed 2nd in boys 4x400M relay.
   "I will improve myself by working hard in both track and softball and giving my all in both," Konopasek said. "I'm not looking forward to having to choose between track and softball when I have a meet and a game on the same day."
   "I intend on improving by giving it my best all the time," junior relay and hurtler Grant Chapman said.
   Athletes agreed that training at practice will lead to reaching their goals through work on form and faster times   
  "One of my favorite parts about practicing would definitely be simply running and talking with my friends. We always joke around but stay focused while doing so." Boone said.
   "Every season you have 'High Hopes.' Whether it is an exceptional performance of a record, or seeing athletes improving themselves as the season progresses, or seeing them smile and enjoy what they do," coach Ehren Banfield said.
   Each student already has goals and things they're looking forward to.
   "I'm looking forward to the meets and getting faster throughout my season as well as getting into even better shape for the upcoming summer," Boone said.
  "I'm looking forward to running and seeing how much faster I can achieve by the end of the year," Chapman said.
Leave a Comment
About the Contributor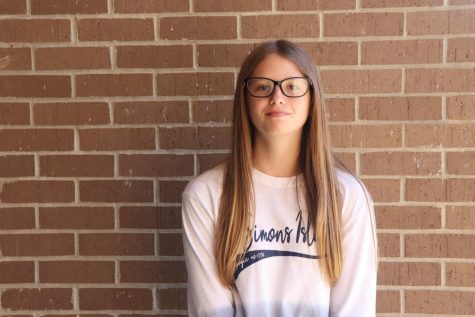 Makenna Frock, Staff Writer
Freshman Makenna Frock was encouraged by her eighth grade English teacher to join the journalism staff. Although Frock does not have much experience in...