Cast members make memories, come closer through production
   After practicing songs, memorizing lines, and learning new dance moves for months, the cast of "The Addams Family" musical finally had their time in the spotlight. There were three showings of the musical between Nov. 7 and 8 in the high school gymnasium. 
   "The last show was our best performance, we had so much fun and our crowd was awesome," senior Lauren Kreisel said. Kreisel played "Morticia Addams."
   "We were the most relaxed for [the last] one and the audience reacted very well to everything," senior Gabby Porter said. Porter played the role of "Wednesday Addams."
   Although, most cast members think their best performance was the last one on Sunday night, the directors disagree. 
   "I think Saturday night was our best performance. Sunday was very memorable because it was our last and it caused tears from some seniors to be shed. Saturday night was still my favorite because we didn't have issues with our sound and lines were done well. I think it was a strong performance overall," theater director Amanda Helvey said.
   "I think Saturday night was the best; however, Sunday was a close second," director and choir teacher Deanna Shockmann said. "The audience Sunday was more interactive than Saturday night which always makes it more enjoyable for the cast to hear their response!" 
   The cast spent a lot of time together during the months leading up to the performance. The main characters would meet up at each other's houses multiple times during the week to hangout and practice lines.
   "As a cast and as classmates I feel we all became a lot closer. We went to each other's houses and spent a big amount of our time with each other," Kriesel said.    
   Spending all that time together led them to become closer as friends. They considered each other a family. 
   "I think we all felt the family bond this year especially the senior cast members," Kriesel said.
   "I do think there was a strong bond between cast members, especially those that attended the most rehearsals together," Helvey said. "I know several of the cast members even talked on a regular basis or met up to go over lines and dances together."
   It was important that all three choirs work together as a team in order to make the musical flow correctly. They spent a lot of time together and had a lot of team bonding.
   "These types of events are important to bring all three choirs together in order for us to see we are one big team and not three separate teams," Schockmann said. "It is a time to get to know each other better and have fun!  These will be some of their best, if not their best, memories from high school."
   After their last performance, there was a cast party held for all the cast members and instructors to hang out. They were able to watch a copy of their performance and eat food provided by the parents of the cast members. 
   "During the cast party, we had a lot of fun watching the musical and eating good food together," senior Grady Miller said. Miller played "Gomez Addams."
   For the juniors and seniors, this was their last chance to perform in a high school musical production and they tried to make the most of their last time.
   "My favorite memory was watching my brother, Grant Miller, scream on stage, the crowd loved it!" Grady Miller said. 
   Senior Grant Miller played the role of "Gomez's" eccentric brother, "Fester Addams," who was a dreamer in love with the moon.
   "My favorite memory was laughing with Gabby Porter and Grady Miller backstage while we waited for the curtains to open," Kriesel said. "I don't have any regrets. I just wish I had another musical left, but we don't."
Leave a Comment
About the Contributor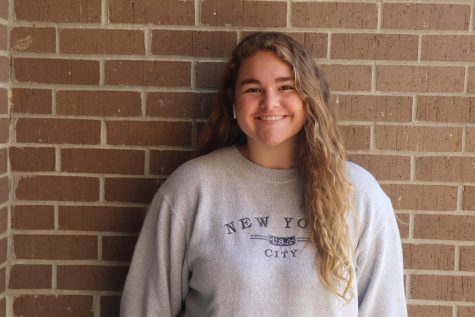 Taylor Spry, Staff Writer
Senior Taylor Spry made an impulsive decision to join journalism for the first time this year. Spry is interested in taking pictures for sports and learning...