Wrestling team sets goals for season
With the addition of new members, the wrestling team has grown considerably from the previous season. There are 25 high school wrestlers, three of which are girls. Members joined for many different reasons and are hopeful for a successful season.
"I joined to beat my dad in wrestling. I look up to him and he's the one who told me to never quit and be tough," freshman Allison Williston said.
Others, like freshmen Denver Frace and Anthony Rogers, joined because they wanted something interesting to do after school and something that would keep them in shape.
Even though the season has just started, wrestlers have already chosen their favorite aspects.
"I believe the tournaments will be my favorite part of this season and I love working on my physical strength," freshman Skylon Boone said.
"Taking people down and pinning them in practice," freshman Tylor Orton said.
"I enjoy learning the moves and stances. I also have fun wrestling my friends," Rogers said.
This is head coach Eric Noland's second year coaching the team. Noland says he has a good mix of wrestlers this year and is looking forward to the season. He has set a couple goals for himself and the team to work towards this season.
"A few personal goals are to win conference, have at least five state qualifiers, and at least two all-state/academic all-state," Noland said.
Their training consists of practicing their stances, cardio and keeping their bodies active as much as possible. They can also do things at home that help them improve their wrestling abilities.
Orton watches videos about wrestling and tries the moves on his own time. Frace does simple things at home like running for a few minutes or things like sit-ups and push-ups to strengthen his core.
Boone does specific things like hip heists, cartwheels, and wrestling stances with her younger brother.
"I prefer leg exercises on my own time, and I try to focus on them in practice. They help with my knees," Williston said.
With the number of meets yet to be determined due to COVID-19, wrestlers must remain committed to practice in order to best prepare. Practice on the mats is conducted similarly to an actual meet with members divided into weight classes and practicing with others in their class to maintain a level of fairness. Protective equipment, like mouth guards and headgear, are worn to prevent injury to the wrestlers.
"I'm so excited for this season and everything that is to come. I know it'll be great and, even though this is my first year, I have high hopes!" Boone said.
Leave a Comment
About the Contributor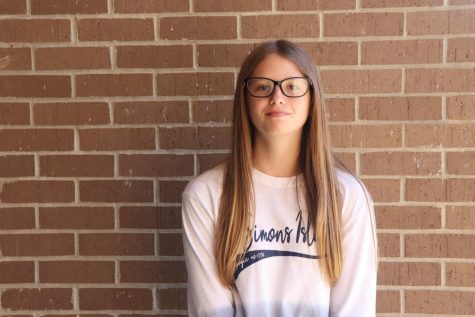 Makenna Frock, Staff Writer
Freshman Makenna Frock was encouraged by her eighth grade English teacher to join the journalism staff. Although Frock does not have much experience in...