Four qualify for canceled state speech after district contest
 The four performers who found great success at the district speech tournament and qualified for state speech competition in March will never find out how they compared to the best in the state, but they say the journey was still worth it.
   "Speech exists at the intersection of literature appreciation, writing and acting," senior Josh Simpson said. "I initially didn't want to do it, but I fell in love with it after." 
   The speech team traveled to the State Fair campus on Friday, March 6 and Saturday, March 7 for district competition. The team started the day by leaving at 7 am and preparing themselves for their performances. They were given a set time to get things ready and to set up props if they had them. On Friday, the team competed with their reader's theater and one-act play with students competing in individual events on that Saturday.
   "We expect to be competitive, but know that we will go up against some larger schools in our district and they bring some pretty tough competition," coach Amanda Helvey said. 
   The one-act play and reader's theater performances each fell just short of qualifying for state competition by receiving third place each, but many individual events did qualify for the state competition scheduled for April 23-25. Kathryn Ricke and Calvin Long placed second in Duo Interpretation , but didn't qualify for state. Those who qualified for state were seniors Alexa Scrivener and Josh Simpson in Duet Acting (first place); Alexa Scrivener in Storytelling (second place); junior Kyleigh Hines in poetry (first place) and also in prose (third place); and senior Samantha Blake in US Extemp (second place). 
   "For state, I will just keep practicing over and over again, improving little things," senior Alexa Scrivener said before the cancelation. 
   Unfortunately, due to the covid-19 outbreak in Missouri, state speech competition has been canceled for the team. MSHSAA has not released any information about whether they are going to reschedule the state competition or not. The members of the team are devastated because they worked hard to qualify for the state competition.  
   "It is a huge honor to be able to qualify for state, but the actual act of competing against other state qualifiers is an experience in and of itself and for those kids to not be able to experience it," Helvey said, "Honestly, our team is extremely devastated." 
   To prepare for districts, the team had after school practice during the months leading up to districts and had a dress rehearsal Thursday, March 5. The one-act play was called "Pizza: A Love Story". The cast included junior Grady Miller playing Jeffrey, senior Alexa Scrivener playing Janet, senior Kathryn Ricke playing Rita (Janet's sister), sophomore Benny Kowal playing Rick (pizza delivery guy) and sophomore Calvin Long playing the police officer. 
   "It [the one-act play] is about a couple, Jeffrey and Janet. Jeffrey wants to propose to Janet, Janet finds the ring and starts freaking out, realizing she isn't ready to get married, but doesn't want to lose Jeffrey," Helvey said. 
   The reader's theater piece was based around the fact that technology is overtaking this generation and it is called "In and Out of Touch." Each person is given individual lines and nobody has a specific "role." This group consisted of senior Josh Simpson, senior Aubrianna Umlauf, senior Samantha Blake, junior Emmaleigh Kowal, junior Kyleigh Hines, junior Sabrina Uptgraft, junior Jaelyn Swisher and sophomore Jolina Givens. 
   "It is about technology and its effect on society, the good and the bad," Helvey said, "They also change "scenes" by moving boxes (the only prop they are allowed)." 
   The speech team is coached by Amanda Helvey and Katie Johnson. Helvey primarily coached the one-act play and she was the one who decided which play to do. Johnson coached the reader's theater and was inspired by already published work and had the students on the team write a new piece. Johnson allowed the students involved in the reader's theatre piece to pitch in ideas and work on the lines they thought sounded good and that they wanted to be a part of. 
   "It was heartbreaking to not make it to state, especially when our readers and duo interp missed it by two points and our one-act lost on a tie-breaker." Helvey said.
 Something that helps the students on the team connect with their pieces that they perform is to make them special to them. When the student feels deeply about what they are performing, it helps them express themselves better. Being passionate about what they're talking about during their performances is very important and can help their score in the long run. 
   "My piece for prose was kind of an on-the-spot pick, but I decided it was an important thing to talk about and I could connect with it, so I kept it and have loved it ever since," Hines said. She performed a piece called "The Flow" about a teacher whose student committed suicide.
  Going into districts, the team knew that their competition would be intense due to the fact that their team was small compared to some teams coming from larger schools. The team practiced intently and believed that they were well prepared for their performances. Whether they had a big team or not, it was all about their skills and how they displayed themselves on stage.
Leave a Comment
About the Contributor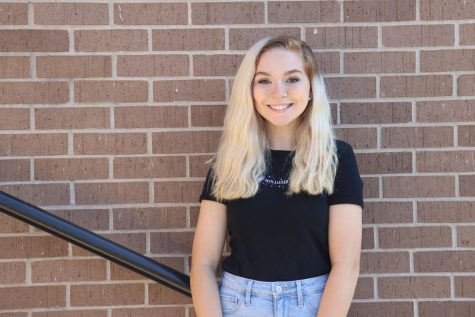 Darby Mostaffa, Design Editor
Senior Darby Mostaffa is in her second year on the news staff and first year as design editor. Mostaffa has a love for her extracurricular activities -...