Ambitious sophomore gains popularity with vocals on Tik Tok
Sophomore Taylar Kleihauer's passion for singing has inspired her to find a platform to post videos of her singing and dream of fame. She has been posting videos of her singing on various social media platforms such as Instagram, Snapchat and Tik Tok since she was 13. Recently, Kleihauer gained some popularity and fame on the app Tik Tok. Her talent was being noticed and she was gaining the fame she deserved.
"I have loved music ever since I was born, I love writing and singing music and what interests me is the feeling I get when I know I like a song or a rhythm," Kleihauer said.
Taylar's love for singing is something that everybody recognizes. She is very passionate about it and it is a part of her everyday life. Kleihauer says she has been singing since she was able to talk and doing so brings her a lot of happiness. Kleihauer has a large community backing her and anticipating her success.
"Personally, I think her desire to sing and make music is very strong," sophomore Madison Coskey said.
Kleihauer is involved in multiple things but something unique about her is her interest in music, however she is not part of the school choir due to her taste in music. The music that Kleihauer sings tends to be more on the hip hop/today's hits side. Although she is not in choir, she is still known amongst WHS for her singing and her positive attitude on everything.
"I think Taylar is above all a very kind and caring person," senior Aidan LeGrande said, "I've never met anyone that displayed those attributes better than her, she is naturally a very selfless person."
Kleihauer sees music as being a big part of her future. Her plans aren't official due to the fact that she is a sophomore but she wishes to continue practicing and pursue singing as a performing career. Not only does Kleihauer believe she can achieve this goal, but some of her friends also think she has the potential for this.
"I think she would make a great singer," sophomore Taylor Howe said, "she loves it and wouldn't do it halfhearted."
Kleihauer's "blow up" on Tik Tok resulted in many new followers and more attention on her music. Her talent and videos started getting noticed by some other Tik Tok singers that had more of a platform and fan base. Kleihauer keeps up with her followers by making Tik Toks multiple times a week and putting effort and time into the app. Her two years of posting videos and working hard on music has started to get her recognized and more known.
"I was really surprised and amazed that I had gotten noticed, I was really happy," Kleihauer said.
Singing is a huge part of Kleihauer's life, but she is involved in other things such as volleyball. She has been playing volleyball since seventh grade and it takes up a lot of her time during the season. Kleihauer juggles multiple things in her life at such a young age but singing takes up a lot of space in her heart.
"Taylar is very driven and hard working for something she loves and singing is one of them," Coskey said.
Leave a Comment
About the Contributor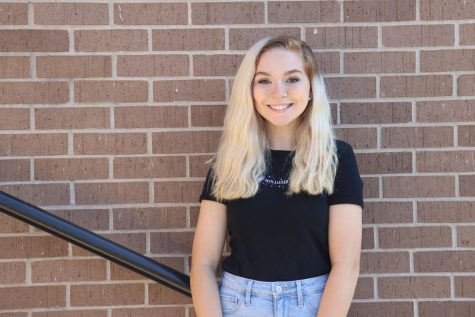 Darby Mostaffa, Design Editor
Senior Darby Mostaffa is in her second year on the news staff and first year as design editor. Mostaffa has a love for her extracurricular activities -...