Vaping more prevalent at WHS
   Although things like e-cigarettes have been around for decades, it is no surprise that the rate of teens vaping has risen tremendously throughout recent years. Walking through the halls and not seeing a teen on the high of a nicotine buzz is rare. 
   The school administration has been striving to make the school environment that students spend a majority of their time, a safe and welcoming place. Of course, peer pressure and negative influences can occur anywhere with anyone, but principal Danny Morison said that he has been striving to limit these interactions. 
   "We have made our staff more aware of what to look for related to Juuling and vaping, and we will continue to educate ourselves on how to keep this problem from occurring in our school," Morison said. 
   With the exceedingly high number of teens being introduced to vaping, it is under question just how these teens are able to partake in this illegal activity. If they are being introduced to vaping while just being in the school building to riding the school bus is something that administrators are taking into consideration. 
   Even with the precautions that are being taken by school administrators, the rises in the numbers of kids vaping do not lie. Vaping is more popular than smoking.
   More than 20 percent of high school students reported vaping in 2018, which is almost twice the 2017 rate, according to the federal Centers for Disease Control and Prevention. That translates to 3 million high school students using e-cigarettes in 2018, well more than double the number who reported using traditional cigarettes. 
   According to a poll taken by 138 students, vaping within the school building has become far more prevalent. 
   "I've seen people vaping in the bathrooms, I think that it is wrong and I hope that they are all okay and in good health," senior Savannah Neth said. 
   While 51.4 percent of students answered that they have never vaped before at all, 30 percent say they have tried vaping and 10.9 percent of students answered saying they vape almost everyday. 
   Students are seen vaping all throughout school grounds and no place is safe. Students speak on how frequently they see students doing this illegal activity. 
  "I see people vaping in the school parking lot and it concerns me that they think it's okay to do that because it may be influencing the underclassmen to do it too," senior Ally Wenberg said. 
    According to npr.org, schools across the country have seen enough of students vaping on campus that they're suing the e-cigarette manufacturer Juul Labs. Multiple districts filed lawsuits. Some of which include school systems in Olathe, Kan.; St. Charles, Mo.; Long Island, N.Y.; and La Conner, Wash. Three of which charge that Juul has hooked a generation of young smokers with its sweet flavors, placing a burden on schools. 
  Ava schools have also filed a lawsuit against Juul. This is a rural southwest Missouri school district. In the article Ava schools sues Juul, saying e-cigarettes cause 'enormous distraction' on news-leader.com it is stated that the school filed an 80 page lawsuit claiming that the company marketed its products to teenagers and got a new generation of young people addicted to nicotine.
   So, not only is Warsaw high school catching on to the young teen vaping in its community, other schools around the nation are catching on as well. This epidemic is far from unnoticed and is the new craze for high school students to partake in. 
    The increase in a vaping problem has caused some schools to take more action, such as installing vape detectors. According to ky3.com in their article Republic High School cracks down on vaping devices, installs 'vape detectors' it is said that unlike smoke detectors, these vape detectors are made to sense the chemical release form vapes.
   These schools each have one thing in mind, the well being of their students.  
   "I think that our efforts as a district have deterred many of our students from vaping at school.  I believe that anything that is harmful to our students is concerning," Morison said. 
Leave a Comment
About the Writer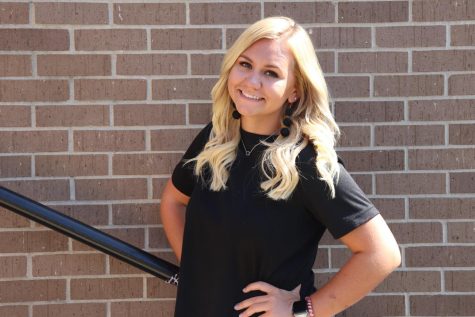 Rheanna Coke, Editor-in-Chief
 Senior Rheanna Coke has been dedicated to journalism for her entire high school career. She is in her fourth year of journalism. Her freshman year, she...