Season end brings conclusion to softball as a fall sport at WHS
   In recent years, softball players have shown great spirit and represented their school by being District champions two years in a row. Some big changes are happening with the WHS softball team for the 2020-21 season, such as the decision to switch seasons to spring and losing a large number of senior players. 
   "Any time you lose six starters out of your line up, it's a big deal. We will have some pretty good softball players left for the 2021 season and we have some very good middle school players coming," softball coach Steve Larson said.
   After the 2019 team won the district title with wins over Russellville (11-1) and Calvary Lutheran (8-7), they went on to advance in the state tournament, beating Fatima, 6-5 and falling to Sherwood, 1-4. However the end to the 2019 season was also an end to fall softball at WHS.
   "We will be able to show [spring] teams a team that they've never seen before," junior softball pitcher Kylee Fajen said. 
   The reasoning behind the season change is so that athletes are given more opportunities and able to play both volleyball and softball if they would like. A result of the change will hopefully be bigger softball and volleyball teams and an overall more involved student athlete organization. Hopefully this change will encourage more people to play sports now that they have more options. 
   "To give our [female] athletes a chance to play both sports," Larson said about the reason for the switch to spring softball. 
   The season change will affect athletes greatly because they will be able to try sports they've never played before. There are quite a few softball players planning to play volleyball and volleyball players planning to play softball. To get things started, there are volleyball players going to open field practices and softball players going to volleyball to get a feel for the new sport they will be playing. 
   "I'm excited because I get to play volleyball, but also spring ball will be a new experience," Fajen said.
   "Many softball girls plan on going out for volleyball and I'm hoping to see many volleyball players come out for softball as well," junior softball right field Aspen Whitaker said.
   Some volleyball players believe that adding new athletes will help to improve their 20-5 record from the previous year. 
   "All the softball players are super athletic and I think they have a lot of potential, they will definitely benefit our team in a lot of ways," junior volleyball defensive player Taylor Spry said. 
   There are a wide variety of opinions and feelings from the players. Some players think it's a great opportunity and some players hate the idea of it. Switching to the spring has the potential to mess up the rhythm of their season due to rain and different teams being played.
   "I'm trying to keep a neutral opinion. We will see after the first year. I don't like rain outs and there is only so much you can do indoors," Larson said. 
   "I wish I wasn't playing in the spring at all. I wish it would stay in the fall," Whitaker said. 
Leave a Comment
About the Contributor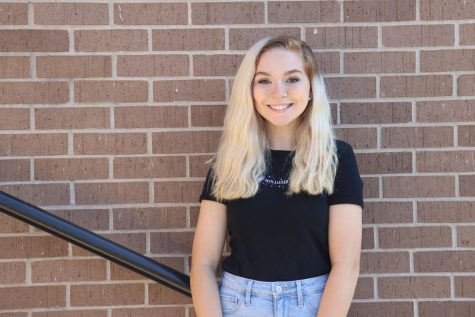 Darby Mostaffa, Design Editor
Senior Darby Mostaffa is in her second year on the news staff and first year as design editor. Mostaffa has a love for her extracurricular activities -...