Junior shows kindness, volunteers for charity and shares faith
  In the halls of Warsaw High School, there are extraordinary students that are recognized for their character and scholarship. Junior Kylee Fajen is one of the many examples of exceptional kindness and leadership within the school. 
   Fajen is involved in a list of activities, in which she shows her character throughout the school and community. Some of those things include math club, pep club, softball, student council, prom committee and Fellowship of Christian Athletes, where she serves as president. 
   FCA is a very important way that Fajen spends her time because it is at those meetings where Fajen expresses her loyalty to God and can spread faith and positivity to other students. She shows her faith by going to church every Wednesday night and Sunday morning and FCA is something that she takes pride in and is happy to be a part of. 
   "I love Jesus with all my heart. He gave me a wonderful family and the best parents. I believe  Jesus died on the cross for me and all I have to do is live for Him and Him only and that's what I'm going to do," Fajen said.
   It is no secret that Fajen's involvement is taken far past the 3:31 bell; this includes her extracurricular activities and also the things that she chooses to be involved in outside of school. 
     Kylee also dedicates her time outside of school to volunteer. One way she volunteers is through feeding the homeless at City Union Mission in Kansas City. This is something that she takes great pride in and that shows just how caring she is. 
   "Going to the Union just makes me feel like I'm doing the right thing by giving back to the community," Fajen said. 
  Fajen has traveled to the City Union Mission in Kansas City a total of three times and says that the people there are absolutely lovely and enjoy the company. 
    "It's really cool to see how excited they are to see us when we go," Fajen said. 
   Another way Fajen gives back to her community is just simply being kind and forgiving. 
   "I try to always be nice to everyone and ask them how they are doing," Fajen said.
   This may seem like a small act, but, in some cases, it can make a very big difference in someone's day or overall school experience to see a smiling face.  
   Inside and outside of the school building, Fajen participates in activities where it is required that she show teamwork and leadership. One of those outlets being softball. Softball has been a part of Fajen's life as long as she can remember. 
   Fajen was recently awarded All-Region, All-Conference and All-District for softball, proving that her efforts are not going unnoticed. These are all great accomplishments for any student-athlete, especially a junior.
   "It feels good to know that my hard work has paid off and I still have more to come, I'm beyond grateful for all the support from my family and friends," Fajen said. 
Leave a Comment
About the Writer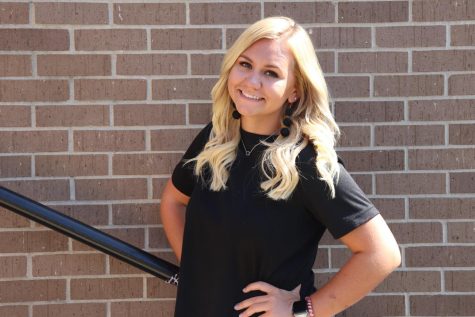 Rheanna Coke, Editor-in-Chief
 Senior Rheanna Coke has been dedicated to journalism for her entire high school career. She is in her fourth year of journalism. Her freshman year, she...