Seniors reminisce and next chapter begins
Seniors undergo four years of change, growth
  With years come age and with age comes wisdom. It only makes sense that, in high school, seniors would be the most wise of all the students. From breakups to makeups and from classes to clubs, there is more than enough space for the opportunity to change and grow. The class of 2019 has not only changed drastically since their freshman year–they have changed together.
  "I'll miss all my friends that are lower classmen considering that a majority of my friends are younger than me. They have really shaped me into the person that I am and I don't know where I would be without them keeping me company throughout these last few years," senior Jesse Johnson said.
  Some of these future graduates plan on staying close to home but, on the other hand, some have envisioned for years now to move to bigger cities or tropical scenery. Some of these big dreams seem as if they aren't real to these seniors considering that they have been envisioning some of these things since before entering high school. Of course, as much as these students have been shaped into the person they are today throughout these last four years, some things never change.  
  "I'm moving to Florida after I graduate because I hate the cold weather and love the beach. I've always wanted to go there and now it's finally becoming real," senior Chloe Lux said.
  In addition to focusing on what is to come, senior year is a time of reminiscing on past high school years as well. Some seniors regret some of what they did, and some have regrets of what they did not do.
  "I think my biggest regret was caring about what other people thought because I was so involved and I didn't want people to think I was slacking in one area," senior Brenna Smith said.                                               
  The time spent in these last four years will never go forgotten and unappreciated. Seniors look back and are thankful they had the experiences they did that soon molded them into the person they are today.
  "High school changed me as an overall person because I grew so much. I gained some and I lost some people, which really just made me stronger. High school shows the best and the worst of people and I really think that it did that to me," senior Jordan Plybon said. "High school taught me so many valuable lessons and provided me with memories and friendships that will last a lifetime. I hate to see this journey go, but I'm excited to see what this experience has prepared me for."
  Throughout four short years some seniors have mixed feelings on how they went. For some, the years flew by, and for others they seemed to have trudged along barley crossing the finish line.
  "High school went by fast because I was always busy having fun with my friends and doing sports stuff," senior Riley Bagley said.
View Comments (1)
About the Contributor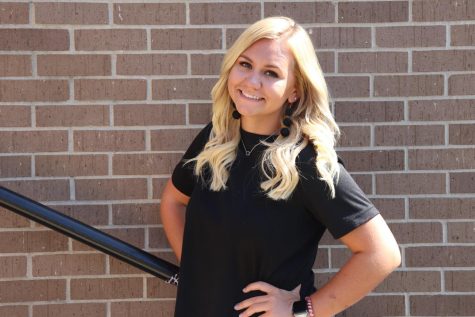 Rheanna Coke, Editor-in-Chief
 Senior Rheanna Coke has been dedicated to journalism for her entire high school career. She is in her fourth year of journalism. Her freshman year, she...