The Magic of Giving: True meaning of Santa Claus revealed as students mature
Involving the legend of Santa Claus in Christmas celebrations was a way students and teachers experienced the magic of Christmas when they were young, and many of them still recognize Santa Claus as a symbol of the magic of the season and the joy of giving.
"I believed in the big-fat-jolly-man type of Santa," senior Dayvon Bruce said.
Some parents take full charge of their children's education concerning holiday myths and legends.
"My parents didn't really tell me, I mean in our culture right now you get it through movies or, you know, just the holladay stuff like that, so it's not like they sat me down and said 'Hey there's a guy in a red suit that goes around spreading cheer and giving gifts.' That's not really how it happened. It starts at a young age and you come to believe it," assistant principal Cody Wright said.
Although Santa Claus is a mythical figure, his creation is based in part on bishop Christian named Saint Nicholas, but not all parents perpetuate the story of Santa Claus.
"My parents always told me there was not a Santa Claus, so my parents had the gifts labeled from them and nothing was from Santa," business teacher Kim Pate said.
Many parents that let their children believe in Santa Claus will do traditional activities to uplift and continue their children's confidence in believing Santa. For example, pictures with Santa, milk and cookies, elf on the shelf and storytelling are fun activities that further a child's belief.
"Although we did not have a chimney, they used to, like, get their boots on and go outside and make like a footprint, then they would put the footprint inside the house so it looked like he was walking in. I used to be happy when I saw that," senior Dayvon Bruce said.
"I have a brother who dressed up in the Santa costume every year. One  year it was kind of funny. He was at my sister's house with all of our grandkids, they put out some brown looking stuff and they told them it was reindeer poop on our doorstep,"  foreign language teacher Donna Crouch said.
Each child will express his curiosity in different ways and will try to find more information about Santa Claus. As parents try to be careful to hide the secrets of Santa, children sometimes find out the truth of on their own accidentally or on purpose.
"It was when I was ten that I started having my doubts, but that was probably because I accidentally saw my mother wrapping some presents," junior Samantha Townley said.
Some children will start to experience a change in their view of Christmas as they realize the truth about Santa Claus. Sometimes, it can emotionally affect them. Although they may not realize it, once they learn the truth about Santa Claus, they also learn the truth about the meaning of Christmas to them and their beliefs.
"Although I was totally bummed, I still believe to this day that Santa is a symbol for Christmas.  He is a symbol of hope to many, a symbol of giving, and the magic that can happen during the season.  I believe that the true meaning of Christmas is to celebrate the birth of Jesus, although his actual birthday is in the summer," math teacher Bobbi Swisher said.
"I'd say it changed a little because after that, I valued how much thought and effort went into Christmas. We never had a whole lot of extra spending money, so getting what I got meant a lot," junior Samantha Townley said. "The meaning of Christmas is to celebrate Jesus Christ's birthday."
Around the world, different cultures celebrate different versions of the oral legend of Santa Claus. Many children believe in current versions of Santa according to their culture. According to TopTenz. Net, countries like Austria, Italy, Brazil, and parts of Germany refer to Santa as "Christkind." Based on their Christianity religion, the meaning of Christkind is "The Christ Child." People in the United Kingdom, France, Spain, Portugal, Italy and many others refer to Santa as Father Christmas. This character is based on the modern American Santa. His appearance is identical to Santa Claus, but only green instead of red. His style of giving gifts is also identical to Santa Claus.
"As far as I knew, there was only one form of Santa Claus, the one who gives you gifts on Christmas. It was explained to me as a child that each culture has the same Santa, they just call him different things," science teacher Justin Thomas said.
To this day, many parents still allow their children at a young age to believe in Santa.
In a CNN. com article reports that the belief in Santa is still alive and well for young children.  "In interviews, 85 percent of 4-year-olds said that they believed in Santa, 65 percent of 6-year-olds said that they believed, and 25 percent of 8-year-olds said that they believed. Those numbers were published in a small study in the American Journal of Orthopsychiatry in 1978. But researchers say those percentages of young children who believe in jolly old Saint Nick seem to have remained steady over the years," the article reported.
Leave a Comment
About the Contributor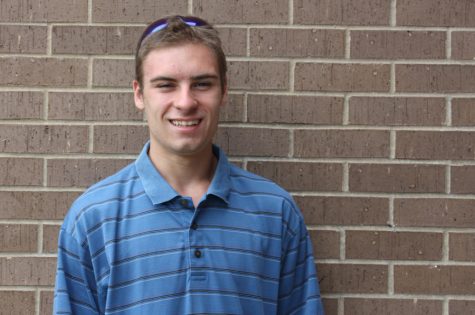 PetralieJo Wurtz, Photo Editor
 Senior PetralieJo Wurtz has not just an interesting name, but an interesting life story. Adopted when he was two years old, Wurtz  left his orphanage...