Students celebrate veterans in annual assembly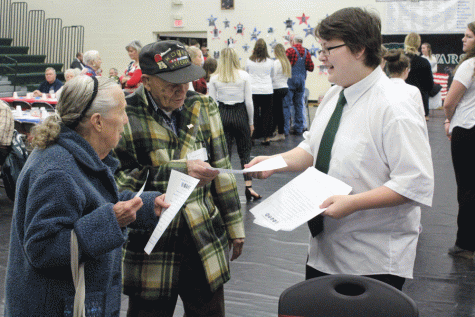 Sophomore Luke Raspberry hands out programs to elderly veterans during the Veteran's Day assembly. The Veteran's Day Assembly took place on Nov. 9. Photo by PetralieJo Wurtz 
Students honored the 100th anniversary of the World War I Armistice as they have every Veteran's Day – by honoring the veterans in the community with a breakfast and assembly. The morning of Nov. 9 was a time to honor veterans through food, music and a guest speaker.
  Guest speaker and 1992 WHS graduate,  Sergeant Jeff Polly spoke to the assembly of veterans, guests and students to explain the difference between Armistice and Veterans Day.
  Veteran's Day wasn't always known as Veteran's Day. It was originally known as Armistice Day and this day was to celebrate the end of the fighting of World War I in 1918. It was the eleventh day of the eleventh month, of the eleventh hour. It was originally meant to celebrate only the veterans of WWI , but after WWII, Armistice Day was changed to Veteran's Day to celebrate veterans from every war.
  "Some of them didn't volunteer, They were drafted to be part of something greater than themselves," Polly said.
   He enlisted in the Marine Corps in 1991. After graduating Warsaw High School in 1992, he attended training in San Diego, California. He has served as a machine gunner and recruiter. Throughout his 26-year career in the Marine Corps, he has been to 15 different countries and conducted various humanitarian missions and participated in combat operations in Afghanistan in 2001 as an Infantry Unit Leader.
  "Veteran's Day is a time to praise those who have served, those who are serving," Polly said. "Our Veterans gave up many things, seeing the birth of their children, school plays and many holidays. They sacrifice their comfort – they work long hours in preparation for deployment which could take place anywhere from seven months to twelve months."  
  The assembly also featured songs, poems and stories from WHS students to honor the veterans.
Senior Ren Rozzel  read the poem 'For the Fallen' by Laurence Binyon and KayLee Lawson read the a piece she wrote herself titled "A Soldier's Story." Lawson's piece was written about an inspired boy who grew up to be a soldier. The soldier experienced the toils and struggles that most Veterans face in the aftermath of war. It was inspired by her family, with seven generations of people in all branches.
 During the assembly, Polly gave an inspirational speech about the honor that comes with serving in the military. When asking seniors entering the branches to stand, Robert McMurtry was one of them.
  "Since I was a little boy I knew I wanted to go into the military. A-10's would fly over the farm I lived in and I knew I wanted to join the U.S. Air Force," McMurtry said.
 There were many songs played and sang during the assembly. The choir performed 'Seeds Grow to Plants' and 'Armed Forces Song.'
  Veterans and students were moved by the assembly.
"What stood out to me was when the choir was singing the Armed Forces Song, some of the veterans were in tears," freshman Chelsea Mathias said.
Leave a Comment
About the Contributors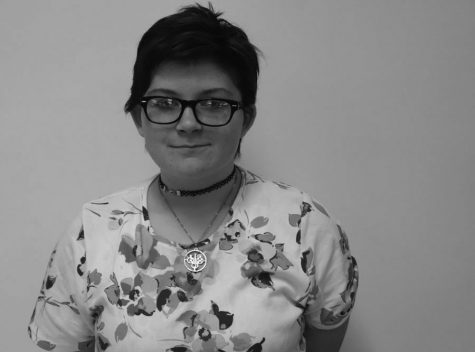 Ashley Turner, Staff Writer
Freshman Ashley Turner is looking forward to her first year as a member of the journalism department. Recommended by her English teacher, Turner chose...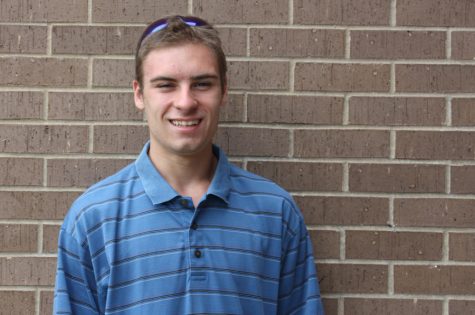 PetralieJo Wurtz, Photo Editor
 Senior PetralieJo Wurtz has not just an interesting name, but an interesting life story. Adopted when he was two years old, Wurtz  left his orphanage...