FFA members inspire through their own interests with Food for America
   Warsaw FFA had one of their best educational outreach events ever, according to agriculture teacher and advisor Stan Adler. The eighth annual Food For America event was held on Oct. 5 for FFA members to present their knowledge and educate elementary students about agriculture.
   The event gathered 24 different topics and 36 students presenting them, as well as the Missouri Department of Conservation represented by Drew Burdick and the Missouri Department of Transportation represented by Eric Flores.
   In order to participate in the event the students had to present the project in class and have at least a 75% score. The potential presentations were evaluated by both the agriculture teacher and the Chapter FFA President, junior Lerran Yoder.
   The goal is always to provide diverse and quality knowledge in an accessible way about all the processes that food or life supplies go through to get to their houses.
  FFA advisor Stan Adler says that this kind of visitation is important because most of the population is three to five generations away from the farm, which means that the agriculture reality is not really close to a lot of people. Therefore, by learning, they develop a more critical thinking about the quality of what they are consuming since a young age and become less opened to misinformation that might not be accurate about what it takes to produce their food.
  Elementary School students from all over the school district were bussed to the high school to view student projects and learn about agriculture-related activities.
  This year's event had a really broad range of projects, going from the classic animals like cows and horses to natural dyes and gun stocks, and that is one of the reasons why it can be described as a really high quality edition of it.
  Another aspect that contributed to the quality of the displays was how passionate students were about their own research. It didn't really matter if the research was over something that they have at home or something that they want to learn more about, as long as they believed in its importance and were inspired by it.  
  Sophomore Eleanor Wassman, for example, did her project over therapy rabbits. Her main inspiration came after her neighbor, who is an old man with a mental disability, held her bunnies and quickly forgot why he was sad in the first place.
  "I figured if I could do that with other people, that would be a great thing, " Wassman said.
  Since then, she has been visiting nursing homes and children centers with her bunnies.
  Sophomore Kyleigh Hines was presenting about chickens and all of their utilities for humans. She has always thought they were really cute when young, and asked for some for birthday. "I think they are adorable, and I like that they can provide eggs and meat. I was expecting a total of 2 though, but my boyfriend showed up with 58 chickens," Hines said. She has been taking care of them ever since.
  The inspiration could also come from something that they grew up with, so it had always been a passion.
           Sophomore Dakota Macon researched about gun stocks in the Warsaw area. His family has always owned this kind of business, and he loves guns and all the process behind building them.
  "I liked to teach some kids about what we do, because my family business is not always going to be there. If I could inspire some kid to take it on one day it would be awesome," Macon said.
  Sophomore Emmaleigh Kowal's inspiration for her project came from last year's project about the uses of wool. She presented about using natural dyes.  
  "If they are passionate about it, they are going to be more motivated to research and teach others about it," Adler said.
Leave a Comment
About the Contributor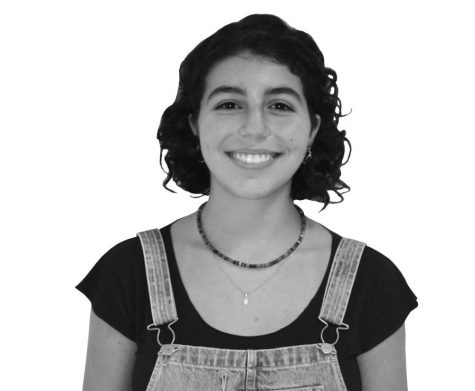 Lica Rosa, Staff Writer
Junior Lica Rosa is interested in the journalism class because she enjoys descriptive writing and displaying the emotions of people through the art of...